Crispy Honey Mustard Sweet Potato Fries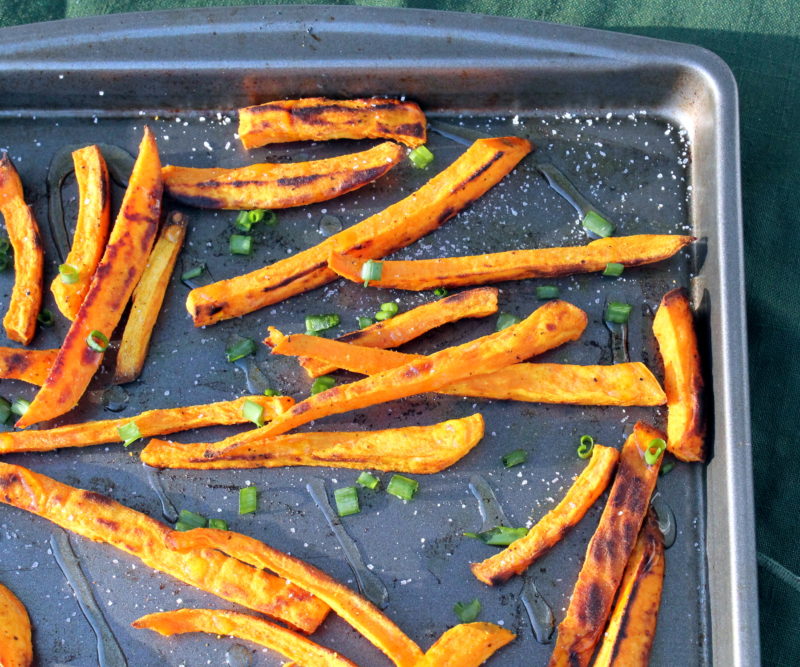 2 tablespoons oil
1 tablespoon white wine vinegar
1 teaspoon lemon juice
1 tablespoon ground mustard
½ teaspoon turmeric
½ teaspoon salt
¼ teaspoon pepper
¼ teaspoon paprika
2 large sweet potatoes, peeled and cut into strips
1-2 tablespoons honey
1 teaspoon of course sea salt
1 tablespoon green onion, chopped (for garnish)
Preheat the oven to 400 degrees.
In a small bowl whisk together the oil, vinegar, lemon, mustard, turmeric, salt, pepper, and paprika.
In a large bowl toss the sweet potato with the spice mixture until well coated.
Spread the potato out on a large prepared baking sheet, so that none of them are touching and place in the oven and bake for 15 minutes.
Turn the fries once and place back in the oven for 15 minutes then remove from heat and let cool slightly.
Drizzle with honey. Sprinkle with salt and green onion. Serve immediately.
Recipe by
Sweet Love and Ginger
at http://www.sweetloveandginger.com/crispy-honey-mustard-sweet-potato-fries/