Venison Sausage Stuffing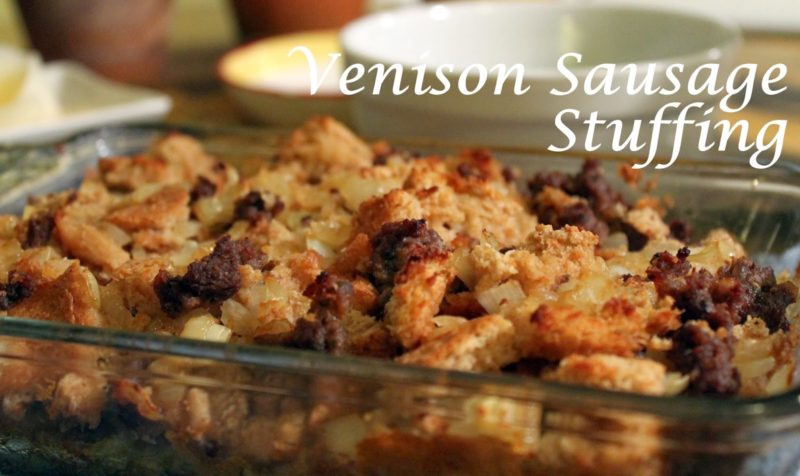 ½ lb venison sausage
1 tbsp butter
1 onion, peeled & chopped
1 celery rib chopped
3 cups chopped toasted bread of choice (I like to use
different types for texture)
1 cup vegetable broth
1 tsp oregano
½ tsp thyme
Salt & Pepper to taste
Preheat oven to 350 Degrees.
Place bread cubes on a rimmed baking pan and bake for 6 to 8 minutes, until toasted and golden.
Meanwhile in a large skillet cook and crumble the sausage until browned over medium high heat. Discard excess fat if any (venison usually doesn't have much but beef or pork sausage will) and remove from pan and place in a 9x12 inch baking pan.
In the same pan add butter, onion, celery thyme, parsley, salt and pepper. Sauté over medium heat for 8 to 10 minutes, or until the vegetables are softened. Remove from heat and combine with sausage.
Deglaze the hot pan with broth and allow it to simmer over medium high heat until reduced slightly (you should be left with 1 ½ cups liquid), scraping the browned bits from the bottom of the pan while it simmers.
Combine the toasted bread with the sausage and vegetables. Add the reduced broth and toss to combine.
Place in the oven and bake for 30 minutes until browned on top and hot in the middle.