Bruschetta Chicken Salad with Parmesan Peppercorn Dressing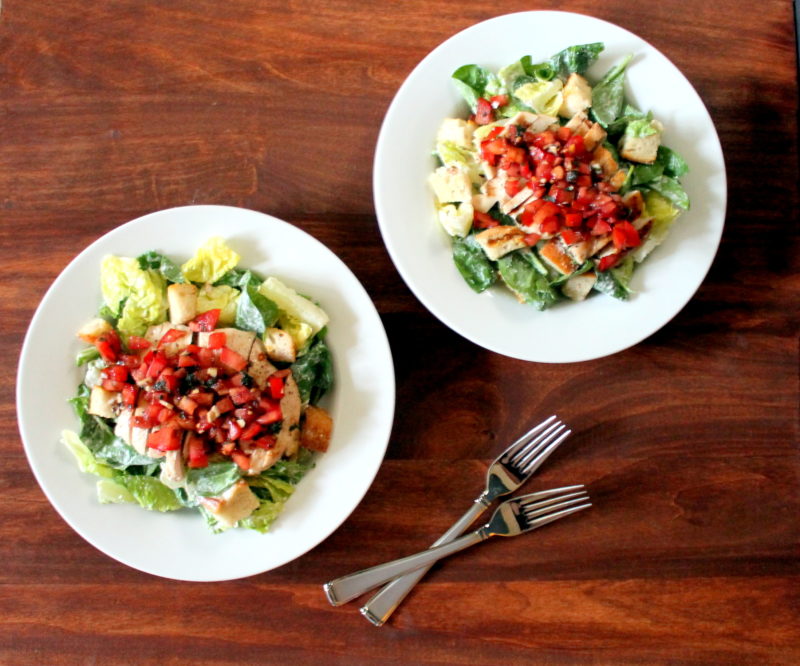 1 to 2 cups of day old bread, cubed
2 tablespoons olive oil
1 teaspoon garlic powder
Pinch of salt
1 teaspoon parsley flakes
2 small boneless skinless chicken breasts
Salt & pepper to taste
2 roma tomatoes, diced
2 cloves of garlic, minced
1 tablespoon basil, chopped
1 tablespoon balsamic vinegar
2 cups romaine lettuce, chopped
2 cups baby spinach, loosely packed
¼ cup Creamy Parmesan Peppercorn Dressing
Preheat the oven to 425 degrees. On a baking sheet toss the cubed bread with olive oil, garlic powder, salt, and parsley. Place in the oven and cook for 6 minutes, or until the bread begins to turn golden brown. Remove from heat and toss carefully. Set aside.
Season the chicken well and place it on a preheated grill. Cook for 4 minutes, flip and cook for another 4 minutes or until the chicken is cooked through. Remove from heat and set aside.
In a small bowl combine the tomatoes, minced garlic, basil, and balsamic. Set aside.
In a large bowl combine the lettuce, spinach, and croutons with the dressing and toss well to coat.
On each plate place a layer of coated lettuce and croutons. Add chicken and top with tomato mixture and serve.
Recipe by
Sweet Love and Ginger
at http://www.sweetloveandginger.com/bruschetta-chicken-salad-with-parmesan-peppercorn-dressing/