Light Vegetable Chowder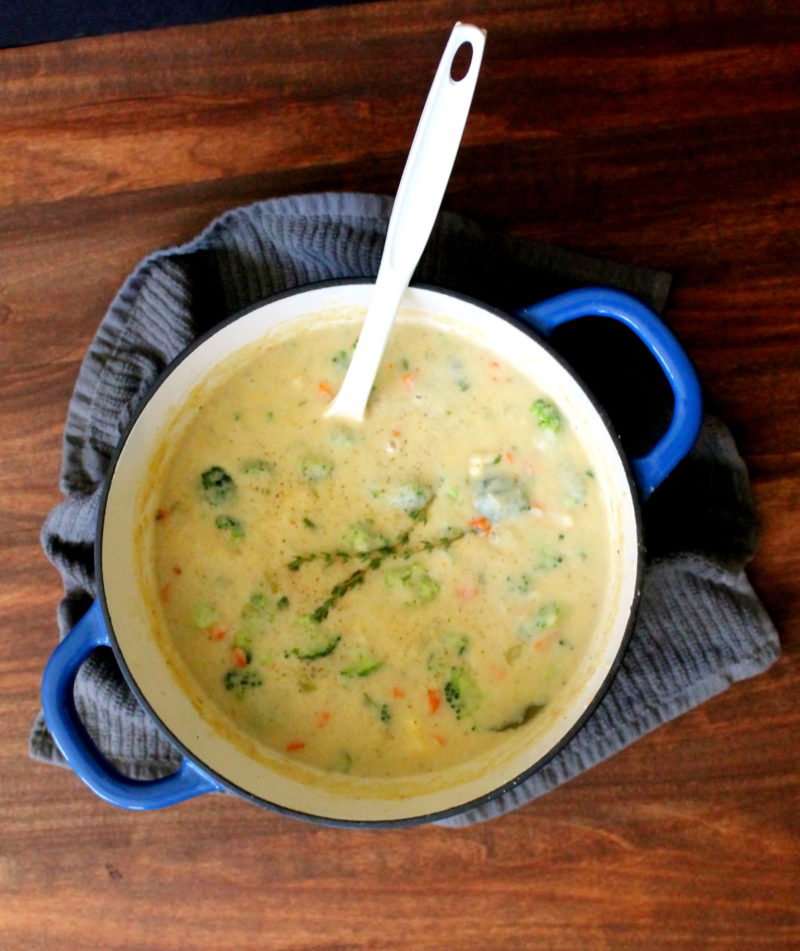 4 tablespoons unsalted butter, divided
3 cloves of garlic
1 onion, chopped
6 cups low sodium vegetable broth, divided
3 cups of cauliflower florets
2 carrots, peeled and chopped
2 stalks celery, chopped fine
1 tablespoon flower
4 cups vegetable broth
⅓ cup milk
1 bay leaf
1 Sprig of thyme
1 russet potato, peeled & chopped
1 cup broccoli florets
Melt 2 tablespoons of butter in a large thick bottomed sauce pan over medium high heat. Stir in half of the onion and 2 cloves of garlic. Cook for one minute and stir in 2 cups of vegetable broth and 2 cups of cauliflower florets. Cover and cook for another 8 to 10 minutes or until the cauliflower is for tender. Transfer the contents of the pot to a blender and puree until smooth. Set aside.
In the same pan add the rest of the butter and onion and saute for 1 to 2 minutes or until the onion is soft and fragrant. Stir in the garlic, carrots, and celery. Cook for 3 to 4 minutes stirring occasionally.
Add the flour and cook, while whisking until browned, about 1 minute. Gradually whisk in the chicken broth, milk, bay leaf, thyme, potato, cauliflower, and broccoli. Cook for 2 minutes while stirring. Add the pureed cauliflower to the pan and bring to a boil. Reduce to a simmer and cook for another 5 to 10 minutes or until the potatoes are fork tender.
Adjust seasonings and serve.