Balsamic Roast Veggie Toasts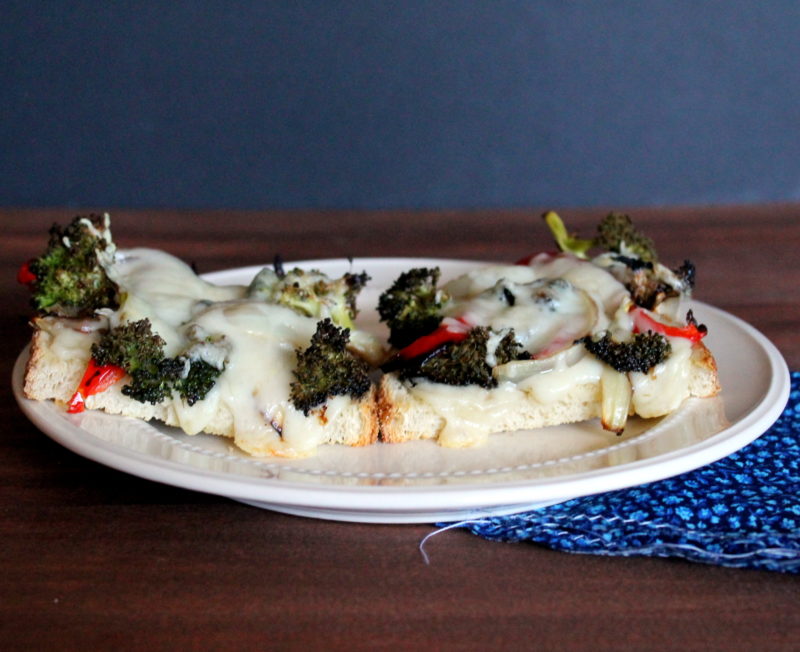 8 oz broccoli florets
1 red bell pepper, sliced thick
1 small red onion, quartered
2 tablespoons olive oil (plus 1 tablespoon)
2 tablespoons balsamic vinegar
¼ teaspoon sea salt
⅛ teaspoon black pepper
8 slices sourdough bread, halved (or quartered depending on preference)
12 oz shredded soft gruyere cheese
Preheat oven to 425F.
Spread the veggies out on a rimmed baking sheet and drizzle with olive oil, balsamic, salt pepper and toss well to coat. Place in the oven for 20 to 25 minutes or until the veggies have softened and begun to caramelize, tossing once halfway through. Remove from heat and set aside.
On a separate baking sheet spread the bread slices out and lightly brush with olive oil and place in the oven until crisp and golden, about 22 minutes. Remove from heat and let stand for 5 minutes.
After the bread has rested carefully divide the veggies up evenly on each toast. Top with cheese and place back in the oven for 10 to 12 minutes or until the cheese has melted.
Serve immediately.
Recipe by
Sweet Love and Ginger
at http://www.sweetloveandginger.com/balsamic-roast-veggie-toasts/