Braised Pork over Cauliflower Puree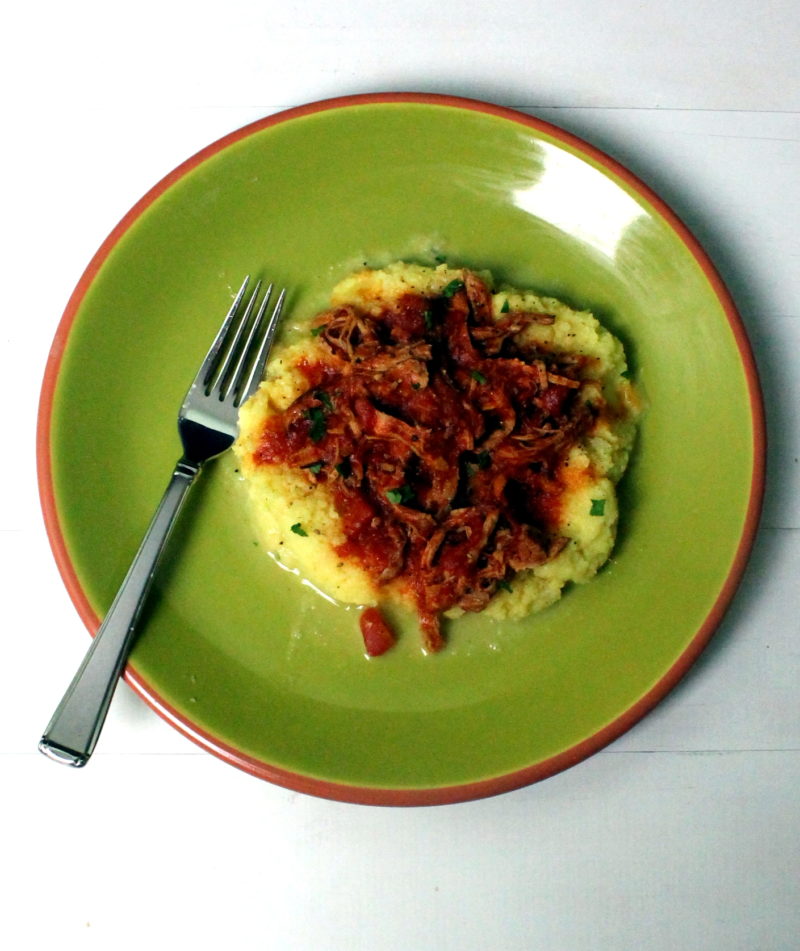 2 lbs boneless pork
Salt & Pepper
2 tablespoons oil
1 medium onion, chopped
2 stalks celery, diced
1 large carrot, peeled and diced
2 cloves garlic, minced
2 tablespoons tomato paste
1 cup red wine
1 can diced tomatoes
2 cups beef broth
2 bay leaves
1 tablespoon fresh chopped parsley
Preheat the oven to 325.
In a large dutch oven heat oil over medium high heat. Season the pork with salt and pepper and add it to the pan. Sear the meat on all sides until well browned, remove the meat from the pan.
In the same pan add onion, carrot and celery and cook, stirring often for 5 to 7 minutes. Stir in the garlic and cook for an additional 2 to 3 minutes. Stir in the tomato paste and cook for 3 to 4 minutes, or until the paste begins to darken.
Stir in the wine and bring to a simmer to reduce to half. While the wine cooks stir the vegetables and scrape browned bits from the bottom of the pan.
Add tomatoes, broth , bay leaves and parsley. Add water if necessary to cover ¾ of the pork with the liquid, do not cover the pork completely. Cover the pan and place it in the oven for 2 ½ to 3 hours. The pork should be tender enough to pull with a fork when done.
Adjust seasonings and serve.
Recipe by
Sweet Love and Ginger
at http://www.sweetloveandginger.com/braised-pork-over-cauliflower-puree/