Gram's Slow Cooked Vegetable Beef Stew with Lentils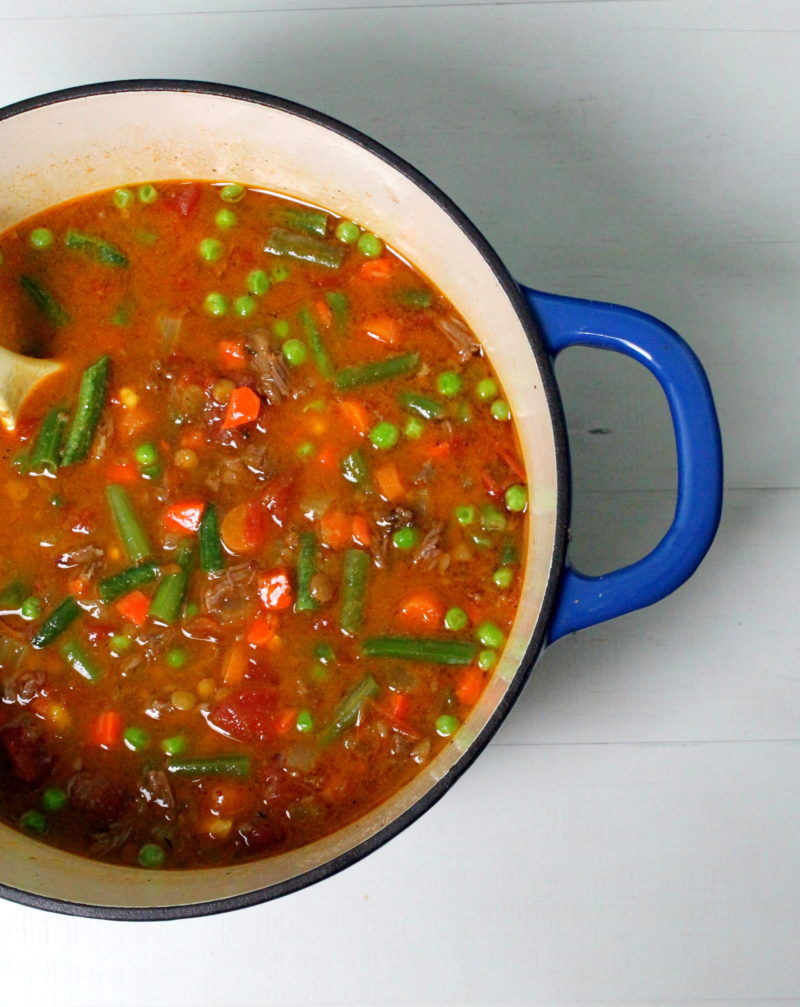 2 tablespoons olive oil
1lb meaty soup bones
1 teaspoon salt
½ teaspoon black pepper
½ teaspoon paprika
½ teaspoon of sugar
1 large onion, peeled and diced
2 carrots, peeled, and chopped
2 celery ribs, chopped
½ cup dry wine
4 cups beef broth
1 (15 ounce) can diced tomatoes
1 cup French green lentils
2 tablespoons tomato paste
1 tablespoon chopped parsley
2 cups frozen mixed vegetables
Heat the oil in a large soup pan over medium heat. Sprinkle the soup bone with salt, pepper, paprika, and sugar. Add it to the pot and sauté until it is well browned on all sides, about 5 minutes.
Stir in the onion, carrot and celery and cook until softened, about 1 to 2 minutes.
Add the wine, broth and tomatoes. Cover and cook over low heat for 2 hours, at which point the meat should be tender.
Remove the meat from the pan to a rimmed sheet and let cool. When you can easily handle the bones remove the remaining meat from the bone, cut into bite size pieces and return the meat to the pan.
Add the lentils, tomato paste, and parsley to the pan and stir until well blended. Bring to a boil and reduce to a simmer and cook for 30 minutes, or until the lentils are tender.
Stir in the veggies and cook for 2 more minutes.
Adjust seasonings and serve.
Recipe by
Sweet Love and Ginger
at http://www.sweetloveandginger.com/grams-slow-cooked-vegetable-beef-stew-with-lentils/