Crock Pot Pea Soup from Leftover Ham Bones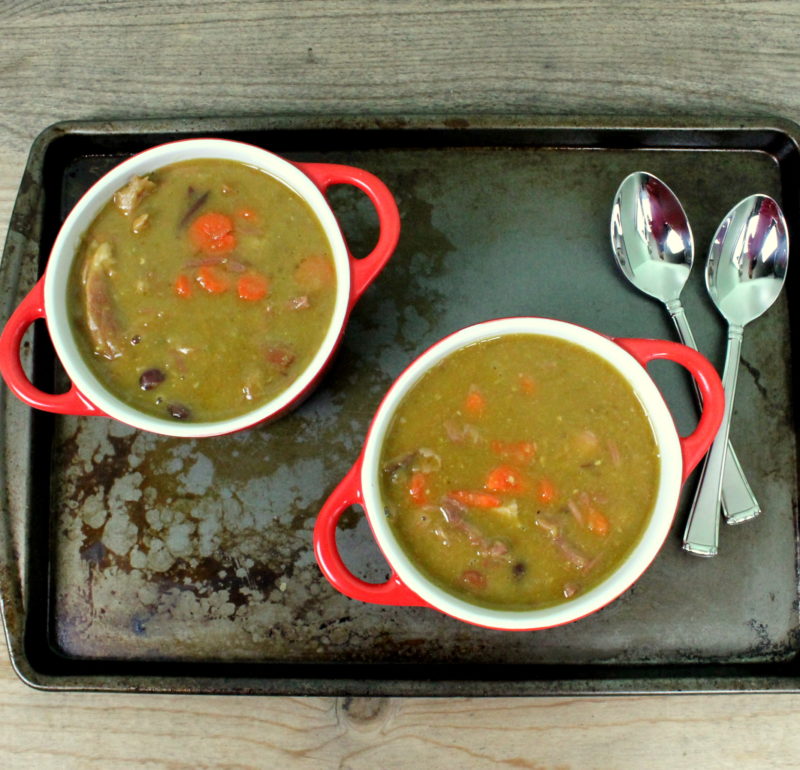 1 ham bone with meat (about 2 lbs) or 2 cups diced ham
1 lb dried green split peas, rinsed
1 bay leaf
½ a small yellow onion, chopped
2 stalks celery, minced
1 clove garlic, minced
4 cups chicken broth
2 cups water
2 carrots, chopped (about 1 cup)
1 (15.5 oz) can kidney beans
Place ham, peas, bay leaf, onion, celery, garlic, broth and water into a large Crockpot. Cover and cook on low for 8 to 10 hours or high for 5 to 6 hours. The peas should be soft, and ham falling off the bone.
Remove the ham and bones from crock pot and transfer to a rimmed baking sheet, set aside to cool for 5 to 10 minutes.
Add the carrot, and beans to crock pot and turn onto high for 2 hours.
Meanwhile remove the ham from the bone and shred into bite size pieces. Return to the Crockpot and stir to combine. Allow the Crockpot to complete cooking.
Once the carrots and beans are soft turn of the Crockpot and serve.
Recipe by
Sweet Love and Ginger
at http://www.sweetloveandginger.com/crock-pot-pea-soup-from-leftover-ham-bones/