Turmeric Spiced Haddock with Lentils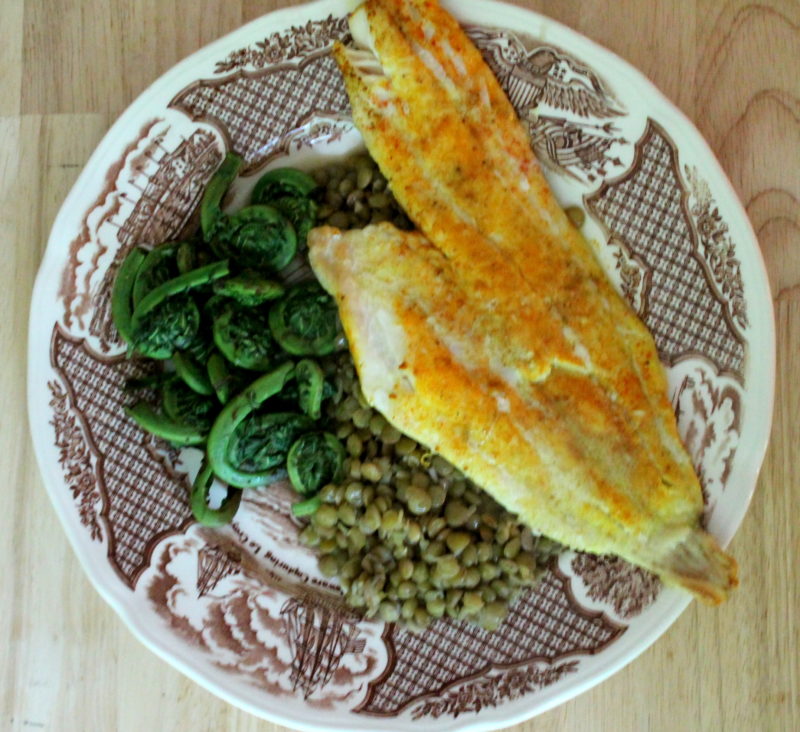 1 lb haddock
2 tablespoons butter, separated
1 shallot, chopped
3 cloves of garlic, minced
1 cup of lentils, rinsed & drained
2 cups of vegetable broth
1 teaspoon fresh cracked pepper
½ teaspoon turmeric
⅛ teaspoon smoked paprika
½ teaspoon salt
½ teaspoon coriander
1 teaspoon cumin
Preheat the oven to 350 degrees and remove the fish from its packaging. Place it on a greased rimmed baking sheet to come up to room temperature.
Thoroughly rinse the lentils into a strainer. Pick over and remove any shriveled lentils, rocks or other debris and set aside.
Melt 1 tablespoon butter in a medium sized saucepan over medium high heat. Add the shallot, and garlic and sauté for 1 to 2 minutes until it becomes fragrant.
Stir in the lentils and add the broth. Bring to a rapid boil then reduce the heat to a simmer and cook for 20 to 30 minutes. Strain all leftover liquid and adjust seasonings.
While the lentils cook combine the turmeric, paprika, salt, coriander, and cumin in a small bowl. Carefully spread this mixture over the top of the fish. Place pats of the remaining butter sporadically on top of the fish and place it in the oven.
Bake for 25 to 35 minutes or until the fish flakes easily with a fork.
Separate the lentils on 4 plates and top with four portions of fish. Serve immediately.
Recipe by
Sweet Love and Ginger
at http://www.sweetloveandginger.com/turmeric-spiced-haddock-with-lentils-fiddleheads/