American Style Venison Goulash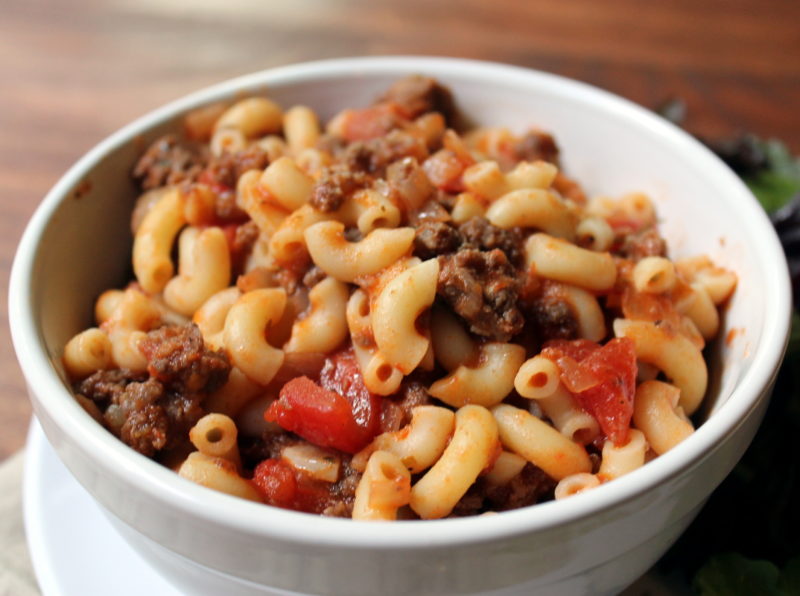 1 lb elbow uncooked macaroni
2 lbs ground venison
2 teaspoons dried Oregano
2 Teaspoons Dried Basil
2 Teaspoons Dried Parsley
½ teaspoon dried rosemary
1 large onion, chopped
4 cloves of garlic, minced
2 (15 ounce) cans Tomato Sauce
2 (15 ounce) cans Diced tomatoes
1 cup beef, venison or vegetable broth (more if desired)
2 Bay leaves
Salt & Pepper to taste
Prepare the macaroni according to package instructions, Set aside.
Heat a large pan or Dutch oven over medium high heat. Add the venison, oregano, basil, parsley and rosemary. Use a spatula or wooden spoon to stir and break up the meat while it cooks. Continue to cook until no pink is visible, about 3 to 5 minutes.
Stir in the onion, and garlic and sauté for one to two minutes or until it becomes fragrant.
Add the tomatoes, sauce, broth, and bay leaves. Bring to a simmer, then cover and cook for 15 to 20 minutes, stirring occasionally. Feel free to add more water if the sauce looks too dry.
Remove from heat, and remove the bay leaves. Stir in the cooked macaroni until well blended and adjust seasonings.
Serve immediately.
Recipe by
Sweet Love and Ginger
at http://www.sweetloveandginger.com/american-style-venison-goulash/