Pizza from Scratch is Really the Best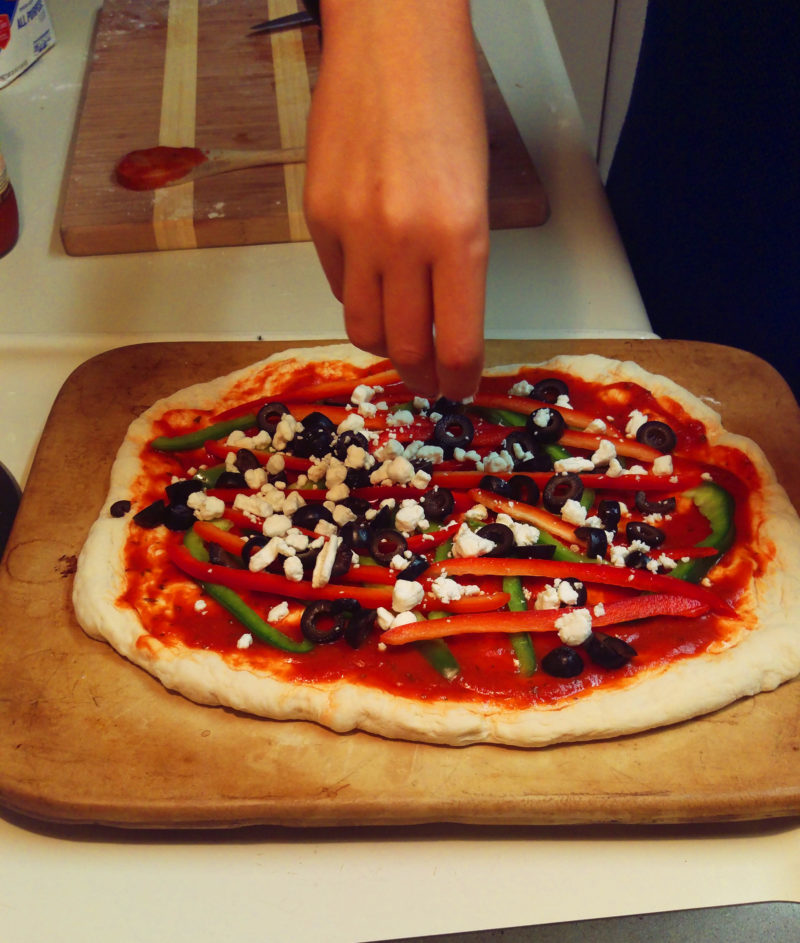 1 tablespoon active yeast
1 teaspoon white sugar
¾ C warm water
2 cups flour
1 teaspoon salt
1 tablespoon olive oil
small handful of cornmeal
Combine yeast, sugar, and warm water in a large bowl. Let stand for 10 minutes. If the combination begins to bubble it is active, if not you may need to try new yeast.
Stir in the salt, until well blended.
Slowly stir in the flour until mostly incorporated, then add in the olive oil and finish adding the flour.
Once a stiff dough begins to form use your hands to create a ball. Place the ball back in the bowl and cover with a clean towel. Let stand for a few hours to rise (instant yeast will only need about 10 minutes)
Once its risen preheat the oven to 450 degrees.
Take the dough out of the bowl and with your hands form a flattened ball. Stretch the dough out to the desired thickness (remember the dough will rise some in the oven).
Toss the cornmeal on the baking sheet and spread it evenly.
Carefully, transfer the shaped pizza dough to the baking sheet and cover with your toppings of choice.
Place in the oven and bake for about 15 minutes (this may change depending on your toppings).
Remove from the oven, cut and serve immediately.
Recipe by
Sweet Love and Ginger
at http://www.sweetloveandginger.com/pizza-from-scratch/