Blackberry Pizza with Ricotta & Basil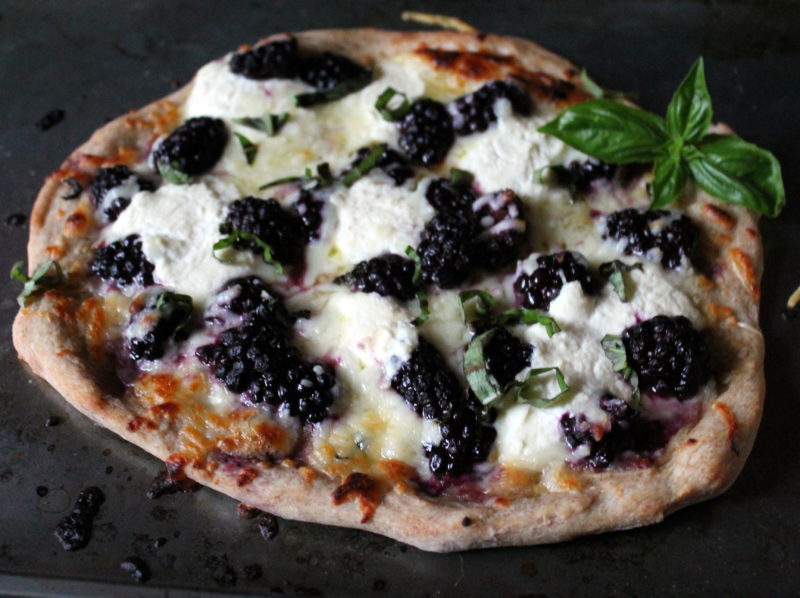 ½ a pizza dough recipe (for a 6 inch pizza)
1 tablespoon olive oil
1 cup fresh blackberries, halved
1 cup mozzarella cheese
¼ cup parmesan cheese
½ cup ricotta cheese
2-3 tablespoons fresh basil, chopped
Preheat the oven to 450 degrees.
Roll out the dough onto a flowered baking sheet.
Drizzle the olive oil onto the pizza dough and use a pastry brush to spread it evenly over the pizza.
Spread half of the black berries evenly over the dough.
Top the berries with mozzarella, and parmesan cheese until coated evenly. Carefully spoon small dollops of ricotta over the pizza. Top with the remaining black berries.
Place the pizza in the preheated oven for 8 minutes. The cheese should be melted and bubbly, and the crust golden.
Remove from the oven and sprinkle on the basil.
Serve immediately.
Recipe by
Sweet Love and Ginger
at http://www.sweetloveandginger.com/blackberry-pizza-with-ricotta-basil/