Spinach & Quinoa Stuffed Acorn Squash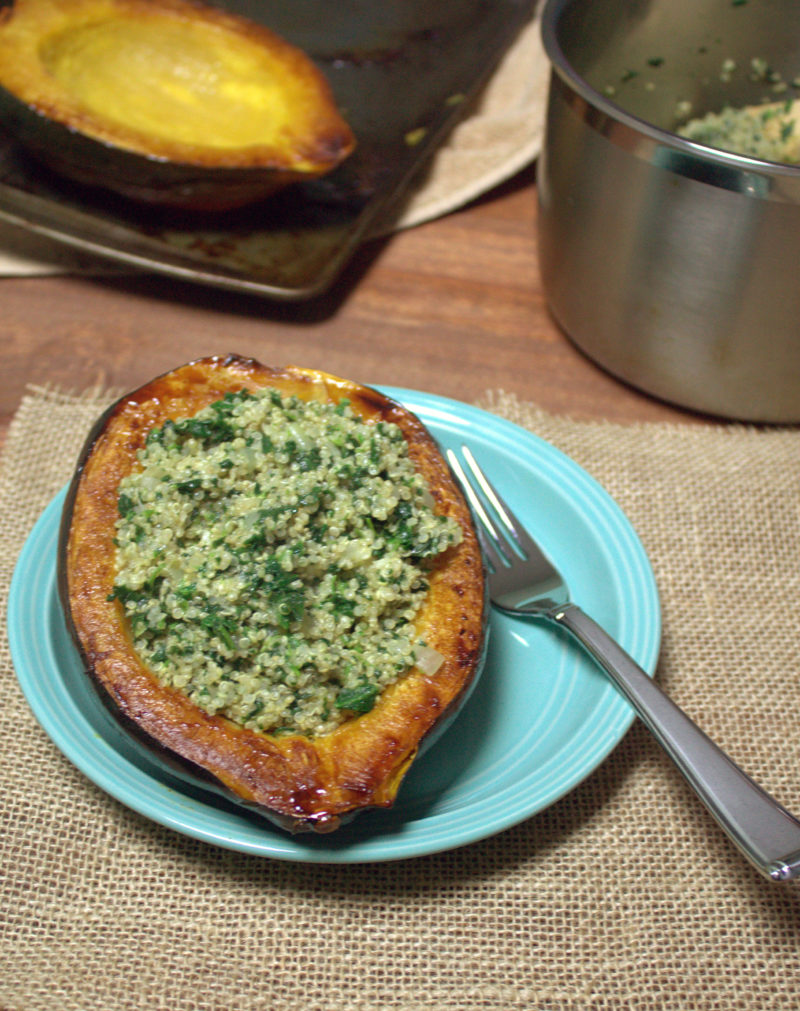 1 Large Acorn Squash
1 tablespoon olive oil
1 tablespoon unsalted butter
1 small onion, chopped fine
2 cloves of garlic, minced
1 cup rinsed quinoa
1 ¼ cups vegetable broth
5 cups baby spinach, chopped
1 tablespoon fresh grated parmesan + more for garnish
Salt & Pepper to taste
Preheat oven to 400 degrees F.
Cut the squash in half from stem to bottom and scoop out the seeds. Rub the flesh with olive oil and lay it flesh side down on a rimmed baking sheet.
Roast until golden brown and tender, 30 to 40 minutes.
Meanwhile, melt butter in a large saucepan over medium-high heat. Add the onion and garlic and sauté until fragrant and soft, about 2 to 3 minutes.
Add the quinoa and cook for an additional minute.
Add the broth, stir and then bring to a boil. Reduce the heat to a simmer, cover and cook for about 20 minutes.
Stir in Spinach and parmesan until well blended.
Adjust seasoning with salt and pepper and remove from heat.
When the squash is done cooking remove them from the oven and flip them over. Carefully fill the seed cavity with the quinoa-spinach mixture.
Top with additional cheese if desired and serve.
Recipe by
Sweet Love and Ginger
at http://www.sweetloveandginger.com/spinach-quinoa-stuffed-acorn-squash/