Spinach Artichoke Chicken Casserole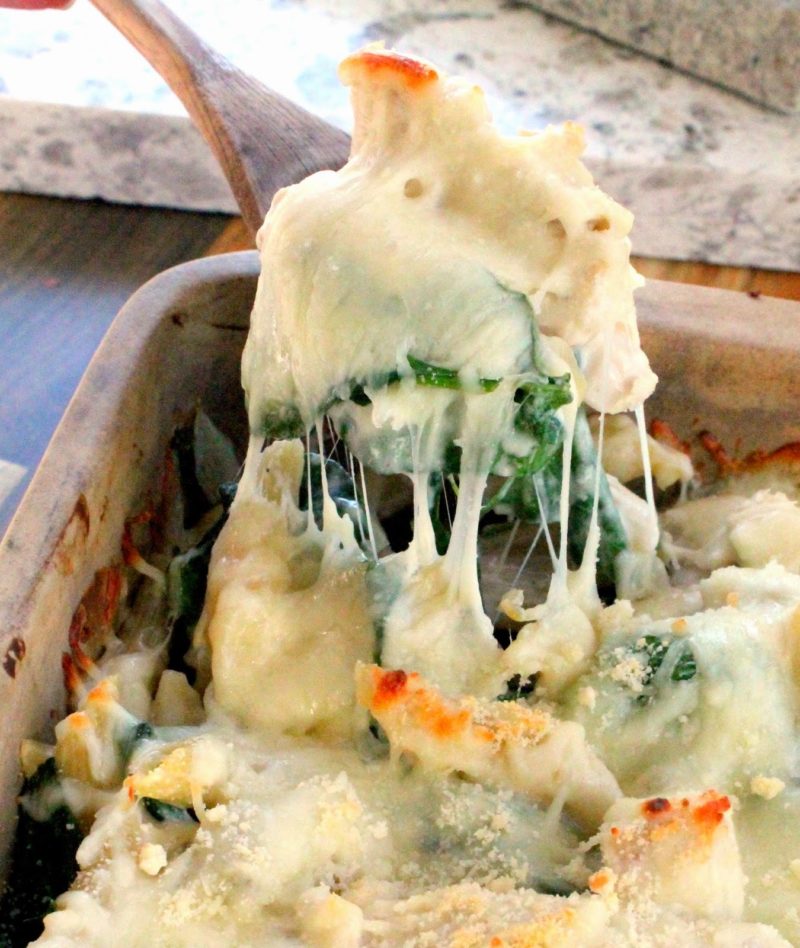 1 tablespoon olive oil
1 small onion, chopped
3 cloves of garlic, minced
½ lb boneless skinless chicken breast, cut into bite size
pieces
Salt and pepper to taste
1 (13.5 oz.) can artichoke hearts, drained, & chopped
5 oz of fresh baby spinach
12 oz penne pasta, cooked according to package instructions
1 cup low fat sour cream
4 oz low fat cream cheese, softened
½ cup Parmesan cheese
1 cup mozzarella cheese
Preheat the oven to 425.
In a large skillet heat oil over medium high heat and sauté the onions for one minute.
Season the chicken with salt and pepper then add the garlic and chicken to the pan and cook, tossing occasionally until the chicken is browned on all sides.
Add the artichoke hearts and spinach and cook, while stirring until the spinach has wilted.
Remove from heat and stir in pasta, sour cream, cream cheese, and parmesan until well
combined.
Transfer to a greased baking pan and cover with mozzarella cheese.
Bake in the oven until the cheese has begun to brown, about 10-15 minutes.
Serve immediately.
Recipe by
Sweet Love and Ginger
at http://www.sweetloveandginger.com/spinach-artichoke-chicken-casserole/