Venison Barely Stew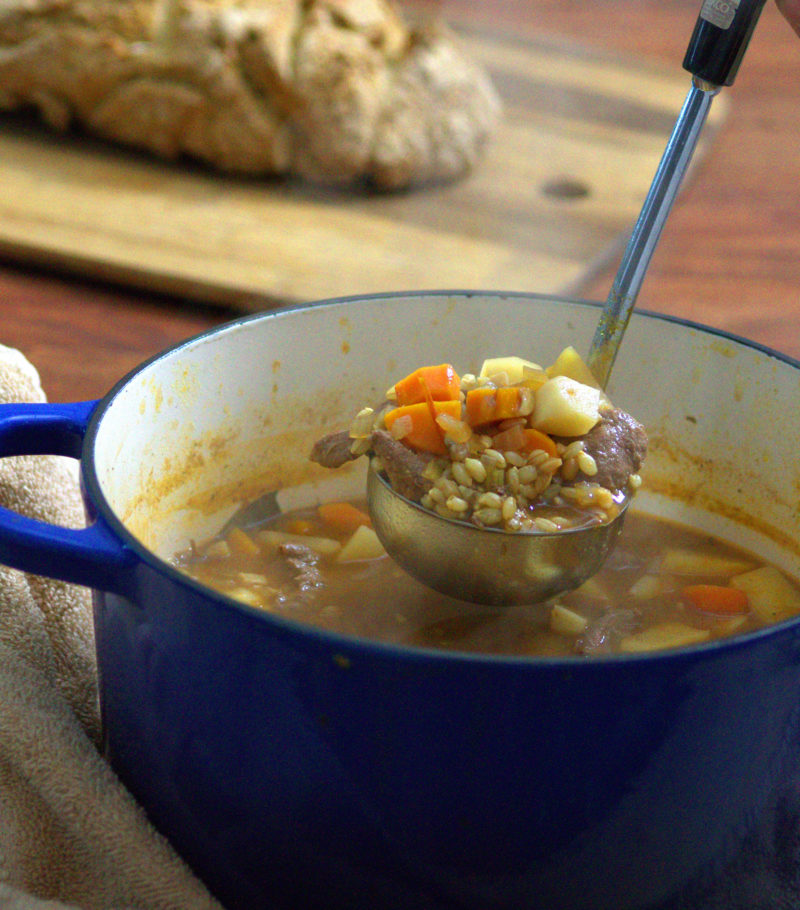 1 ½ pounds venison, cut into bite size pieces
Salt and pepper to taste
2 tablespoons extra virgin olive oil, divided
1 large onion, diced
2 large carrots, diced
1 stalk celery, diced
½ pound crimini mushrooms, cleaned and quartered
3 cloves garlic, minced
1 teaspoon dried thyme
1 teaspoon dried oregano
2-3 turnips, peeled & chopped
½ cup pinot noir
4 cups beef stock
1 tablespoon tomato paste
1 large bay leaf
½ cup barley
½ cup flat leaf parsley, chopped
Pat the venison cubes dry with a paper towel and season with salt and pepper.
Heat one tablespoon of the oil in a large Dutch oven over medium-high heat and sear the meat on all sides, working in batches so as to not overcrowd. Use a slotted spoon to remove the venison and set aside.
Heat the remaining tablespoons of olive oil over medium-high heat. Add the onion, carrot and celery to the Dutch oven. Cook for 5 minutes, or until softened.
Add the mushrooms, garlic and herbs and cook for another minute.
Return the beef to the pot and add the turnip.
Add the wine to deglaze the pan, scraping the browned bits form the bottom of the pan.
Stir in the broth, tomato paste, and bay leaf, until well combined.
Turn up the heat to bring the stew up to a boil, and then reduce to a simmer. Cover and cook for 45 minutes to 1 hour.
Meanwhile, cook the barley. Bring the barley and 1 ¼ cup of water to a boil. Reduce to a simmer, then cover and cook until the barley is tender 40 to 50 minutes. Drain and set aside.
When the stew has simmered stir in the cooked barley and venison cook for another minute or two.
Adjust seasonings and serve hot, garnished with fresh parsley.