Panera's Southwest Chicken Tortilla Bowl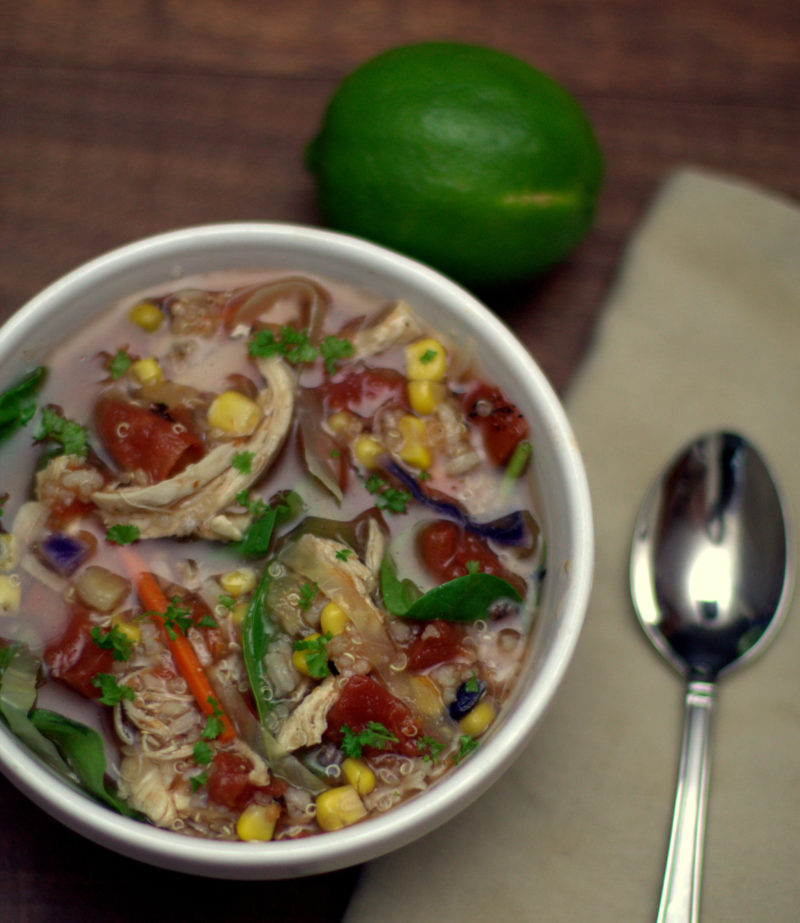 4 tortillas
2 tablespoons olive oil
Salt to taste
½ cup brown rice
½ cup quinoa
1 small onion, peeled and diced
1 clove of garlic, peeled and minced
1 teaspoon chili powder
½ teaspoon smoked paprika
½ teaspoon cumin
¼ teaspoon cayenne pepper
½ teaspoon salt
¼ teaspoon black pepper
1 small carrot, julienned
¼ cup shredded cabbage
½ a radicchio head, shredded
1 can fire roasted tomatoes
1 lb chicken (roughly 2 breasts), cooked and shredded.
6 cups chicken broth
⅓ cup frozen corn
½ cup roasted red peppers, chopped
⅓ cup pickled onions
2 cups baby spinach
1 lime sliced
Preheat the oven to 425 degrees.
Stack the tortillas and slice in half. Cut the halves crosswise into ½ inch strips. Place on a rimmed baking sheet and toss with 1 tablespoon olive oil. Add salt to taste and place in the oven for 8 to 10 minutes, or until golden brown. Remove from heat and set aside.
Prepare the rice and quinoa according to package instructions and set aside.
In a large sauce pan or Dutch oven, heat the oil over medium high heat. Add the onion and garlic and sauté for 2 minutes, or until it becomes fragrant.
Stir in the chili powder, paprika, cumin, cayenne, salt and black pepper. Add the carrot, cabbage, and radicchio. Cook for 1 to 2 minutes, stirring well.
Add the canned tomatoes, chicken and broth, Bring to a boil then reduce to a simmer. And cook for 10 minutes.
Stir in the corn, red peppers, rice, quinoa, and let simmer for another 5 minutes.
Add the pickled onions, and spinach, stir well and remove from heat. Serve immediately with tortilla strips, and a slice of lime on top.
Recipe by
Sweet Love and Ginger
at http://www.sweetloveandginger.com/paneras-southwest-chicken-tortilla-bowl/