Thai Peanut Salad Cups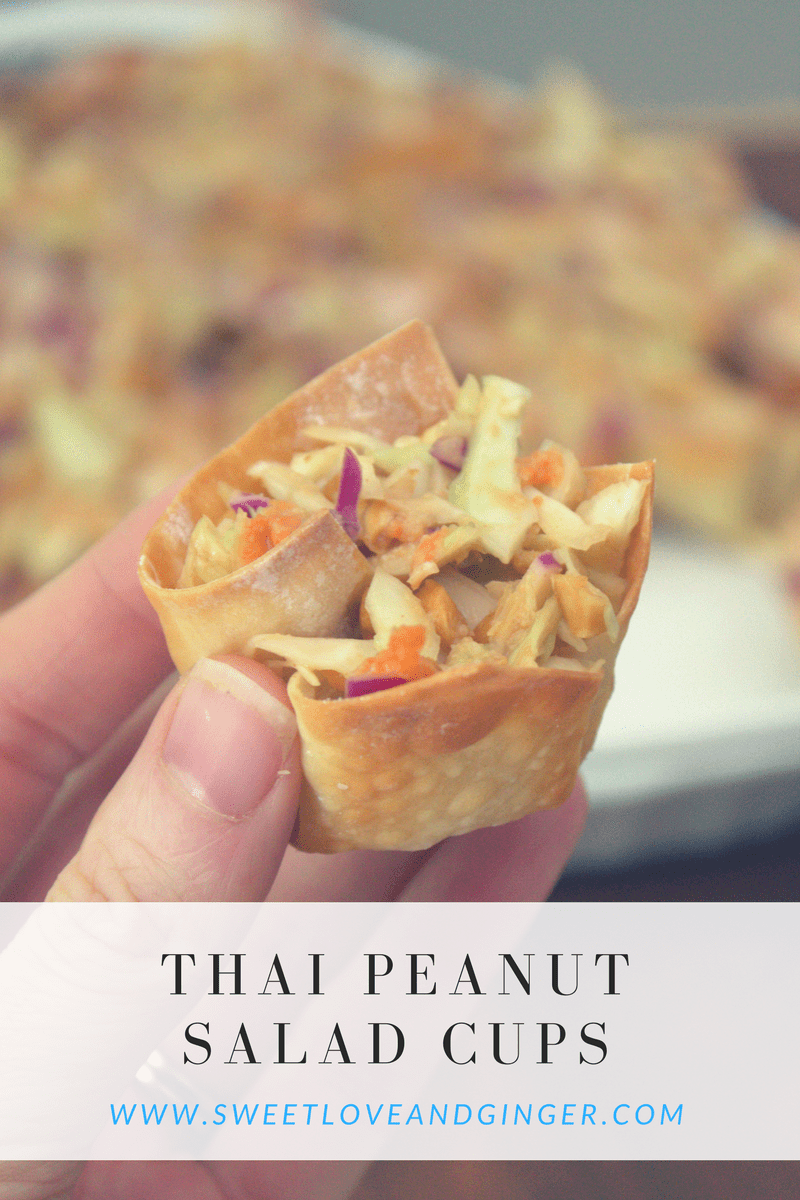 24 wonton wrappers (eggless if you're going vegan for this)
vegetable oil cooking spray
¼ cup all natural peanut butter
2 tablespoon rice vinegar
2 tablespoon fresh lime juice
3 teaspoon vegetable oil
1 tablespoon soy sauce
2 tablespoon honey
2 cloves garlic finely minced
1 tablespoon grated ginger or lemon grass
¼ teaspoon salt
2 cups shredded green cabbage
1 large carrot, shredded
1 cup shredded red cabbage
2 tablespoons chopped dry roasted peanuts
2 tablespoons chopped green onions, for garnish
Preheat your oven to 350 degrees.
Spray a 12-cup muffin tin with cooking spray and place a wonton wrapper inside each muffin cup. Push the wrappers down into the muffin cups, making a well in the center.
Place in the oven and bake for about 10-12 minutes or until the cups are crispy and slightly browned.
Remove from heat and let cool to room temperature. (you can remove the cups at this point, but they are easier to fill still in the pan).
In a small, microwave safe bowl combine the peanut butter, rice vinegar, lime juice, oil, soy sauce, honey, minced garlic, grated ginger (or lemon grass). Place in the microwave for 30 seconds to 1 minute. Whisk until all ingredients are well incorporated. The sauce should be thick but still drip off a spoon. If it is too thick water a teaspoon at a time and whisk until the desired thickens is reached. Add salt and set aside.
In a large bowl combine the cabbage, carrots, and peanuts. Toss well to combine. Pour the sauce over the top and toss again to combine.
Use a tablespoon to spoon the salad mixture into each individual cup.
Once filled arrange on a serving tray and sprinkle with green onions. Serve immediately.