Irish Bangers and Mash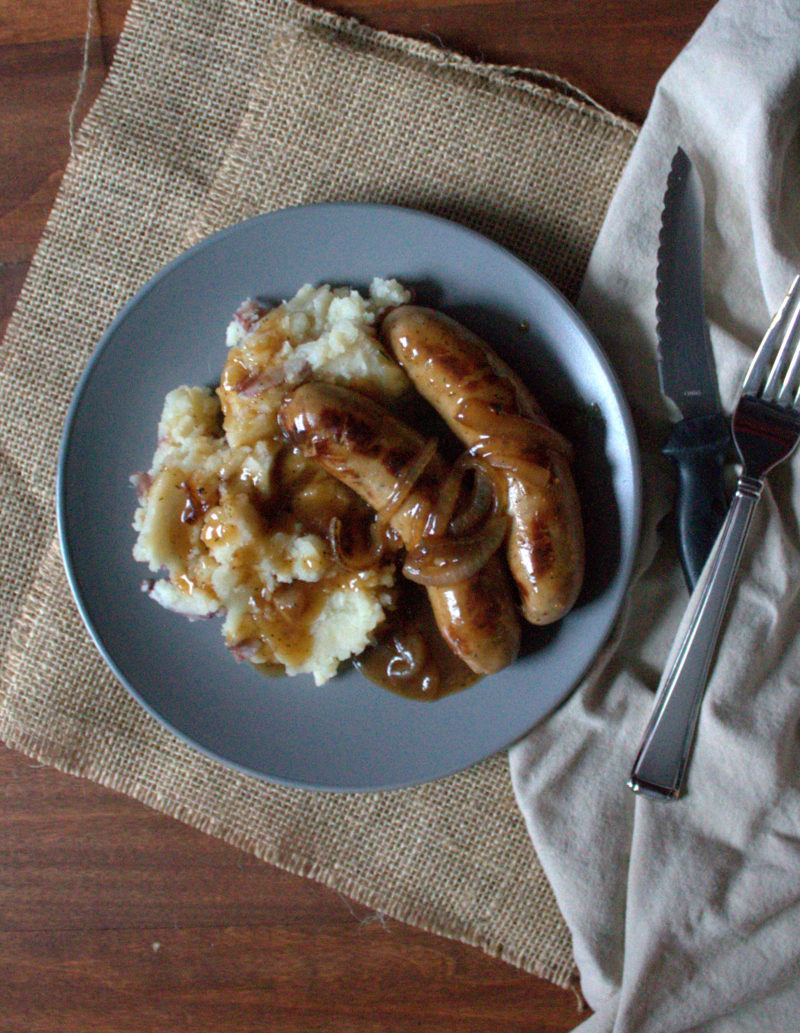 1 pound potatoes, peeled and cubed
3 tablespoons butter, unsalted
1 lb pork and leek sausage links
2 large onions, peeled, halved and sliced ¼ inch thick
1 teaspoon balsamic vinegar
2 cups beef stock
1 tablespoon cornstarch
¼ cup milk
Salt and pepper to taste
In a medium saucepan, cover the potatoes with water. Bring to a boil and simmer 15 minutes, or until easily pierced with a fork.
While the potatoes are cooking, melt 1 tablespoon butter in a large skillet over medium. Add the sausages and cook, until browned and cooked through. Remove the sausage and set aside.
In the same pan sauté the onion, until softened and slightly browned (add more butter if necesary), about 4 to 5 minutes. Deglaze with balsamic, and stock, scraping browned bits from the bottom of the pan, cook for 1 minute.
Whisk in the corn starch and cook for an additional minute to allow the sauce to thicken.
Add the sausages back to the pan to warm, about 1 minute.
Drain the cooked potatoes and add 2 tablespoons butter, milk, salt and pepper in a large bowl. Mash by hand until a well combined and chunky mash forms.
Serve with hot sausages and gravy over potatoes.