So, you want to know about oils?
Well, then you, my friend in the right place because I have a huge passion for educating people on what they are, how to use them, and how they can help not only with our health but the health of our planet. These little bottles are really something special.
I fully believe the biggest changes we can make in our lives to help the planet (and our own bodies) is to improve our diet. I think this is pretty clear when you look around this site long enough, however, the very next thing that I think we should focus our energies on is removing toxins from our homes.
As a civil engineer who has studied and worked in environmental remediation, I have a pretty acute knowledge of just how much we and our environment are affected by toxins and nasty chemicals. Which is why I made the switch to using essential oil-based products.
Essential oils are about way more than pretty smelling scents. Humans have been using the power of plants for thousands of years to aid in healing, immunity, and more. As a big fan of living as close to nature as possible, I have a deep appreciation for essential oils and their power. Young Living (YL) offers not just their amazing organic oils but an entire lifestyle free of chemical additives and toxins. It is their seed to seal promise that really made me want to try their products and begin my own journey to a toxin-free home.
For more info see the FAQ's below!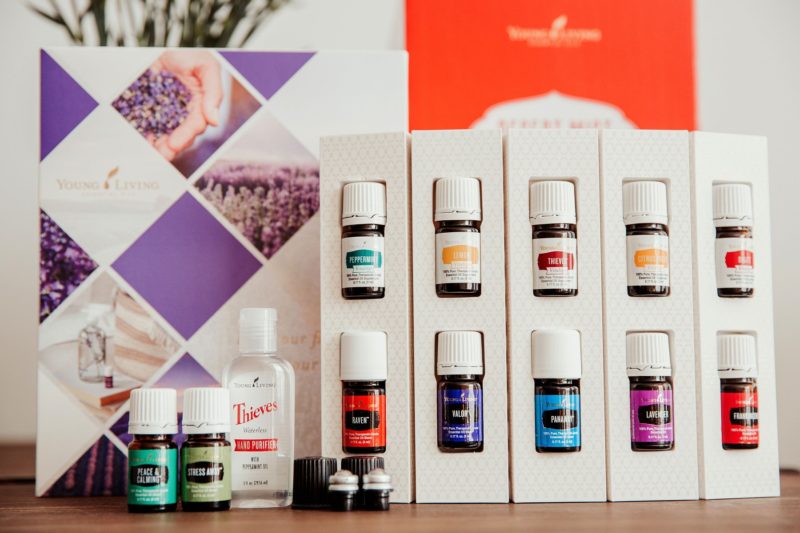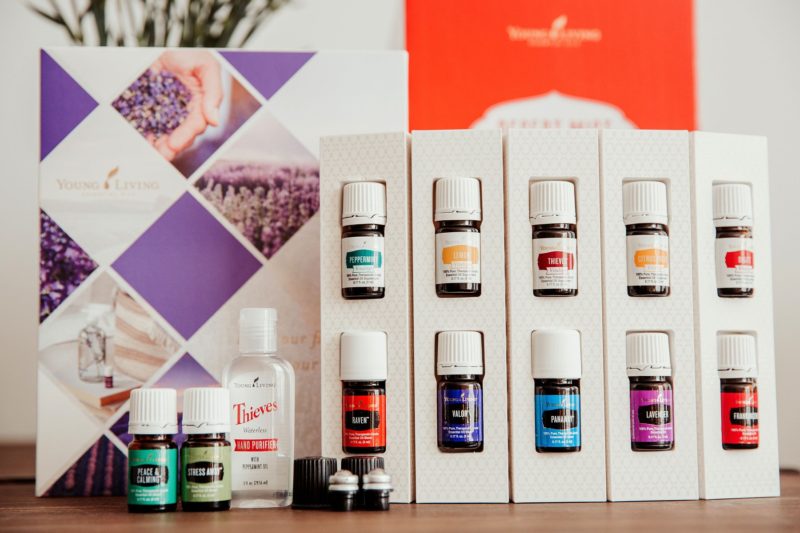 How to Get Oils
To enroll with me, ORDER HERE and make sure the number 16756009 appears in both the "Enroller" and "Sponsor ID" fields.
Sign up as a Member: This does not mean you have to sell oils, but that you are getting a starter kit & will then get 24% off retail prices.
Sign up as a Retail Customer: This is a great option if you only want to try 1 or 2 products, but you will pay 24% more and miss out on other member bonuses.
Then select the Premium Starter Kit (PSK) and choose the diffuser you'd like if you're going the oils route!
Don't forget to check the box under the kit that says "Use the selected Premium Starter Kit as my first Essential Rewards (ER) order and sign me up for an Essential Rewards subscription." You can start receiving 10% in rewards right away, as well as this month's 100PV Promo oil for free! You can unsubscribe at any time. (learn more about essential rewards in the FAQ below)
If you do select the PSK as your first ER order then you can SKIP Step 2
Click Next under Step 3 and continue through to the end. Once your order is completed, you will receive a confirmation email.
As soon as I receive my email from Young Living that you're a new member, I will shoot you a welcome email with some great starter info, and get you hooked up with our amazing community on Facebook You don't have to figure it all out on your own, we are here to walk right alongside you!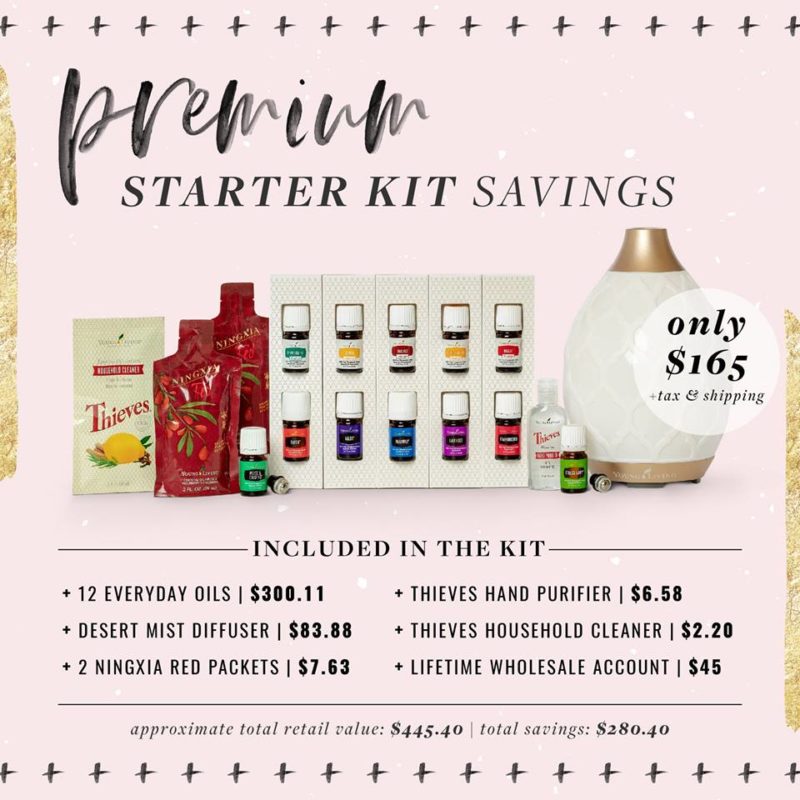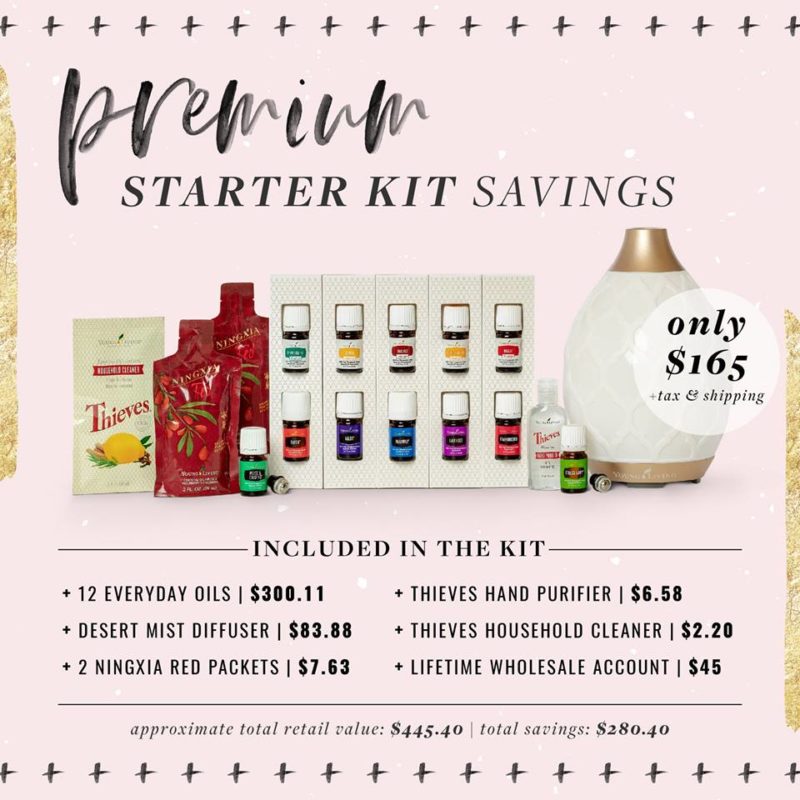 FAQ
What comes in the starter kit?
Everything you see above including a diffuser of your choice! (P.S. when you sign up with me you also get a great welcome package with extra goodies!)
The kit contains a lot, where do I start?
By opening up a bottle and taking a whiff. Seriously, it's that easy. However, I will send you plenty of product information and usage ideas to get you started. Also, you will get direct access to not only me but a huge Facebook community of oilers that is full of information! We are all more than happy to help you find the correct oil and use for whatever issue you're are facing!
Also, check out this post for some more ideas!
What's wrong with oils from xx department store?
Not all oils are created equal. Those cheap oils from some department store are not going to help you with much of anything. Many of these oils are synthetic, causing your body to process them as toxins (exactly what we are trying to avoid here). They can be dangerous and should never be used around children, or those with sensitives. The U.S. only requires 5% of actual essential oil to be in a bottle in order for the label to say 100% Essential Oils (it's crazy I know) so you have to be really careful with what you're buying.
Why Young Living?
I have spent years using essential oils, albeit not necessarily with Young Living. I made the switch to YL after learning about a number of their other product lines. In attempts to reduce our families exposure to toxins, I had attempted to find or make many of my own cleaning and personal care products, without much consistency. These projects take time, and as a new mother of two littles, my time has dwindled. Young Living not only supplies oils, but supplements, cosmetics, personal care items, and home cleaning products that make living the oily life that much easier. Not to mention the amazing savings you get from regular purchases. For the stage of life that I am in, I'll take anything that makes my life easier.
Young Living Essential Oils is the world leader in essential oils and has been at work for over 20 years. Their oils are therapeutic grade oils, meaning that they are high enough quality to be used directly on the body (some have even been approved by the FDA as food grade). Developing essential oils is not as simple a process as we would hope and the fact that YL is part of the process from "seed to seal" means a lot. They make sure that the source plants are all organic, and that the processing is done at the highest level of care. There are no additives (unless noted) and the YL family includes actual farms and distilleries across the globe. All of this is to ensure the highest quality product for you and your family.
What exactly do you use oils for?
Um, Everything? Want to tame your kids? Need help focusing, or sleeping? Supporting your bodies natural functions? What about cleaning your house, or helping your eyelashes grow fuller? The list of things that oils can help you with is neverending! But don't stress! I'm going to help you every step of the way!
How do you use oils?
3 main ways are through diffusing in your home, topical use, and ingestion (under the guidance of a certified medical practitioner). You get a diffuser in your starter kit so you can start using them right away. This post has some more info on how to use oils topically.
What is Essential Rewards?
Essential Rewards is our monthly autoship program where you get points back, freebies every month. The best part is unlike most subscription boxes, you get to choose what's in it! Young Living has so much to offer that I've been able to switch out most of the stuff we buy from Target, Walmart, or amazon to this!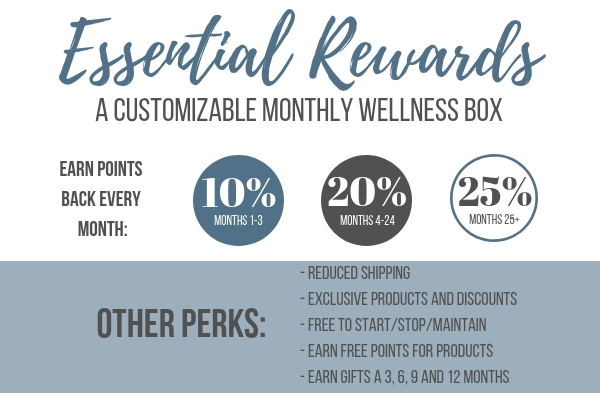 I want to go toxin-free what products should I switch out first?
I definitely suggest starting with your household cleaner, luckily a sample of this comes right in your kit! Next, I would say your dish or laundry soap. These are two places where you come in contact with toxins the most (the plates you eat off and the clothes that touch your skin all day). I'm also a huge advocate for swapping out your personal care products and makeup because the industry is so poorly regulated. Our skin is the biggest organ we have, and it gets abused! Here's a sample for your first 2 essential rewards orders:
Thieves Household Cleaner ($23.50), Thieves Dish Soap ($14), Thieves laundry Soap ($29.50), Lavender Foaming Hand Soap 3 pack ($33.50) = $100.50 (Free shipping at 100p!)
Personal Care Essential Rewards = 105 ($139+ Value) Contains: Thieves Dental Floss, Lavender Calming Bath Bombs, Thieves Aromabright Toothpaste, Scared Frankincense 5ml, Charcoal Bar Soap, Lavender Hand & Body Lotion, Satin Facial Scrub & Branded Loofa
Mirah Lustrous Hair Oil ($27.75), Shower Gel Base ($16.75), Tranquil Roller ($30.75), Vitality Drops Bundle ($37.25) = $112.50