Are you ready for another addition of Foodie Pen Pals?
What is a Foodie Pen Pal? It is simply a group of people around the country (and the world now) who send another person a box of food related goodies to somewhere else in the country. It is open to everyone! Just click on the picture above for more details.
This month I got my box from Tess of
Cross Country Cajun
. And let me tell you she dun good!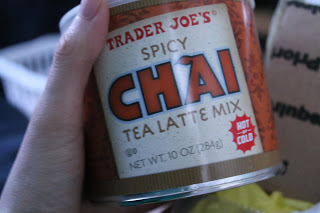 I have been crazy busy lately so a box of quick snacks has been a life saver, and the chai mix was fabulous for those late nights at work. I can't tell you how much I love chai, because I really really do.

I haven't been able to test out the cookie or fig butter but I'm hoping to get to them this weekend. I love figs, especially with some creamy feta cheese and the almond biscotti that I also got in my box. It's making my mouth water just writing this.
Chuck stole the roasted cocoanut one night while I was working late, and I can't blame him I'm nowhere near as fond of it as he is, so I let him have it. He said it was delicious.
Tess thank you again so much! I really loved my box!
If you are interested in seeing what everyone else got check out the Link Party!