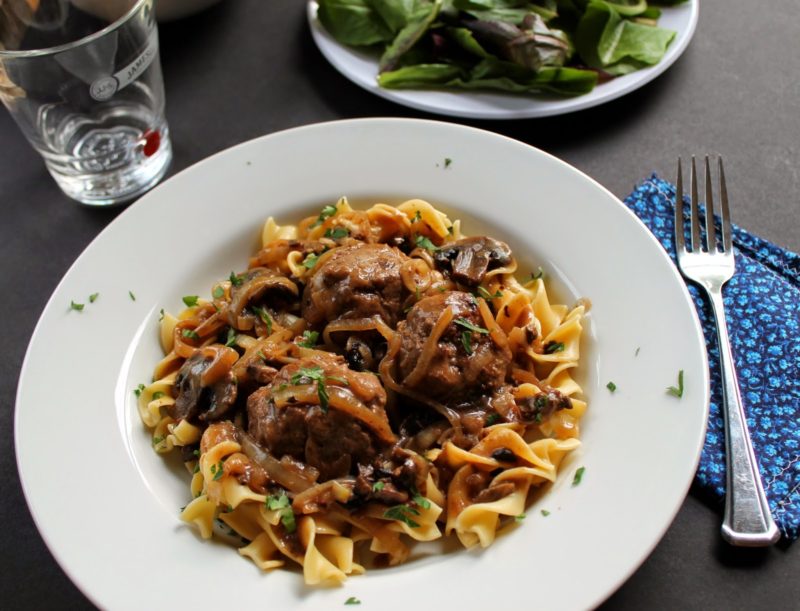 Salisbury steak is an American dish that takes minced beef, some other ingredients and shapes them in to a steak shape.  It is usually served with gravy over egg noodles or mashed potatoes. It's also pretty delicious if done well. Note that I am not talking about the TV dinner version. I like to think of it as a high class version of meatloaf. Meatloaf is a comforting homey staple in the American diet so why not Salisbury steak?
I came across The 
Pioneer Woman's Salisbury Steak Meatballs
 recipe and thought it would be a great recipe to "clean up", as in create a clean eating version of it. I like meat balls instead of the steak because they cook up faster, and during the week we are all about speed and ease.
First and foremost it needed some more veggies, so I decided to go with an onion and mushroom gravy as well as a few bright green sides. I didn't want to fuss with the original meatball recipe too much for fear of losing the traditional Salisbury Steak flavor profile. To finish off I served it over whole wheat egg noodles, and the leftover gravy was wonderful on top of steam broccoli, peas. To make the meal complete I also served a basic green side salad. You can never have enough greens.
All together it came out pretty wonderfully. Chuck's favorite were the meatballs, sometimes it pays to do something just a little different than the norm.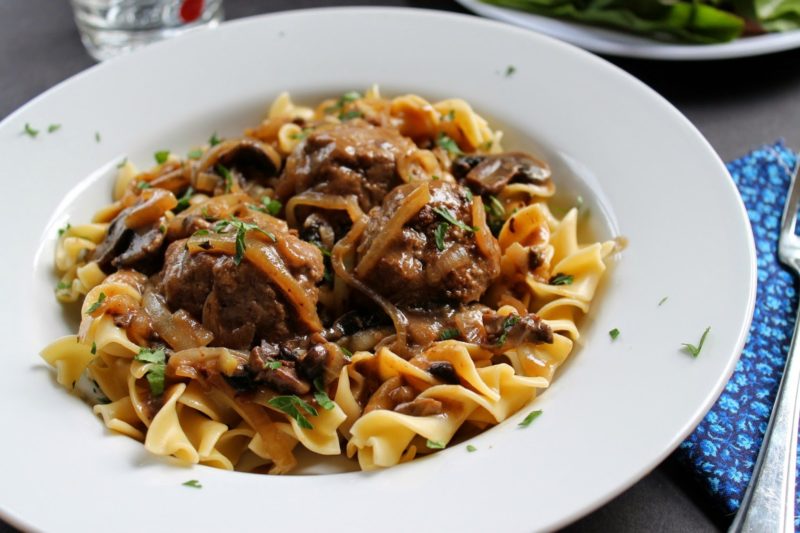 Clean Salisbury Steak Meatballs
Ingredients
1 lb 95% lean ground beef
¼ cup whole wheat bread crumbs
1 tablespoon Dijon mustard
2 teaspoon Worcestershire sauce
Pinch of salt & pepper
1 tablespoon extra virgin olive oil
1 medium onion, sliced thin
8 oz mushrooms, sliced
1 ¼ cups low sodium beef broth
1 tablespoon whole wheat pastry flour
2 tablespoon Worcestershire sauce
Instructions
In a large bowl combine the meat, bread crumbs, mustard and salt & pepper. Once well mixed create golf ball sized meatballs and 2-3 inches in diameter.
In a large skillet over medium high heat warm the oil and gently place the meatballs in. Allow them to cook, rolling them every few minutes to brown all sides (2-3 minutes). Remove the meatballs from the pan and set aside.
In the same pan add onions and mushrooms, you may need to add a bit more oil to keep them from sticking. Cook them over medium heat until the mushrooms have released their liquids and the onions have begun to brown.
Stir in flour until well blended. Add broth and Worcestershire sauce stirring until well blended.
Add the meatballs back to the pan and cook for 3-4 minutes or until the sauce has thickened and meatballs are cooked through.
Serve immediately.