I love the idea of CSA's. I think they are a great way to support local farms, and get people to eat healthier. I would encourage anyone and everyone to sign up for them if you don't already have great access to fresh vegetables all the time like we do (or maybe even if you do). Often times when I talk to friends about managing their CSA boxes I hear a lot of the same concerns. How do I use it all? What do I do with a kohlrabi? How do I prepare whole beets? What even is this thing?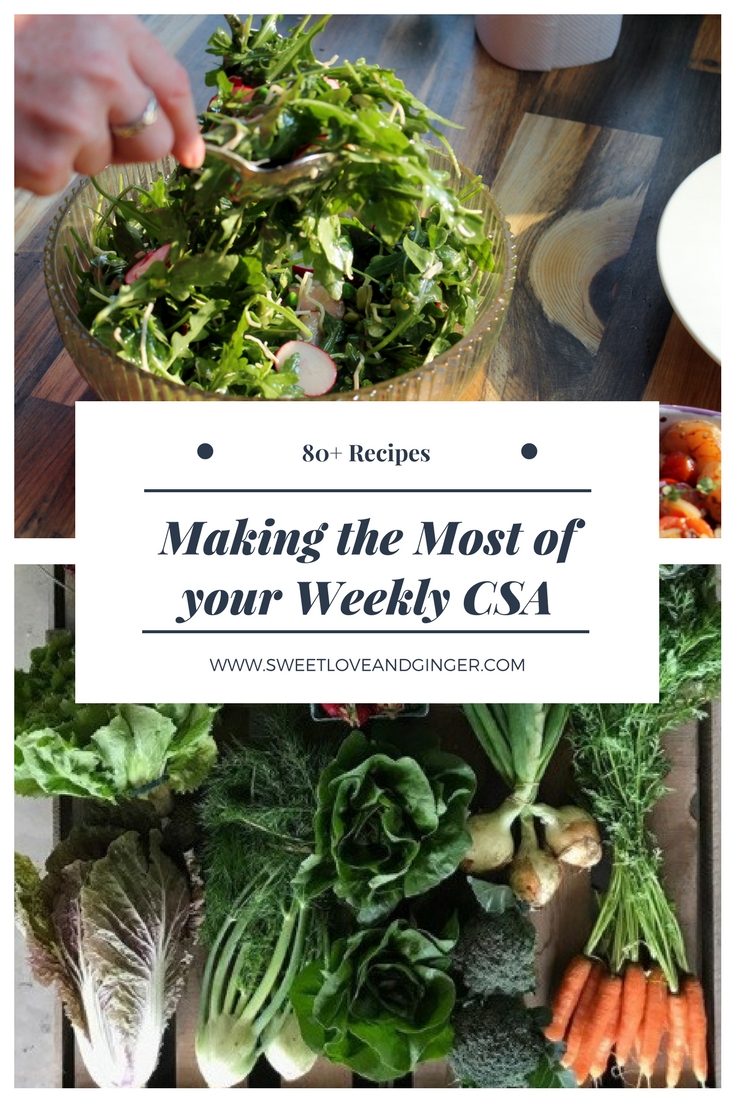 There are a lot of questions and a lot of overwhelm that can happen when you sign up for a big box of veggies every week. Especially, if you aren't familiar with them or aren't used to cooking that many veggies from scratch on a daily basis.
In an effort to help everyone out I thought I'd tell you how I personally would use up all the produce in a CSA box. Below You will find a 12 different CSA boxes all from Working Hands Farm (check out their insta its so drool-worthy). Each photo is paired with a list of the produce and a handful of recipes that will get you through the entire thing. That adds up to over 80 recipes and even more ideas!
I chose Working Hands Farm because they post a weekly photo of what can be found in the box that is really clear as well as a list of items. Also, they have a year-round CSA, so we aren't missing any seasons on this one. I chose 1 box for each month this way you have an idea of what to expect as the seasons change. These guys are located in Oregan, so keep in mind that veggies available by season vary depending on climate.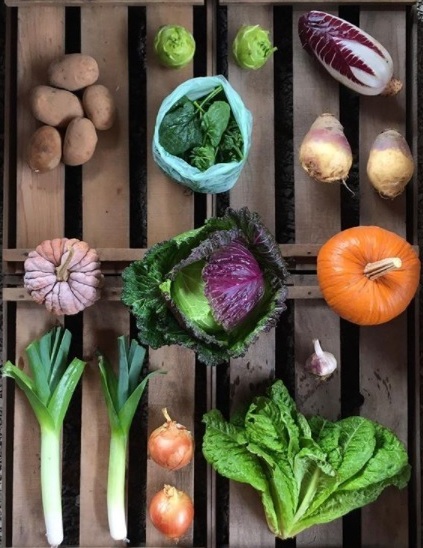 January – Russet potatoes, kossak kohlrabi, Treviso radicchio, spinach, rutabaga, black futsu pumpkin, January king cabbage, New England pie pumpkin, garlic, leeks, storage onions & lettuce!
Since January is all about the soups, a nice pumpkin soup or curry to start the week would be great. A recipe like this one would use up the pie pumpkin, couple potatoes, and a leek. I would also toss in the spinach for good measure. A creamy soup such as this would go nicely with a fresh kohlrabi slaw.
For the radicchio, I would roast it with some oil, and thyme and then toss it with a grain such as farro, or barley and a balsamic dressing. You could serve this with a steak or some sausages and maybe something green for a complete meal.
The following night I would roast the black Futsu pumpkin, rutabaga, garlic, and rest of the potato. Tossing them with some of the cabbage, lettuce, and any leftover spinach, for a big salad.
Leftover onions or cabbage would just be kept for use later or in other recipes. Onions store well and are used often. Cabbage can be added to many salads, or slaws and is also good sautéed in a pan as a side dish.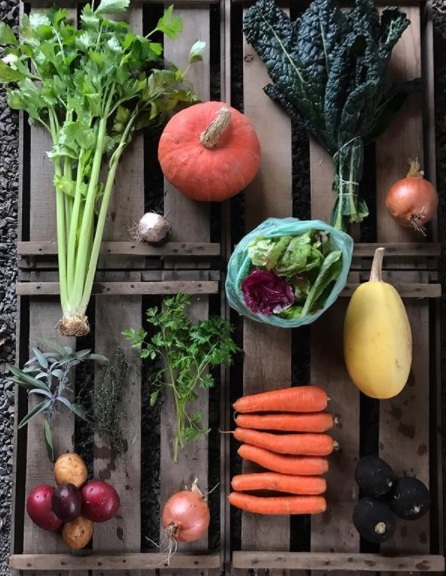 February – Celery, garlic, kabocha squash, kale/collards, storage onions, a bag of mixed lettuces and radicchio, spaghetti squash, sage, thyme, parsley, mixed potatoes, carrots & black radishes!
Starting with the squash and kale I'd either make a risotto or stuff the squash (either of the linked recipes works by swapping the spinach or kale). Both recipes can be improved with the use of some of the fresh herbs, onions, and garlic.
The mixed lettuces and radicchio can be made into a salad with some carrot, celery, and black radishes. This can be had with one meal or as side salads throughout the week.
The spaghetti squash can be roasted and served as a side dish in numerous ways. Similarly for the potatoes.
Another option to use up the potatoes is to make a nice soup using the onion, celery, and carrot as a base. Numerous recipes begin with this mirepoix base and also use potatoes, so take your pick. Bonus points if you can use up the last of the fresh herbs this way too. Any unused herbs, onions or garlic can again store well for the next week. Most herbs (these included) can be hung to dry for later use.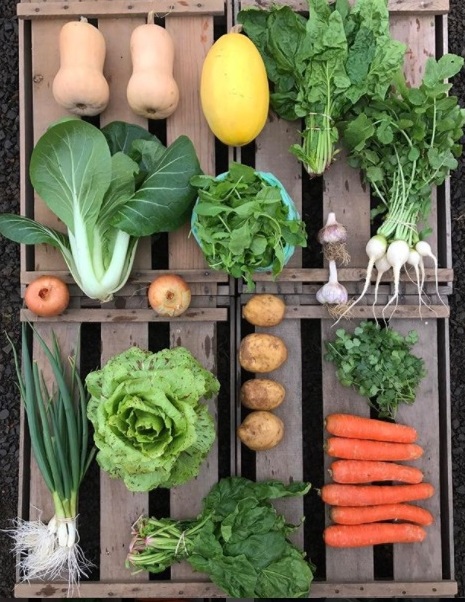 March – Butternut squash, spaghetti squash, spinach bunches, pac choi, arugula, garlic, daikon radish, storage onions, bunching onions, radicchio, russet potatoes, cilantro & carrots!
To change it up I would make this healthy no noodle Pad thai, swapping the zucchini for roasted spaghetti squash. That would use up the daikon, green onions, cilantro, and some carrots. You could also serve the pac choi with this meal as a side dish, sauteed with ginger and soy sauce.
The radish tops can be saved for a fun soup using up some of the potatoes or a pesto tossed with pasta as a side dish.
This roasted butternut squash with radicchio and onion would be a great recipe to use as a side dish for a number of meals.
The spinach and arugula can easily get used up in salads throughout the week again. Heartier greens such as spinach and arugula can be used also to add to soups.
Or you could always save those potatoes for a hearty breakfast.
April – Pac choi, leeks, arugula, potatoes, spinach, cilantro, purple sprouting broccoli, sweet meat squash, butterhead lettuce, radishes, romaine lettuce, bunching onions, carrots, spaghetti squash and rapini!
At this point, you may just be getting sick of salad so let's roast that romaine head for a fun recipe like this parmesan chicken with ceasar roasted romaine. Roast up the small spaghetti squash as a nice side dish with a little radish top pesto or parmesan to go along with it.
Similarly, you could use the butterhead lettuce for lettuce wraps instead of a salad. In addition to the lettuce, an Asian style lettuce wrap would probably use up the cilantro, carrots, and bunching onions.
Use the pac choi up in an Asian style noodle dish with any leftover carrots, cilantro, and bunching onions as well as the broccoli.
Use the radishes and squash up in a fun recipe like this one-skillet roasted squash with chickpeas. Again save the tops for soups, saute's or pestos later in the week.
Use up the leeks, potatoes and spinach, arugula, and/or radish tops in a creamy green soup with a side of sautéed rapini. Alternatively, use roast the potatoes and serve them with the rapini in a recipe like this one.
Again, and leftover greens that you don't use in a salad can get dropped into soups or pestos throughout the week. But this basket has you pretty much covered for a meal for every weekday and then some.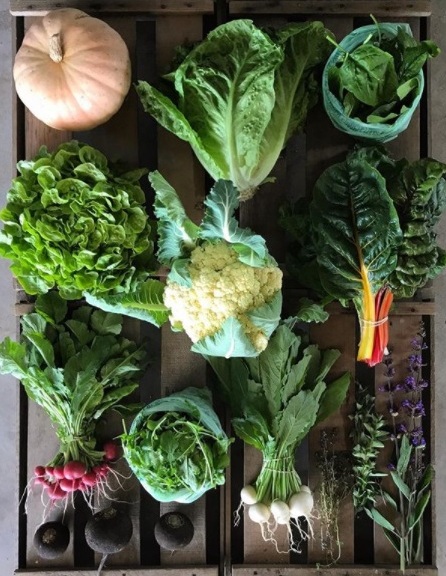 May – Oregon Homestead Squash, Kalura Romaine Lettuce, Spinach, Panisse lettuce, overwintered Cauliflower, Swiss Chard, Radishes, Arugula, Black Radishes, Hakurei Turnips, Sage, Thyme & Oregano!
Since there are 2 types of radishes here let's get creative with them. Try these awesome black radish chips for snacks and try roasting the red radishes or a nice sauté like this one that also uses the tops.
Use up the cauliflower with this amazing Miso Chicken with Cauliflower Mash. Just swap out the collard greens for the Swiss chard. Serve a nice salad on the side to use up the Panisse lettuce.
Try a roasting up the squash and using it on top of a pizza with the arugula and sage.
This time let's grill the romaine lettuce and fancy it up with a cool recipe like this one.
Combine the turnips, thyme, and spinach in this vegetarian baeckeoffe recipe.
As before any leftover lettuces or vegetable tops become salads or pestos. Any used up herbs can be dried for later use.
June – Beets, radish, broccoli shoots, collard greens, spinach, parsley, garlic scapes, a quart of strawberries, overwintered onions, escarole, red dragon napa cabbage, fennel, Bibb lettuce, broccoli, and carrots.
Usually, fresh strawberries don't make very long in our house so those would probably just get eating as a quick snack.
A roasted fennel and beet wheat berry salad are how we are going to start off using this basket of goods. Swap out the arugula in this recipe for the spinach.
A fun side dish for dinner one night could be this roasted radishes with radish greens recipe. This might go with a simple Italian Wedding Soup that will use up the escarole, parsley, some onion and some carrots.
Now I love a good garlic scape pesto, but with all these beets, radish, and carrot tops we might be pesto'd out. I would still probably make all three into a fun and funky mixed pesto and do something fun like this grilled steak with crispy scapes and miso butter.
The Napa cabbage would go in these Asian-style Stuffed Cabbage Rolls along with the carrots. To go with these a side of Broccoli and broccoli shoots with Asian garlic sauce would be pretty good.
Use up the collard greens in this green falafel recipe and serve them in warmed pitas with a side of salad (using the bib lettuce) with some tzatziki.Top it with any unused radishes, spinach, herbs, and carrots.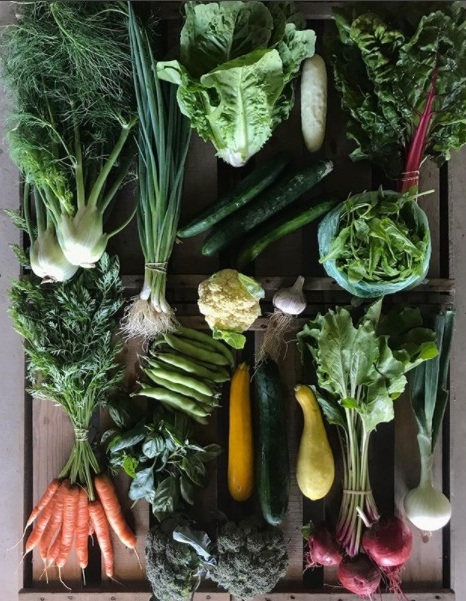 July – Fennel, scallions, romaine, cucumbers, bunched greens, cauliflower, garlic, arugula, carrots, basil, fava beans, broccoli, summer squash, zucchini, chiogga beets and our first walla walla sweets!
Try the bunched greens (which appear to be swiss chard), garlic, and the onion up in an easy frittata for breakfast throughout the week.
Roast up the fennel and carrots with some red onion in this dish, and serve them as a side for this roast chicken and fava beans.
The zucchini and summer squash can be used in my favorite very veggie enchiladas.
Try some cauliflower fried rice with an Asian style main dish (like a stir fry) for dinner one night and use up some more of the garlic, carrots, and scallions.
This roasted broccoli, arugula, and chickpea salad makes a great vegetarian dinner with a lot of flavor and texture.
In this awesome red wine braised short rib recipe try swapping out the flat leaf parsley for carrot tops and use up the rest of the carrots. For a side dish try this garlicky beet green pasta with beans.
Need dessert? Try this red velvet cake made with beets for a healthier option.
The romaine and cucumbers will go in simple salads throughout the week to accompany any of these dinners.
Basil, can be used in a pesto, to flavor sandwiches, or chopped and tossed with any number of the dishes already mentioned for some extra flavor.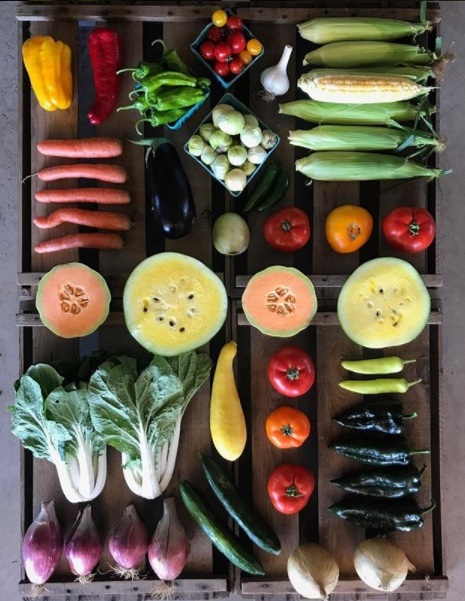 August – Bell pepper, Italian pepper, shishitos, cherry tomatoes, garlic, sweet corn, carrots, eggplant, tomatillos, lemon cucumber, jalapeños, mixed maters, cantaloupe, sunshine watermelon, PAC choi, summer squash/zucchini, Hungarian hot wax peppers, poblanos, torpedo onions, cucumbers and walla walla sweet onions!
Starting with the cantaloupe and sunshine watermelon will be cut up and used for snacks throughout the week. Use the rinds to makes some pickles for a nice treat or later use. Similarly with the lemon cucumber. It's one of those things that many haven't had, so that would be just cut up and tried out one night with dinner.
The Hungarian hot wax peppers can be made into refrigerator pickles to be added to sandwiches, tacos and more.
Caponata makes a delicious and impressive appetizer for just about any dinner party. Not in the mood to share? Save it for yourself with some good fresh bread and a bit of spreadable cheese, in lew traditional diner. This will also use up some of the eggplant and tomatoes.
Use the tomatillos, cherry tomatoes, jalapenos, and an onion to make some salsa verde. This vibrant salsa can easily be added to these healthy taco stuffed summer squash boats.
Sausage and peppers are a great way to use up the shishito's, bell pepper and Italian pepper. Try spiced potatoes in place of the sausage for a vegetarian version. Serve a side of grilled corn.
Use leftover corn in this roasted poblano corn chowder. Try a crisp pac choy slaw to go with it, and use up one of the pac choi heads as well as some carrots. Don't have any corn left? Try stuffing the peppers instead.
Use the other pac choi head to make this easy Thai style steamed fish. Pair that with a side of these Japanese style quick pickles to use up the cucumber.
Again any unused carrot and onions will be kept in storage for later use.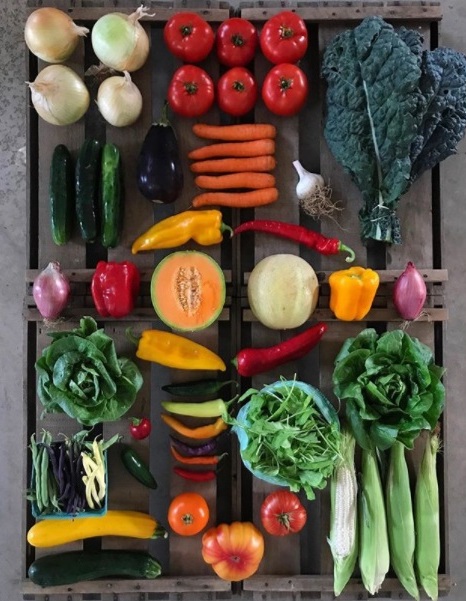 September – Walla walla onions, tomatoes, first taste of fall kale, cucumbers, eggplant, carrots, garlic, red long of tropea onions, bell peppers, Italian sweet peppers, cayenne pepper, cantaloupe, bibb lettuce, capperino pepper, jalapeño peppers, Hungarian hot wax, buena mulata peppers, Serrano peppers, arugula, green beans, squash, zucchini, heirloom tomatoes and sugar pearl sweet corn!
Many of these vegetables can get used up in an easy ratatouille, including the eggplant, onion, some garlic, bell and Italian sweet peppers, zucchini, summer squash, and tomatoes.
The various peppers can be dried and stored for later, made into chili paste, pickled, or stuffed.
I would use the arugula to make a simple pasta such as this one and pair it with this lemon oregano chicken and green beans.
Use one bag of bib lettuce for a lettuce wrap and use the other, along with the cucumbers, some carrots, and tomatoes for side salads throughout the week.
I would use up the kale to make this comforting parmesan and chicken dish.
Again I would grill up the corn for a side dish, and eat the cantaloupe as a snack. Any leftover tomatoes onions or garlic would go into a delicious sauce.
October – Cutting celery, eggplant, carrots, Italian sweet peppers, kale, broccoli & broccoli shoots, krimzon peppers (paprika-type), bell peppers, jack o'lantern pumpkin, garlic, mini decorative pumpkins, spinach, Brussels sprout tops, red onions, delicata, sweet potatoes, romaine lettuce, beets and scarlet red stem turnips!
I would start off by making the krimzon peppers into a chili paste that I can store and use throughout the year. Some of that paste would go into this creamy Moroccan red lentil soup, along with some carrots, sweet potato, and onion.
I would use half the pumpkin for a pumpkin and spinach risotto or a curry. The other half would go in something fun like cookies or coffee cake.
You could use up the eggplant in a stir-fry. I would simply just toss in the broccoli and broccoli shoots in with the eggplant and peppers as well.
Pair a nicely grilled steak with this charred romaine, radish, and blue cheese salad. Just swap the radish for these scarlet stemmed turnips and give them a good char along with the romaine. Also, grill up the delicate as an additional side.
Pair the kale and beets together in a side salad for a dinner or lunch or try something fun like this beet pesto and kale pizza with goat cheese.
The celery, carrots, and onions can be a base for a number of soups, so I like to chop them into a small dice and pop them in the freezer (measured in cups) for use throughout the winter. By now you probably have a back stock of carrots and onions anyway.
The Brussels sprout tops can be used in many ways like collard greens, and are especially delicious when ssauteed with bacon or braise them like this vegan version. Since the decorative pumpkins aren't for eating let's just use those to be festive.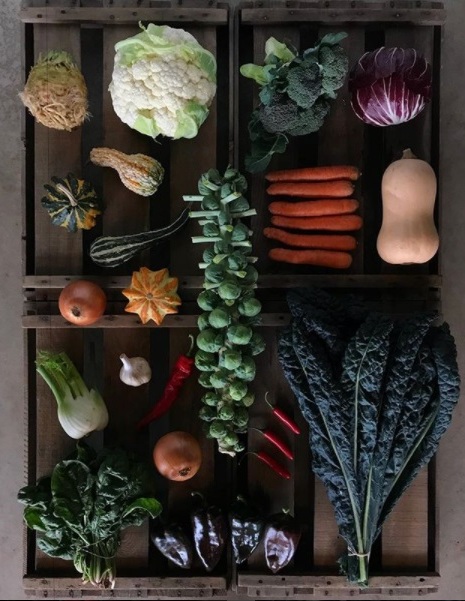 November – Celeriac, cauliflower, broccoli side shoots, radicchio, ornamental gourds, Brussel sprouts, carrots, butternut squash, storage onions, fennel, garlic, cayenne, Serrano peppers, kale, spinach and poblanos!
The celeriac can be used in a soup or mash or sauted with some greens. Swap the Swiss chard with spinach in this recipe.
I love this radicchio, fennel and olive panzanella for a side dish one night for dinner.
These samosa stuffed pablanos would be a vegan great dinner with a side of riced cauliflower.
While roasted brussels sprouts are perfectly fine, I love this slaw instead, with or without bacon.
Combine the butternut squash and kale in an amazing one dish meal like this one with pasta and sausage. Try this one with wild rice for a vegetarian version.
Finally, use the broccoli side shoots, carrots, onion, garlic and cayenne in a simple stir fry (also use up the spinach if you haven't already).
Again, the ornamental gourds wouldn't get eaten but used for decoration.
December – Brussel sprouts, storage onions, romanesco, longkeeper storage tomatoes, cauliflower, murasaki sweet potatoes, carrots, garlic, cipollini onions, spinach, cauliflower, beets, butternut squash, treviso and collard greens.
Since fresh tomatoes are rare this time of year I would slice the tomatoes onto sandwiches or salads throughout the week. Keeping with this ideas I would probably use the collards in fun wraps such as these.
Roast up the Romanesco, cauliflower, and purple cauliflower to make a beautifully colored salad.
The treviso is great grilled, but this salad is also a great option. Swap the baby kale for chopped spinach.
Roast up one of the butternut squash, and the Brussels sprouts in this colorful and seasonal dish. It makes a great vegetarian main, or a bright accompaniment to roasted meat.
Another great vegetarian dish is this beet carrot and barley salad with feta and dill.
Make these sweet potato fries with the muraski sweet potato to go with any of these dishes or a really delicious burger.
Any leftover garlic, carrots, and onions, can again be stored for later uses, similarly with the extra butternut squash.
Phew, there we have 12 different boxes to represent each month of the year and plenty of recipes. There is a lot here, but I hope this post will give you at least a few ideas. Got any more questions? or something in your box that you have no clue how to cook? Shoot me an email, and I'll do my best.
Similar Posts: