So we are going to interrupt today's typically scheduled recipe
post for a race/brewfest recap. It works since my stove crapped out last week and
we didn't get the new one until Monday, therefore I have no pretty recipe to share
with you.
So about the
Craft Beer Races at Stowe
, I was stoked about
this one because
beer
. Registration
went pretty seamlessly, and the race went off within 5 minute so the scheduled
time, along with the announcement that the course was "a little" longer than a
5k (lies). I made the dumb attempt to keep up with my friend who had never run
a 5k before and thought she would start off slow. Her idea of slow and mine are
totally
different. I should probably
preface this by telling you all that I am a slow runner. Regardless of the
distance (10 or 5k, since I haven't run much else) I still average around a 10
minute mile. I liken running to meditation, so I'm not very competitive, and
thus the slow times.
Anyway as I approached the first mile marker and it said
8:17 I nearly fell on my face. That's unheard of for me, and kind of scared me,
because I knew I would be hurting soon. Luckily there was a beer stop just
before it so I figured Long Trail was in order. I passed the clock at 8:44, and
shortly thereafter started cramping. It was one of those deathly cramps that
runs from your ribs to your hip flexor and makes you want to cry. I pushed
(slowly) through it though and after it finally subsided the burping started (I
know girls shouldn't do it, but beer +running=it can't be helped).
I was so excited to hit mile 2 and have another beer, but there
wasn't even a marker, let alone a clock or beer. I meet a sweet little dog just
before mile 3 and stopped to give him a pet, since he seemed to lose his owner
for a minute. After passing mile 3 I started to pick up speed thinking that "a
little" meant .1 miles, when in fact it meant .5 miles. I gave up and jogged
nice and slow probably the last .25 miles.
I never turned on my phone app because I figured the chip in
my race bib would do it for me. Little did I know they would report my results
as if I had run 3.1 miles not 3.64. I finished at 37:48 so @ 3.64 miles I had a
pace of roughly 10:23 and would have finished an actual 5k at about 31:09, or
less since my last few meters were probably my slowest. I think this is my best
time since graduating college, though I've never really kept track, so who
knows? Seeing as I have another race in less than 3 weeks I'm keeping track
this time.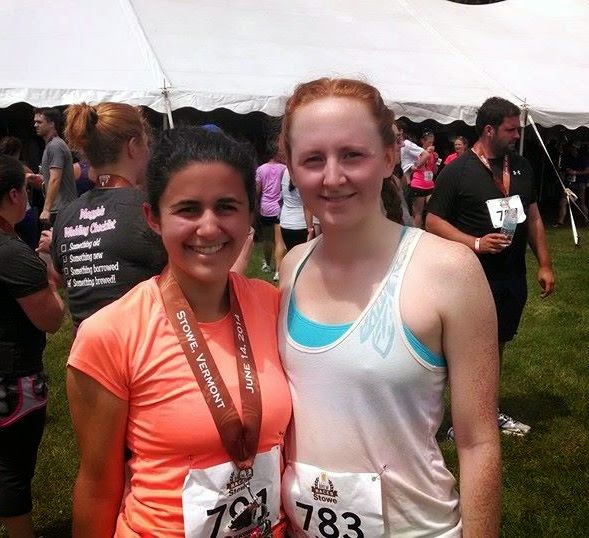 Overall the race was good, the fest after was obviously the
best part. It was the first one in Stowe so maybe next year they will have some
more markers, and a more accurate course. As for the beer, well beer fests are
always awesome, especially when they are outside, with dogs allowed, and a
musician who happens to play an awesome mix of country, classic and alternative
rock. . There were only 2 food vendors so that was kind of lame, we waited in
line for probably 45 minutes. Don't worry we took turns running for more beer.
Would I do this race again? ABSOLUTLY!
Would I travel around New England to do it? If I had friends
and a DD, ABSOLUTELY!
So basically if you like beer and running or just beer you
should probably try it.