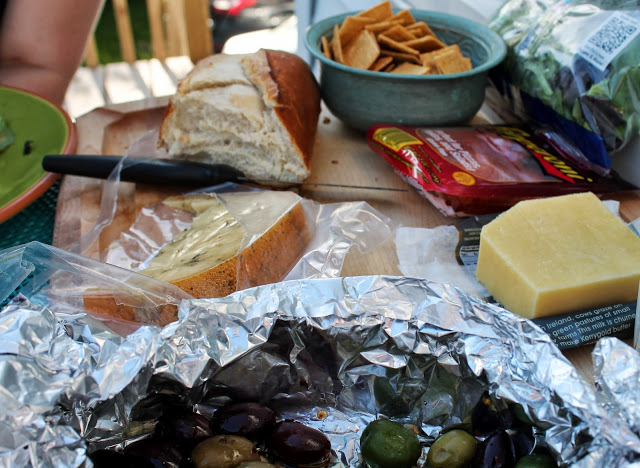 Over the holiday weekend I was lucky enough to have my good
friend Amanda over, whom I hadn't seen in roughly 12 weeks since she decided to
run a half marathon, which you can read all about on her blog,
Tales of a Married Runner Lady
.
Since it had been so long I wanted to keep it casual, and
chatty, we had A LOT to catch up on so I wanted to prepare something that would
not get in the way of that. I decided to go with a kind of tapas menu, It
turned out pretty good, there are a few recipes that were fantastic so I have
to share them. The one thing I would have done different is had a bigger table
outside so I didn't have to keep running in and out of the house. Oh well, next
time.
Let's start with the drinks, since tapas, are traditionally
Spanish I figured I should probably make a sangria (those who know me know I
pretty much make sangria for everything and need no excuse).
This is an old standby that I use in impromptu sangria
making situations; the directions are for 1 drink, so just multiply for more.
Quick & Easy
Sangria
1 cup red wine
1 oz dry gin
2-3oz seltzer
2 tsp sugar
1 small handful
frozen mixed berries

Place in a shaker and
shake lightly, pour into a red wine glass and serve.
I started with the obvious cheese and crackers, we had this
wonderful cheese that I got from the farmers market in Ithaca the weekend
before. It's so herby and fresh, I love it. Shortly after the cheese came out
the Grilled Marinated Olives were ready, I also warmed up a small loaf of
sprouted wheat bread on the grill to dip in the olive juices, and it was sooo
good.
Grilled Marinated
Olives
1 cup olive medley
2 tbs extra virgin
olive oil
2 cloves of garlic
minced
1 tsp red pepper
flakes
Salt & pepper to
taste
Combine all
ingredients in a small bowl and toss to coat, transfer to a large sheet of tin
foil. Fold into a packet and place on a preheated grill for 5-10 minutes to
warm.
I made a quick Grilled Pear Salad with Shallot &
Vinaigrette Dressing to start us off. The soft red pear was really good and
soft grilled, and the shallot vinaigrette was amazing, so I think I will be
making this a few more times this summer.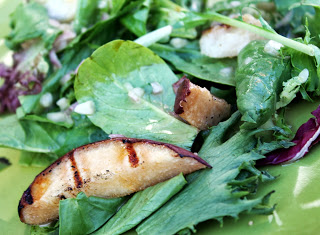 Grilled Pear Salad w/
Shallot Vinaigrette
3 cups mixed greens
1 medium red pear cut
into wedges
1 small shallot,
minced
3 tbsp extra virgin olive oil
2 tbsp Dijon
1 tbsp Honey
3 tbsp Red wine vinegar
Preheat the gril to
medium high heat, and place the pear wedges directly onto the grill. Grill for
roughly 5 minutes per side, or until the pear begins to carmelize. Set aside to
cool for a few minutes, meanwhile in a small bowl whisk together shallot, Dijon,
honey, and red wine vinegar. Pour over mixed greens and toss to coat. Serve
greens topped with grilled pear. (Serves 3)
Is there anything more reminiscent of spring than fresh pea
soup? I made a very simple Minted fresh pea soup on the stove top that I kept
in the fridge until serving.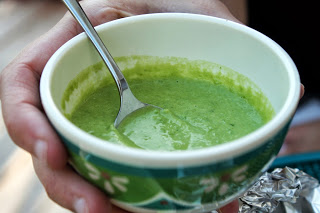 Minted Fresh Pea Soup
1 tbs chopped onion
1 tbs oil
1 cup peas fresh or
frozen
½ cup chicken or
vegetable broth
1 tbsp fresh mint
¼ cup cream
1 tbs chopped fresh
chives
In a small pan warm sauté
onion in oil for 3-4 minutes or until it begins to soften. Stir in peas and
broth and cook for another 5 minutes. Remove from heat and stir in mint, cream,
and chives. Transfer to a blender and blend until smooth. Add more cream if necessary.
Place in the fridge to chill for 15-20 minutes. Serve chilled with mint sprig
for garnish (Serves 1)
For the protein portion of the meal I grilled up some shrimp
in a quick and easy scampi sauce. It was so quick and easy, I'm thinking that I
might make them up some time to pair with pasta, for a quick and easy week
night meal.
Grilled Lemon Thyme Shrimp
12 medium shrimp, peeled and diveined
1/2 – 1 tbs of oil
2 cloves of garlic
pinch of red pepper flakes
3-4 slices of lemon
Juice from 1 lemon
1 tsp chopped fresh tarragon
2-3 sprigs fresh thyme
Combine all ingrediants in a small bowl and toss. Place in the refridgerator to marinate for 30 minutes. pour out the contents of the bowl onto a large piece of foil and create a pouch. Place on a preheated grill over medium high heat and grill, turning regularly for 8-10 minutes, or until the shrimp are cooked through. Serve warm. (Serves 3)
For the Finale I made a grilled bread pudding. Who would
have thought of such a thing? I stumbled on it somewhere or other and
remembered it when I was trying to think of what to make, so obviously I have
to make it, and I got quite a few compliments, so I think this is another thing
that will be showing up fairly often this summer.
Grilled Strawberry Bread Pudding
4 slices crusty bread
1 cup cream
1/4 cup sugar
1 tsp vanilla
1 cup sliced strawberries
On a heated grill toast the bread for 2-3 minutes a side, and cut into 1-2 inch squares. In a small bowl whisk together cream, sugar, and vanilla and add bread. Toss the bread in the mixture and pour the entire contents onto a large piece of tin foil. Fold the foil into a packet and place on the grill for 15-20 minutes, turning several times. Remove from heat and toss with strawberries. (Serves 3-4)
Finish it up with some more sangria, and a few laughs and
what could possibly make for a better evening?