March is the time of year every year that I get giddy for garden planning. Around here the snow is just starting to melt and the birds are barely coming home, but that is enough to get me going. I will start planting the moment that the ground is thawed enough to let me.I am always excited about learning more about gardening specifically vegetable gardens. I have a dream to one day never need to go to the
grocery store for produce. I realize that I have a long way to go however.
Recently I got
The Postage Stamp Vegetable Garden
 book to try to learn some more. It was packed with quite a bit of information. Starting with the basics of garden
planning to compost, companion gardening, and plant specific details there is a
lot there for the beginning gardener to learn from. For me I felt like a lot of
the material was a bit too beginner. While the book will make a good reference
for companion planting, and garden design, there wasn't a lot of abundantly new
information for me. For someone who likes gardening it made a lovely weekend
read, and was successful in getting me amped up for another growing season.
I had huge plans this year for the garden, but the decision to start house hunting has me thinking that expanding may not be the best idea. Instead I plan to keep my two small boxes and expand into containers. This way I can take the majority of stuff with us when/if we move this year. I made up a quick sketch for this year's plan that you
can see below. It's actually more like the sixth or seventh sketch, but this one will be the last one I hope.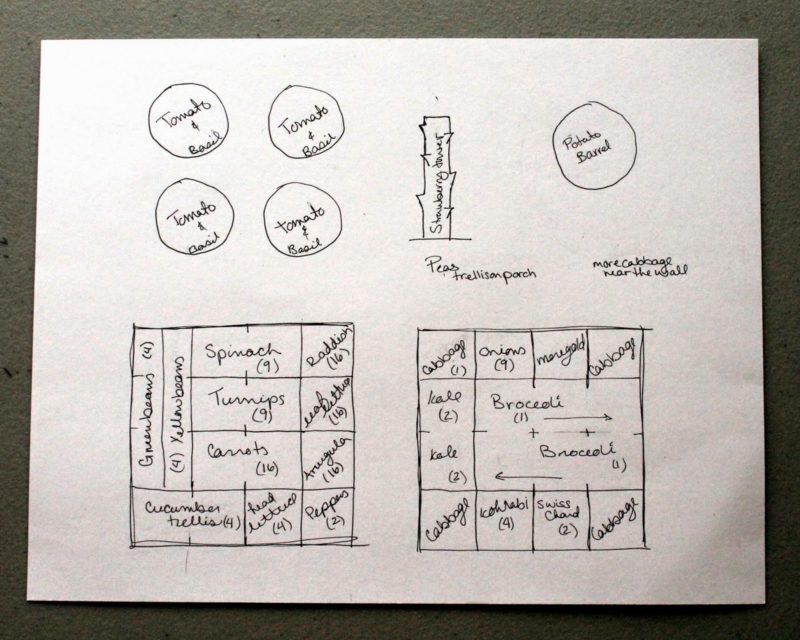 We are starting out by keeping many of the cold weather crops in the same section so that come fall I can cover them easily if it frosts and maybe get a few more weeks of growing time. Last year half of our cabbage was slow growing and therefore lost by the frost.
 This year I plan to grow more tomatoes, in order to can them, and grow them in barrels with basil as a companion. I also plan to grow potatoes in a barrel, a concept I actually found on Pinterest, but will be an experiment all on its own. The peas will be grown along the porch rail again. Other than those few things everything will remain the same.
Now tell me do you guys like to garden? Do you have any plans for the season yet?Disclaimer: I was given a free copy of this book in exchange for this review through the Blogging for Books Program.