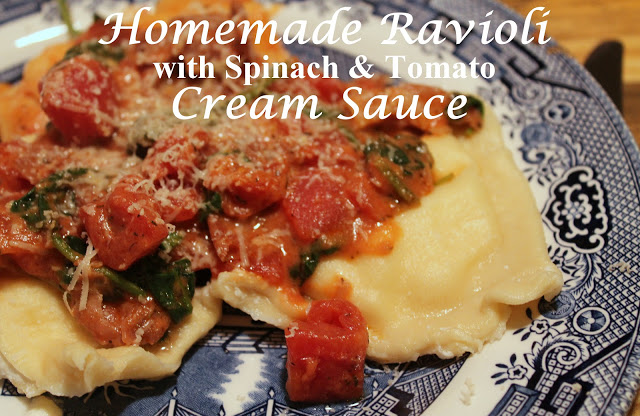 The entre for our Valentine's Day dinner this year was homemade 3 cheese ravioli with a spinach and tomato cream sauce. I was really excited to try this recipe mainly because it was my  our first foray into homemade ravioli (yes our, chuck helped!), but I didn't want it to be just that simple, so I decided to whip up a "fancy" sauce to top it off. I wanted to incorporate some of the other flavors of the night's dinner without them being overwhelming so I used a tomato based cream sauce to start off.
The result was shear perfection. I was so thrilled with how it all came out, and I couldn't be more excited to share it with you.
Basic 3 Cheese Ravioli (serves 4)
2 cups flour (plus more for the work surface)
3 eggs
1-4 tbsp cold water
1 cup ricotta cheese
¼ cup mozzarella cheese
¼ cup Parmesan cheese
1 tsp salt
In a medium bowl add flour and eggs. Mix well using an electric mixer. The dough should begin to form a ball. If the dough is too dry it will remain crumbly, so add a few tablespoons of water until the ball forms. Use a pasta machine, roller, or rolling pin to roll out the dough into 3 inch wide, foot long sheets. In a bowl mix together the ricotta, mozzarella, parmesan cheese and salt. Place 4 dollops about the size of a half dollar in the middle of a pasta sheet evenly spaced.  Using your finger dip it into water and trace the outside of the dollop. Place another sheet on top and press it down around the dollop, using water to cement the dough together. Slice the dough to create separate ravioli.  Continue to do this for until the pasta is gone. Bring a large pot of water to a boil and drop in the ravioli, they should only take a few minutes to cook, rising to the top as they finish. Strain the ravioli and set aside.
Tomato, Spinach & Pancetta Cream Sauce
¼ lb pancetta, diced
2 tbs olive oil
1 can crushed tomatoes
1 tsp thyme
¼ cup heavy cream
½ cup chicken broth
2 cups spinach
Salt & Pepper to taste
Fresh grated parmesan cheese
Heat olive oil in a large skillet and sauté pancetta on medium high heat, until it begins to crisp. Stir in tomatoes with liquid, add thyme and cook for 2-3 minutes. Stir in cream, and chicken broth and allow the sauce to thicken, another 2-3 minutes. Add Spinach and lightly mix in, allowing it to wilt slightly. Adjust the seasonings to taste, and serve warm over ravioli, and garnished with fresh grated parmesan.