This is a great recipe for bringing a little summer to winter time vegetables.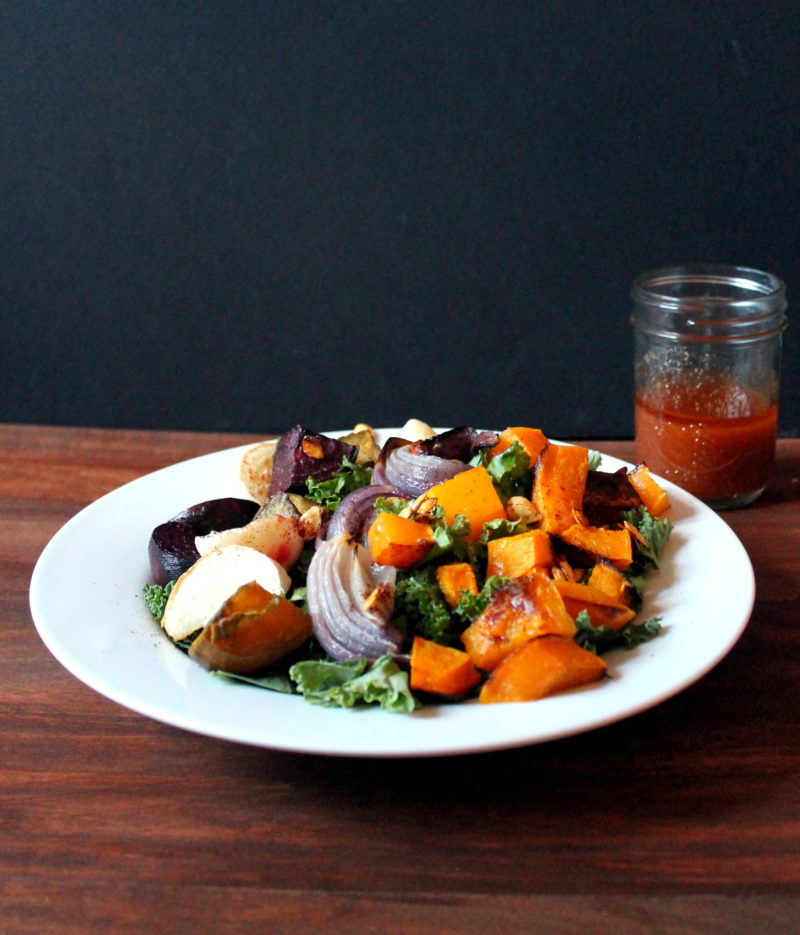 Sometimes in winter things can get a little dull. Everyone is making soups, stews, and sauces with mainly creamy and savory components. Don't get me wrong I love that stuff but sometimes I just want some freshness in my life even if it's frozen tundra outside. Some freshness and some heat. Who says we can't eat summery style food with our winter veggies? Not I.
What I'm getting at is that this recipe is the perfect way to squash the summery food craving. The sweet heat of Chipotle and Maple combine to bring a summer barbecue-esk flavor that lends itself well to the warm roasted veggies and fresh kale. Spiced squash seeds add just a touch of the necessary crunch to bring this whole dish together.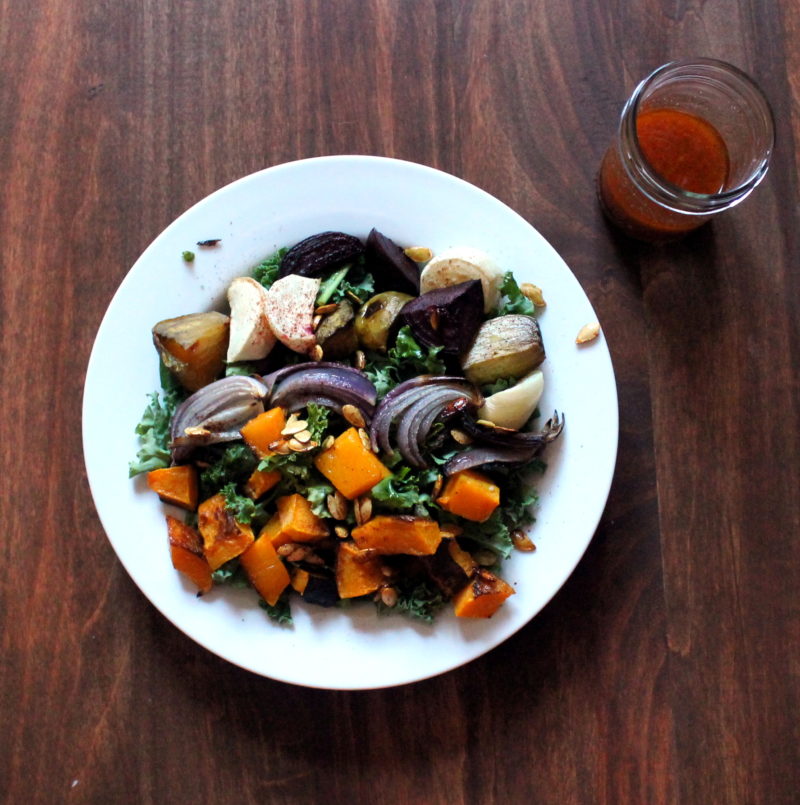 Maple Chipotle Winter Roast Veggie Salad
Ingredients
1 red onion, peeled and quartered twice
2 turnips, peeled and quartered twice
2 beets, peeled and quartered twice
2 cups butternut squash, peeled & cubed
1 teaspoon chili powder
4 tablespoons olive oil
¼ cup squash seeds, cleaned & dried
½ teaspoon smoked paprika
¼ teaspoon cumin
¼ teaspoon cayenne pepper
3 cups chopped kale
Instructions
Place the onion, turnip, beets, and squash on a large rimmed sheet tray. Sprinkle with chili powder and drizzle with roughly 3 tablespoons of olive oil. Place in the oven and bake for 35 to 40 minutes, or until the veggies are soft.
Reduce the heat to 325 and spread the squash seeds in an even layer on a cookie sheet. Sprinkle with paprika, cumin, and cayenne pepper. Drizzle with remaining oil and cook for 10 to 12 minutes or until they begin to pop in the oven. Remove from heat and let stand for 5 minutes.
To assemble the salad place half the kale in each bowl, top with cooled veggies, seeds and drizzle with Maple Chipotle vinaigrette (Recipe Follows). Serve immediately.
Maple Chipotle Vinaigrette
1/3 cup olive oil
3 tablespoons maple syrup
2 tablespoons apple cider vinegar
1 teaspoon chipotle powder
½ teaspoon salt
1 tablespoon lemon juice
Combine all ingredients in a small bowl and whisk until well blended. Serve immediately.