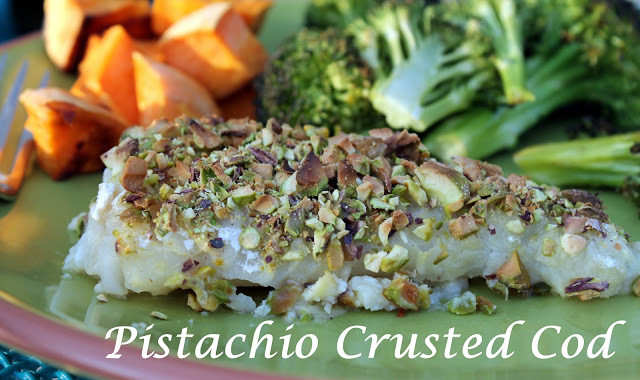 I was a little apprehensive about this recipe, it was on my radar for a while before I actually made it, but we have a lot of pistachios right now. Somehow these have become a staple in our Easter baskets for my family. I really love them, but they were on sale a few weeks ago, so I have an overabundance of them and I'm looking for other ways to use them other than just eating them out of the bag. I came across this recipe in my trust ol' Clean Eating Magazine and thought it might work out well for this task.
See I have this thing about fish. I absolutely love it, but I'm a traditionalist when it comes to its preparation, there are things that just don't seem right to me. Fish tacos for one; I'm sure when I eventually break down and try one I will love it, but they just don't sound appetizing to me for some reason. I don't know I'm just a weirdo.
So if you get my drift I was terrified to make this dish, but lately I have been all about pushing my own limits in the kitchen so I did it just the same. And it wasn't all that bad; in fact it was kind of good. I
opted not to go with the salad, because broccoli was on sale and roasted some of that up with the sweet potato. I just popped it in when the sweet potato was half way done. Can I tell you how much I loved the broccoli this way? It was great!
Pistachio-Crusted Cod
Olive oil cooking spray
1 tsp salt & pepper each
1/2 cup brown rice flower
1 large egg
1 tbs water
1/2 cup shelled pistachios, finely chopped
4 – 6oz cod fillets
Preheat oven to 425. Line a large baking sheet with foil and mist with cooking spray. Whisk egg and water in a small shallow dish. Season cod with salt and pepper, then dust with flour. quickley dip in egg, and transfer to pistachios, coating top and sides. Lightly press to ensure coverage. Place on baking sheet with coated side facing up and bake for 15-20 minutes, or until the fish is opaque and cooked through. (serves 4)