This post was updated to reflect some newer changes.
Plastic is one of the biggest sources of pollution on our planet. It does not break down, so if it's not recycled it just kind of hangs out, building up in our landfills, clogging up the stomachs of numerous wildlife, and suffocating our oceans. It's a problem, but it's also something that so many of us depend on in our daily lives, so cutting it out can be a challenge.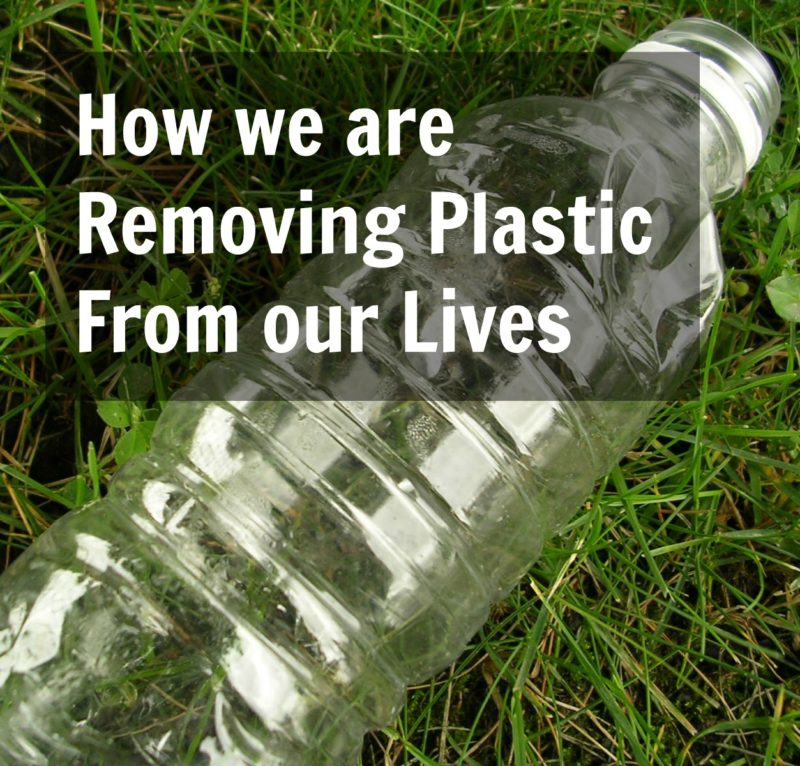 I'm a big fan of baby steps, taking such a monumental change all at once makes it pretty easy to fail pretty quickly.  Here's how we started and a few more changes we plan to make in the future. We are not perfect, but every step gets us a little closer.
Removing Plastic From our Lives
Loose Leaf Tea
 This was a small change that I actually made early on in life due to taste preferences. I still sometimes use pre-bagged tea, but not often. The reduction here is in the packaging. In the past I have used tea balls, and mesh bags, but currently I have a tea pot similar to this that works great for home use. I still use a tea ball at the office.
Switch to cloth grocery bags
 this was the first major step for us, and it had great results. I prefer cloth bags for a number of reasons; they hold way more than the plastic ones, they can be used for other things, they don't stretch or tear easily, we don't have to figure out what to do with our ridiculous back stock of used bags and they are pretty cute. I like these for regular groceries, and these for produce bags.
Glass Tupperware
This solution isn't completely plastic free yet, but again baby steps. Plastic Tupperware gets used up and old a lot faster than glass, it can't go in the oven, shouldn't really be in the microwave, or dishwasher so it's just more convenient, on top of being more environmentally friendly. I have this set, plus some more that are similar.
Learning to cook with whole food
This was probably the biggest thing that can help facilitate the change away from plastic. Cooking with whole food, means that you aren't buying prepackaged food as much (again we aren't perfect) so less plastic.
Stop Buying Coffee/drinks to go
Both Chuck and I drink a lot of water, and I drink quite a bit of tea, but we try as often as possible to carry reusable mugs and water bottles. This started off as a financial decision because the idea of paying more than a buck for a bottle of water when it comes out of the tap free disgusts us, but in the end it helps us reduce our plastic use as well. Some places even offer reduced pricing for your regular to go beverages if you bring your own mugs. This is my favorite tea mug, and these are the water bottles we love.
Buy in Bulk
This is another thing that we started doing to save money that just so happens to also reduce our plastic consumption.
Homemade Cleaners
Just like cooking if you are buying ingredients in bulk and making your own cleaners then you are purchasing less plastic, all while saving money and avoiding the toxins in most cleaners. You can basically use water, vinegar, baking soda, and essential oils to clean almost everything in your home. I love my Thieves Cleaner because its premixed, ultra concentrated, works amazingly, boosts my immunity, and smells like a dream. 1 bottle lasts months!!!
Switching to Cloth napkins, scrubbers etc.
I have always thought cloth napkins were just classier, plus they feel nicer on your skin than most throw away napkins, so this switch was easy to make. We barely buy paper towels anymore and don't even own sponges. They just aren't necessary.
Packing Lunch
Again something that saves money. Especially if you pack your sandwiches in reusable containers instead of ziplock bags.
Switching razors
I was always a fan of the cheap razors that you can buy in bulk and toss, but I made the switch to a razor that only requires the blade to be swapped out not the whole razor, just to reduce waste. However, I just discovered Leaf Shave and am in love!
Feminine Hygiene
Feel free to skip this one fellas. You can read more about my switch to a moon cup here, but let's just say that this was one of the nest decisions that I've ever made, no chemicals, no toxins, less dryness and irritation, and better for the environment.
Give up Gum
Most gum is no longer made with the original tree sap that it was designed with. These days it's a plastic derivative that has been shown to cause tumors in rats. Enough said.
Matches or refillable lighters
Plastic devices that get used up quickly do no one any good. Matches are cheap, use matches.
Natural Personal Care Products
I've talked about this before (remember that time I stopped using shampoo?), but many personal hygiene products contain plastics or plastic derivatives. Those little power beads in your face wash? Yeah those are getting washed down the drain and right into the ocean. My favorite soap is homemade locally (but you can order it here – I am not an affiliate, just love the stuff), and for everything else I pretty much just stick with essential oil based products.
Avoiding Teflon
This is more for personal health reasons than anything, but there is still plastic in there. We love cast iron and un-coated steel pots and pans.
Beeswax Covers
I just got these as a Christmas gift, and love them. I will be asking for more. They are a great way to cover leftovers for storage instead of using plastic wrap, plus they are reusable!
We haven't completely gotten rid of plastic yet, but we are making steps. I hope that you were able to find some of the things that we are doing helpful.
Let me know if you have any other ideas! I would love to get rid of more plastic from our lives!