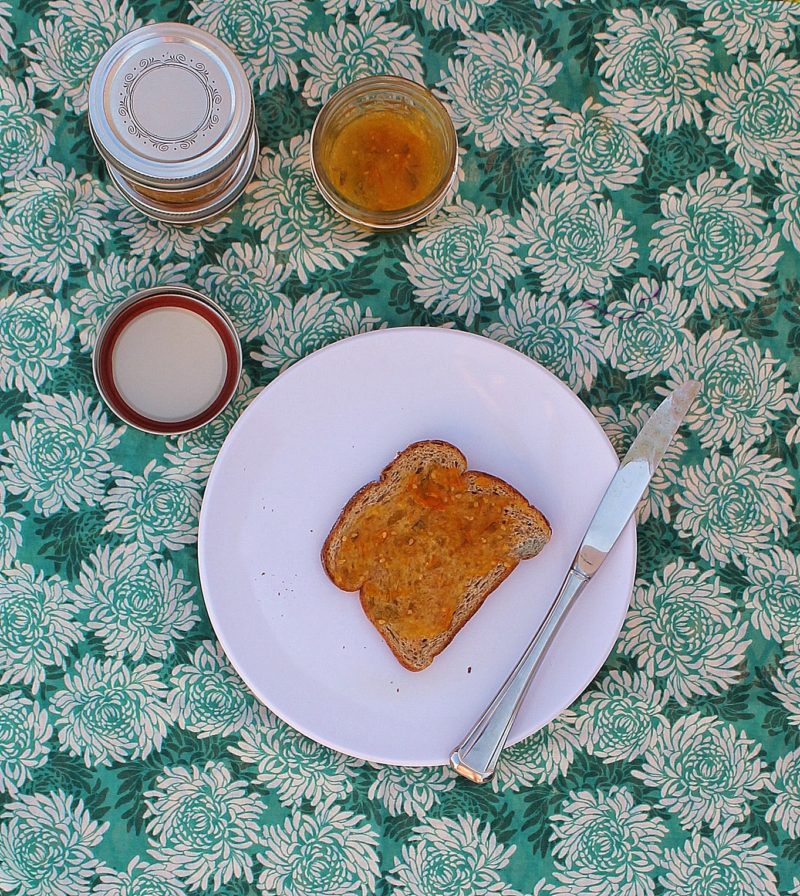 I've mentioned before, rather
recently
in fact that my tomato
plants have gone a little nutty. A few of them are even taller than I am, and
they are producing a lot. I never realized how many tomatoes you could actually
get from one single plant let alone the 3 that I have.
I decided to try a canning experiment this year, since the
tomatoes are abundant and everyone knows how much better home grown tomatoes
are. I of course went to seek the oh so wise words of the internet for a good
recipe and method for canning these little babies, and settled on
this recipe
from Food in Jars.
I made about 1/3 of the prescribed batch, and the recipe for that
is listed below. The sauce was amazing and the spare can I left out for tasting
was gone in minutes. I'm sure this would be a great pairing for scones at a tea
party, or mixed with cream cheese at a cocktail party. It's pretty versatile and
totally delicious.
Yellow Tomato & Basil Jam
1 1/3 pounds Sungold tomatoes, halved
1 cup sugar
3 tablespoons lemon juice
Zest of ½ a lemon
1 ½ tablespoons basil, chopped
Toss the tomatoes with sugar in a large bowl. Let them sit for an
hour or more and allow their juices to release. In a thick bottomed sauce pan add
tomatoes, their juices and lemon juice. Bring to a boil and cook for 30 minutes
stirring continuously, until the sauce becomes thick. Remove from heat and stir
in lemon zest. Can immediately, or allow the sauce to cool and serve. The sauce
will store for up to one year in sealed jars.
I used the water bath method for canning, which I have seen Miss
Amy do about a million times, though she usually prefers large batches. I think
this method of just sticking leftovers into the water bath while I'm cleaning
up dinner is a method that will work for me. There are always leftovers with it
just being me and chuck around here, and this is a great way to get that
amazing flavor year round, and stay a bit greener, which is always a bonus.
Since I am not an expert yet, (yes, I plan to one day be) I don't
think my experiences are enough to go by to tell you how to can things
properly. Besides I don't want anyone to get botulism on my account. I suggest
using
this website
for the canning basics, it is a wealth of information.