In my
Dinner 4 One
series I have shown a few of my favorite recipes to cook for myself when I am home alone, however I thought it might be helpful to put together a list of simple tips that are really helpful for the person who eats alone a lot.
1)      Make extra of the basics. Make a whole or half a box of pasta very aldente and keep it in a container in the fridge. Then when you are making a pasta dish you can just toss it in your sauce, or warm it up in some boiling water. By not storing the pasta with sauce on it you are allowing yourself options with leftovers, and saving time.
2)      Invest in oven safe single serving dishes. We all crave baked deserts, or pasta dishes, but making a huge pan that you are forced to then eat all week or throw away is not appealing. With a few single serving dishes you can make just enough baked ziti or apple crisp for one or two days.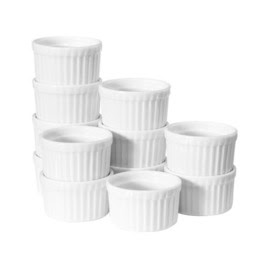 Like these found at Target for $1.99 each
3)      Buy in bulk. I know this sounds silly but think about it; if chicken is on sale this week buy a large container then take it home and store it in individual bags, or one large bag with wax paper in between, the same goes for ground beef. You can save hundreds of dollars a year doing this, and then you just pull your individual serving out when you want it.
4)      Keep quick defrosting proteins on hand such as fish, shrimp and scallops. These are expensive proteins yeah, but being the single eater why not treat yourself? And I don't know about you but they are great for nights that I haven't planned ahead because they defrost very quickly.
5)      Freeze leftover Greens in ice cube trays. This one is great for anyone, but especially the single person who may not go through a whole bag of spinach, kale or swiss chard in one sitting. Get a little wilt on it in a sauté pan and fill up your ice cube trays, once frozen toss them in a plastic bag. Then next time you need a little green pull out a couple cubes. You can also do this with fresh herbs, though I suggest freezing them in oil for even more ease.
(The benefit of being single is that there is so much more freezer space to store fresh veggies while they are in season!)
6)      Label everything in the freezer! Keeping a lot in the freezer makes me nervous about freezer burn and things going bad. I like to make sure everything is labeled with the date it was frozen. Most things only last a few months in the freezer so this helps me take care of the older stuff first.
I love my Gordon Ramsey Blender for only $20
7)      Mini appliances: Invest in a mini food processor, and/or blender. This opens up the world of pureed soups, smoothies, and dips. I even have a mini crockpot that's great for just little old me, and can be used as a warmer for dips and sauces later in life.
8)      Plan ahead. Having roasted chicken and mashed potatoes on Monday can mean chicken and gnocchi soup on Wednesday, and Chicken enchiladas on Tuesday, mashed potato pancakes on Thursday or chicken salad for lunch.
9)      Avoid keeping snacks in the house. It's way too easy to simply eat a carton of ice cream for diner when there is no one around to judge you.
10)   Keep a list of substitutes on hand. Sometimes I don't always have exactly what the recipe calls for, or I can only find it in a large size. Having a list of items I can use instead, like the one below is super helpful.
Bonus tip: Get excited. When cooking for yourself there are no time limits, no other dietary restrictions. It's just you, what you like, what you're goals are and what you want. Try new things, and hey if you make a mistake; no one has to know!