I was cooking when Chuck walked in the house and said it
smells like fall in here. He had those big bright, hungry eyes on and I'm about
to get something good smile. Swoon. I love that look.
Food. It really is the way to a man's heart.
I had this idea in my head since I started to think about
apple picking, you know, sometime in June. It's my favorite. I even made my
college roommates go with me pic from back in the day.
I did the unthinkable and actually bought apples from the
grocery store. I felt bad about it, I mean they are on the dirty dozen, it is
apple season, and I live in the apple state, but whatever. Chuck had a busy
week and this is one of those things that I knew would perk him up a bit. You
see we have been eating pretty good at home, and he's been a sport about
putting up with a few more meatless, and vegan meals for me so he deserved a
good old fashioned treat meal.
Again. Food. I'm telling you it fixes everything.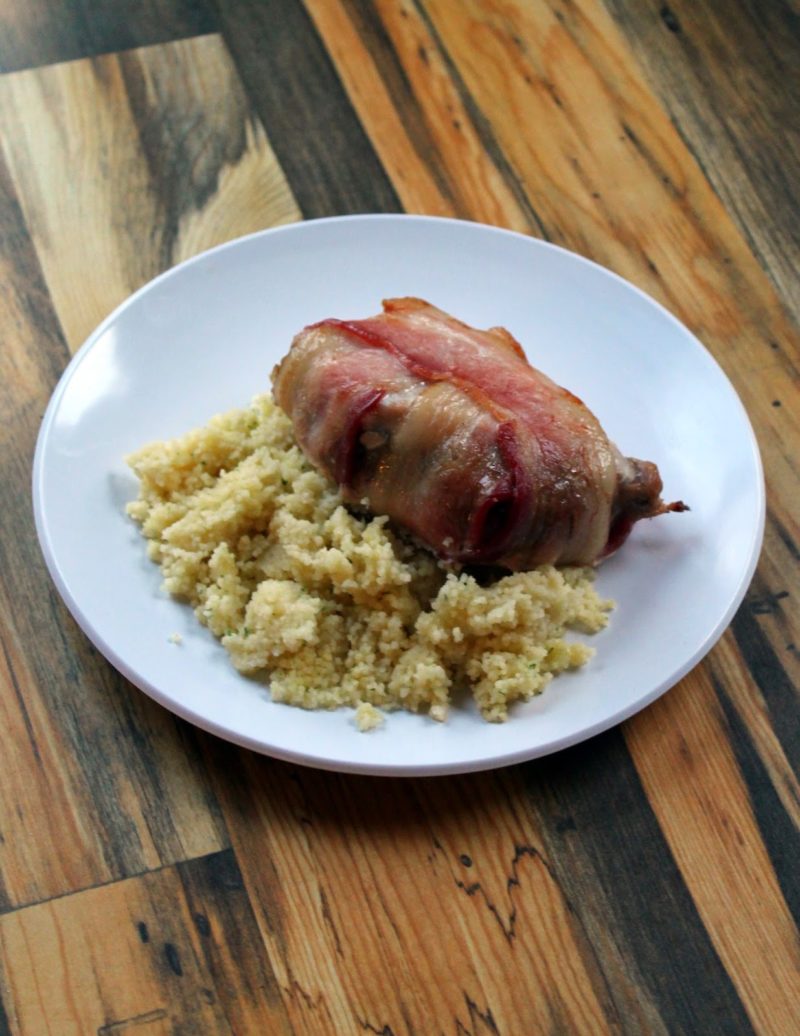 I kept it pretty simple and let the natural flavors do all
the talking on this one and boy did they. It was the perfect blend of fall
goodness, slightly sweet, and a little smoky. We should have eaten it outside
in front of a campfire, but we were too hungry.
I served it with plain couscous, cooked in a bit of broth,
and a leftover raw cabbage & broccoli slaw. We needed a bit of green in the
mix with the rich delicious main dish. It was simply divine. Chucks week long
headache seemed to ebb away a bit after we ate. I'd like to think it had more
to do with the love that I put into this recipe, but it probably had more to do
with the bacon.
Apple Stuffed, Bacon Wrapped Maple Pork Chops (Serves 4)
½ tbsp unsalted butter
2 medium apples, cored and diced
1 shallot, diced
½ tbsp maple syrup
Salt & pepper to taste
1tsp paprika
½ tsp pepper
½ tsp salt
4 medium sized pork chops (about 1 lb)
8 slices of maple smoked bacon
Optional: Maple syrup
Preheat oven to 400 degrees. In a small pan melt the butter
and sauté the apples, and shallot until they soften, and caramelize, about 3-4
minutes. Remove from heat and stir in the maple syrup, adjust the seasonings
and set aside. Season the outside of the pork chop with paprika, salt &
pepper. Cut a pocket out of the side of the pork chop to allow filling. Spoon ¼
of the apple mixture into each pork chop. Using 2 slices of bacon wrap the pork
chop so that it is mostly covered with bacon, and the opening is covered. Place
in a medium sized baking dish and cook for 35-40 minutes or until the pork chop
is cooked through and the bacon crisp. (Optional: add a drizzle of maple syrup
on top for serving.) Serve warm.