It's that time of year when we are constantly surrounded by
overly rich and heavy food. It's great; I mean who doesn't get excited for thick
and creamy soups, gravy, cookies, and pies? But these are the day's I find
myself feeling the most weighed down. My body feels lethargic and slow, I'm
easily bloated and grumpy. Really they only thing I have to blame is all of the
rich carb loaded food that I'm likely to eat.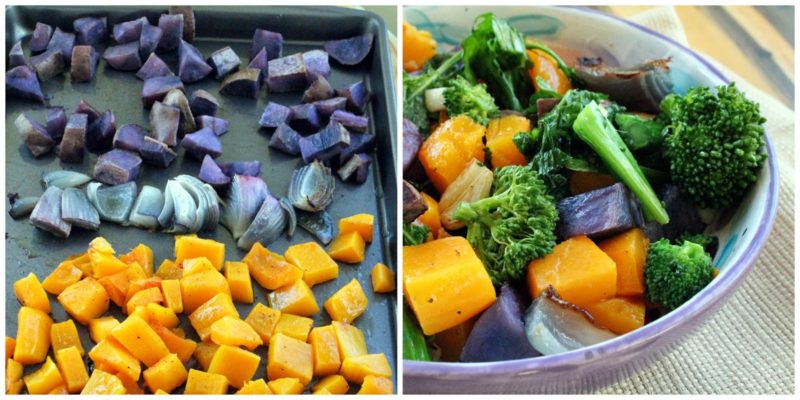 This year I am attempting to avoid that. Not only am I going
to try
really
hard to follow my own
advice, but I'm incorporating more light, veggie loaded healthy meals into our
weekly diet. Meals like
this
,
this
or
this
.
I was scanning through my fridge to see what I had to make
up lunch one day a few weekends ago when I remembered the
early summer wonder bowl
I had made what seemed like years ago (in fact it was only months). I thought it would be a good idea to
make myself a winter version with roasted, and sautéed vegetables. I couldn't
have been happier with the result especially with this simple and bright
dressing, because
pesto
.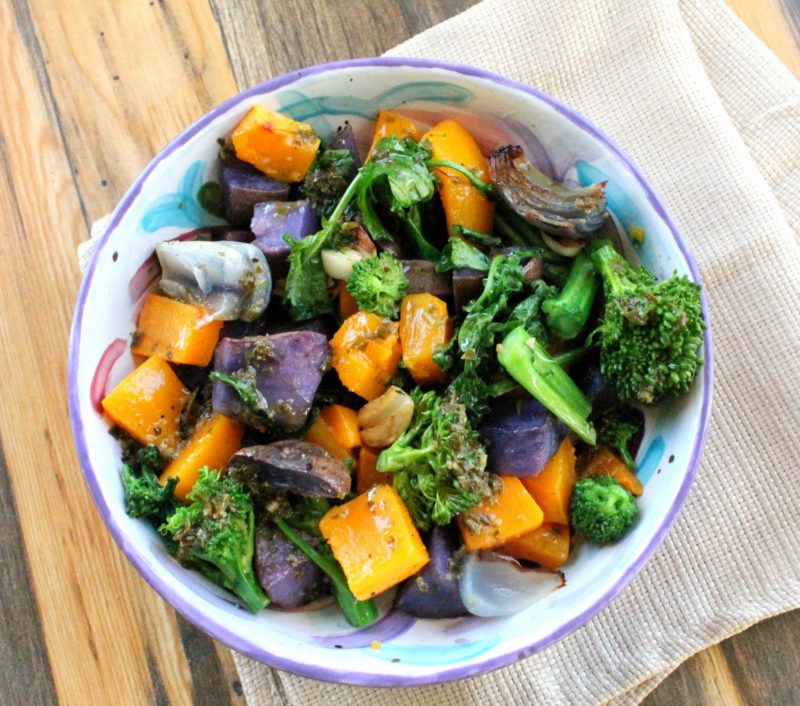 I used the vegetables that I had on hand, leftovers from
friends and family member's gardens, but you can use whatever you have on hand,
even leftovers warmed up from the night before. Just be sure to cut the hardier
vegetables up small enough to roast evenly with the less hardy vegetables.


Roasted Winter Veggie Bowl (Serves 2-4)
2-3 purple potatoes, cleaned, and chopped into 3/4″ cubes
1/2 a small butternut squash peeled and chopped into 3/4″ cubes
1 medium red onion, peeled and quartered
2-3 tbsp olive oil, separated
Salt & Pepper to taste
3 cloves of garlic, peeled and halved
1 bunch of broccoli rabe, chopped


Preheat the oven to 400 degrees. Place the potatoes, squash and onion on a baking sheet. Drizzle with about half of the oil, and sprinkle with salt and pepper. Roast the vegetables in the oven for about 40-45 minutes or until the vegetables are all tender. Meanwhile drizzle the rest of the oil in a large pan and add in the garlic and broccoli rabe. Saute for 3-4 minutes or until it is tender, and vibrant green. Combine all ingredients in a large bowl and serve warm.


Lemon Pesto Dressing (Serves 5-6)
1/2 cup prepared pesto
2 tbsp white wine vinegar
1 tbsp fresh lemon juice
zest of one lemon
1/4 cup extra virgin olive oil
pinch of salt


Combine all ingredients in a small bowl until well blended. Serve immediately, or stored in an air tight container in the fridge for 5-7 days.