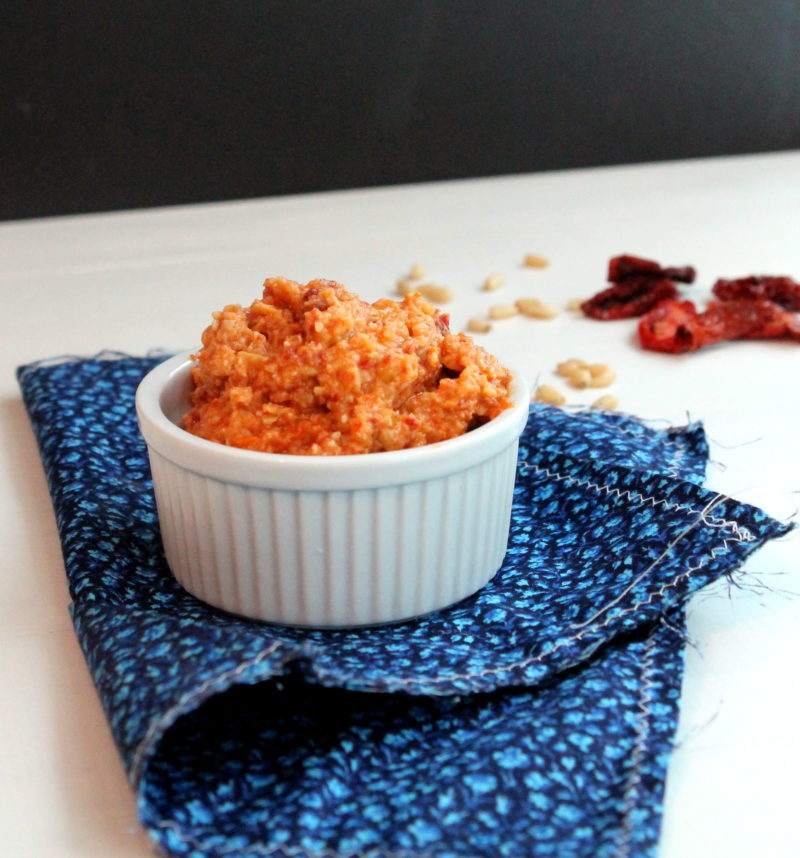 It should be that time of year when our thoughts are swarming with spring gardens and summer pools, but unfortunately for us in the northeast the weather (namely the polar vortex) has had other plans.
Now I'm usually a lover of the snow, I mean any excuse to curl up with a book and a cup of tea is a good thing in my view, but snow and freezing temps this time of year mean that my garlic, and early spring flowers are taking a beating. I'm not pleased about it. Not to mention the hiking plans that ended when it started to hail.
Moving on from disappointing weather I decided to spend most of the weekend crafting and baking all sorts of treats (many of which you will see coming up on Plum Deluxe soon enough). I was craving something that reminded me of spring or summer so I dug through my canned goods and came up with this pesto/dip recipe. It's a little thicker that a typical pesto but that's one of the things I like about it. It's a perfect spread for toast or sandwiches, but also a great dip on crackers, chips or veggies. Versatile recipes man they are the thing.
I actually made this for the first time back near new years, where served as a dip it was a hit. It was also a pretty big winner on this sandwich (pictured below). This time around it went on toast with some melted Swiss cheese because that's what was in the house. I'm thinking an experiment with puff pastry is in order next.
Artichoke & Sun Dried Tomato Pesto
Ingredients
1 (14 ounce) can artichoke hearts, drained
½ cup sundried tomatoes, packed in oil
¾ cup parmesan cheese
3 cloves garlic
¼ cup pine nuts
Pinch of salt
⅓ cup extra virgin olive oil
Instructions
Add all the ingredients to a food processor and blend until smooth. You may need to stop and scrape the sides of the bowl to ensure complete blending. Serve immediately.