This is a recipe for simple veggie samosas that utilizes egg-less egg rolls, instead of homemade dough and baking instead of frying.
A few weeks ago, Chuck and I attended a housewarming party for some friends. There beautiful property was nestled in the mountains, miles down a dirt road and overlooking one of Vermont's largest mountains. It was truly picturesque. Obviously, most of the party was outside (how else could we enjoy the view?), even after the sun went down and it began to get a little chilly.
I knew ahead of time this would be the case, because our friends, like us are outdoors people, it's where we feel most at ease. However, it also present a unique issue when planning dishes to bring.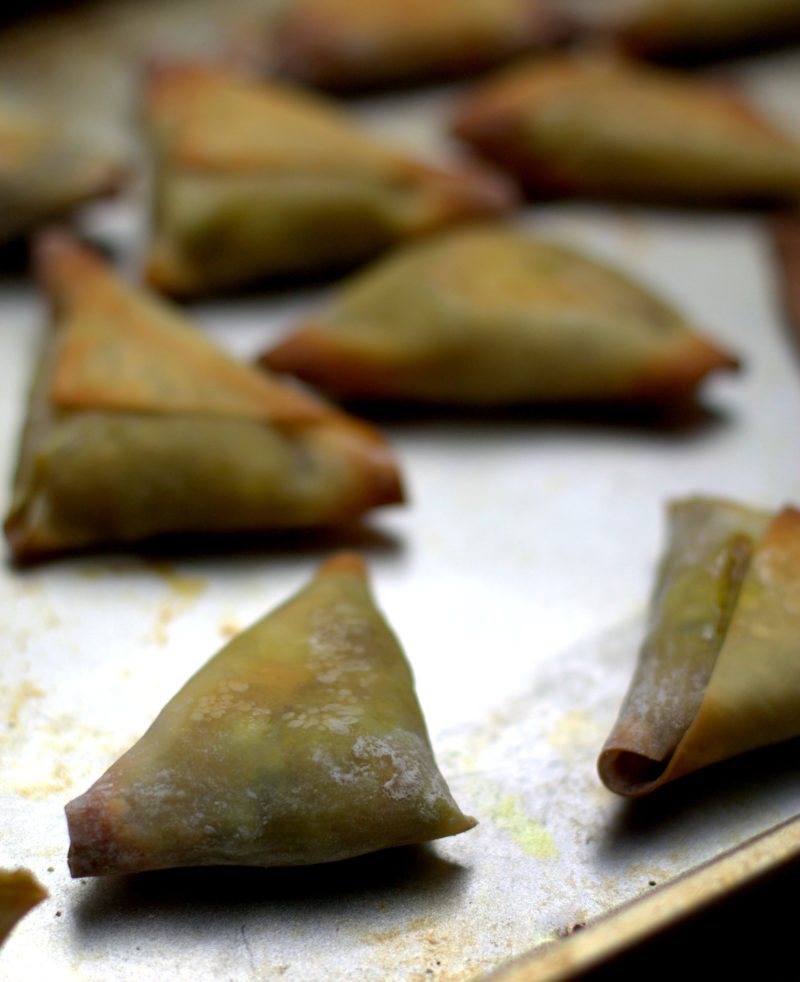 Let's set the stage a little bit. You know its going to be a little chilly outside, so obviously you want something warm to eat. You can guess that most people are going to bring a hot cheesy dip, maybe some chili, or cocktail meatballs, something that can hang out in a crock pot. So what can you bring that's not going to be the same as everyone else and still warm? Added bonus if you can eat it with your hands, so it does not interfere with your lawn game abilities.
This my friends is how I ended up on samosa's. Samosa's are a Middle Eastern dish comprised of a filling, in this case a vegetable curry filling, wrapped in a thin dough and fried. For this recipe I made life a little easier by using eggless egg rolls instead of making the dough from scratch and baking them instead of frying.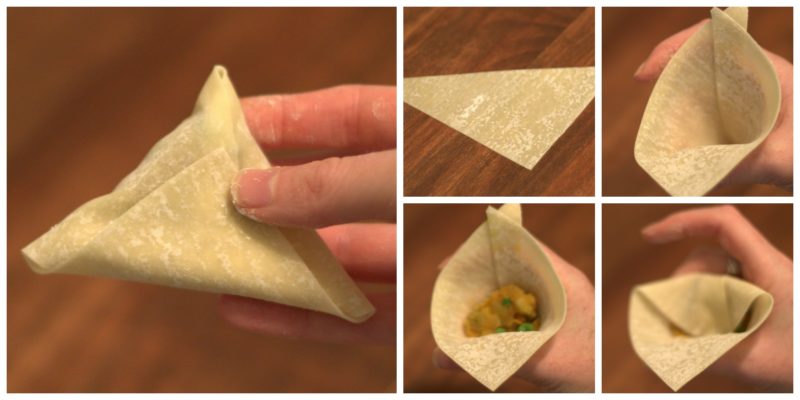 By preparing the samosas a day ahead of time I was able to relax on the day of the event and enjoy the 3 hour drive there. Once we arrived I popped them in the oven for 20 minutes at 350 just to warm them through and served them to eagerly awaiting guests. They were once of the first dishes to disappear, so I will definitely be making them again.

Baked Veggie Samosas
Ingredients
1 large russet potato, peeled and finely diced
2 tablespoons olive oil
1 medium onion, chopped fine
2 medium carrots, chopped fine
1 teaspoon garlic powder
1 teaspoon curry powder
1 teaspoon garam masala
¼ teaspoon paprika
1 teaspoon cumin
½ teaspoon chili powder
¼ teaspoon dried ground ginger
1 cup frozen peas
1 package eggless egg roll wrappers
Instructions
Bring a medium sized pot of water to a boil. Add the potatoes and simmer until the potatoes begin to soften, about 10 minutes. Drain and set aside.
In a large skillet heat the oil over medium high heat. Add the onion, carrot and spices. Saute, stirring well to combine for 3 to 5 minutes or until the vegetables begin to soften.
Add in the potatoes and peas. Continue to cook and stir until well blended. Remove from heat and set aside to cool to room temperature.
Preheat the oven to 375 degrees while you prepare the samosas
Spray 2 large cookie sheet with non-stick spray and fill a small bowl with water.
With a butter knife cut the eggroll wrappers into triangles. Dip your fingers in the water and run it along the long edge of the triangle. Carefully fold the long edge in half and crimp them together to form a cone (see above). With a teaspoon scoop the vegetables into the cone. Fold the crimped point over the filling, and then fold the opposing point over the edge. Dab your finger in water again to seal the final point down. Repeat this process until you run out of wrappers or filling.
Spread the filled wrappers out on the trays and spray the tops with the nonstick spray.
Place them in the oven for 8. Flip each one and place them back in the oven for another 8 to 10 minutes. The outside should be golden when done.
Serve immediately.