I have a squash obsession lately if you haven't noticed. Since I am just discovering how much I actually really like squash I have been cooking it a lot. Like a lot, a lot, but Chuck hasn't started complaining yet so he must be enjoying it as well.
If you remember the Squash Ravioli in Sage Butter sauce I made a few weeks ago you know how divine it was, and how heavenly I thought it was. Well I have been wanting to make it again, but let's be honest butter sauce is by no means good for you, and I am trying to be healthy, but I can't help craving this dish again. I want it so bad!
I decided to try to clean it up a bit, and I think it was a success. I used whole wheat flour for the ravioli's and made a shallot and sage broth, taking a note from English Onion & Sage Soup, which is one of my all-time favorites. I used a vegetable broth in order to keep it vegetarian for my veggie readers, though I'm sure a chicken broth would work just as well.
Clean Butternut Squash Ravioli with Sage & Shallot Broth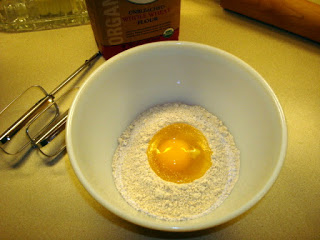 1 medium butternut squash, de-skinned, & deseeded, chopped
1 tbsp EVOO
2 tbs cup parmesan cheese
¼ tsp nutmeg
Salt & Pepper to taste
2 cups whole wheat flour (plus some for surface)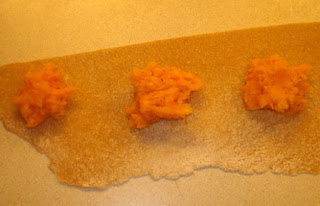 1 egg
2 egg whites
1-4 tbsp cold water
1 tbs Extra virgin olive oil
2 shallots sliced thin
2 cups vegetable broth (low sodium or homemade)
10-12 sage leaves or 1 tbsp of dried sage (this is to taste)
Chop the squash into roughly 2 inch pieces and scatter over a baking sheet. Drizzle with oil and toss, before putting them in the oven. They should cook at 400 for 30-35 minutes, or until soft. Remove from the oven and let stand to cool, before making the filling. Meanwhile prepare the dough. In a medium bowl add flour and eggs. Mix well using an electric mixer. The dough should begin to form a ball. If the dough is too dry it will remain crumbly, so add a few tablespoons of water until the ball forms. Use a pasta machine, roller, or rolling pin to roll out the dough into 3 inch wide, foot long sheets. Once the squash is sufficiently cooled mash it with a fork. Stir in the parmesan cheese, nutmeg, and salt and pepper. Place 4 dollops about the size of a half dollar in the middle of a pasta sheet evenly spaced, using your finger dip it into water and trace the outside of the dollop. Place another sheet on top and press it down around the dollop, using water to cement the dough together. Slice the dough to create separate ravioli. Bring a large pot of water to a boil and drop in the ravioli, they should only take a few minutes to cook, rising to the top as they finish. Strain the ravioli and set aside. In a skillet heat the oil and sauté the shallots until they have carmelized. Add the broth and sage leaves and simmer until reduced by ¾. Toss ravioli in pan to coat. Serve warm with excess sauce drizzled over the top, and sage leaves as garnish.
What I like is that swapping the brown butter sauce for a broth makes the dish so much healthier without sacrificing flavor, the caramelized shallots add a little dimension to the dish, along with another element of flavor.
I am really proud of this dish, and think that it is easily one of my best.
What do you think?