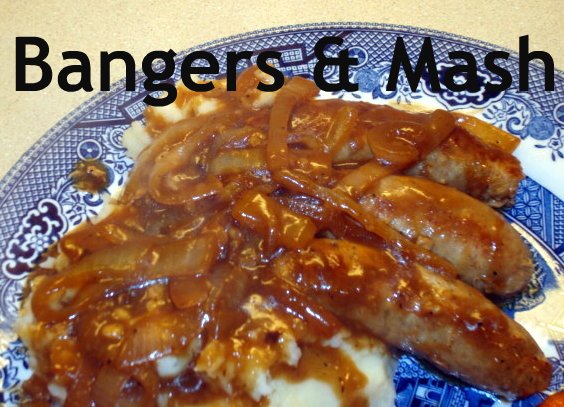 A while ago I posted about making
pork & leek sausages
from scratch; an experience that I loved! However I have come to realize that I never posted a recipe for actually making Bangers & Mash. This English/Irish classic is something that has been cooked in my home for as long as I can remember. It is so simple and delicious how can anyone not love it?
The recipe that I chose to use is closest the Bangers & Mash that I remember from our trip to Ireland several months ago. Don't think you need to have pork & leek sausages either, pretty much any sausage will do, though it may change the flavor a bit.
Bangers & Mash
6 Pork & Leek sausages
Traditional Mashed Potatoes
1 tbs olive oil
1 tbs butter
1 onion, sliced
1 tbs balsamic vinegar
2 tbs flour
1 ½ cups beef broth
Salt & pepper to taste
Heat up the oil in a large skillet and cook roughly 6 sausages until nearly done. Remove from heat and set aside. In the same pan melt butter and add onion. Sauté onions until caramelized then deglaze the pan with balsamic vinegar. Whisk in flour until well blended. Add broth, and bring to a boil, then reduce heat, and allow simmering, until the liquid reduces and sauce thickens. Adjust seasonings and return sausage to pan. Toss with sauce and onions before serving over mashed potatoes.