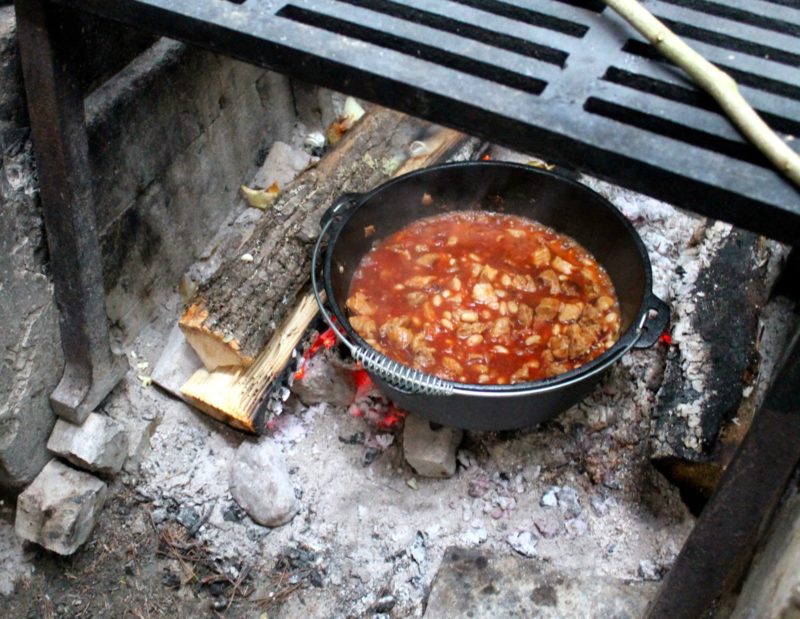 So I may or may not have
mentioned
this recipe before. What
I haven't told you is that I have made it before, more than once, and this my
friends was by far the best version I have ever made. The original recipe can
be found
here
. Man Barry knows where it's at when we are talking maple and
chipotle. I am however convinced that the smoky campfire flavor that gets added
in when you cook it over a fire adds something that just sends it over the top,
over the moon in fact.
I probably could have eaten the entire thing myself, had it
not been for our other camping pals who were standing around hungrily with their
collapsible silverware. I think it was well received since it had cooled off
quite a bit and we sat huddled around the fire. There was just enough spice to
warm us up heart and soul so we could make it through the final wet and rainy
night at our camp ground. Chuck even said it was his favorite version yet.
Seriously give it a try.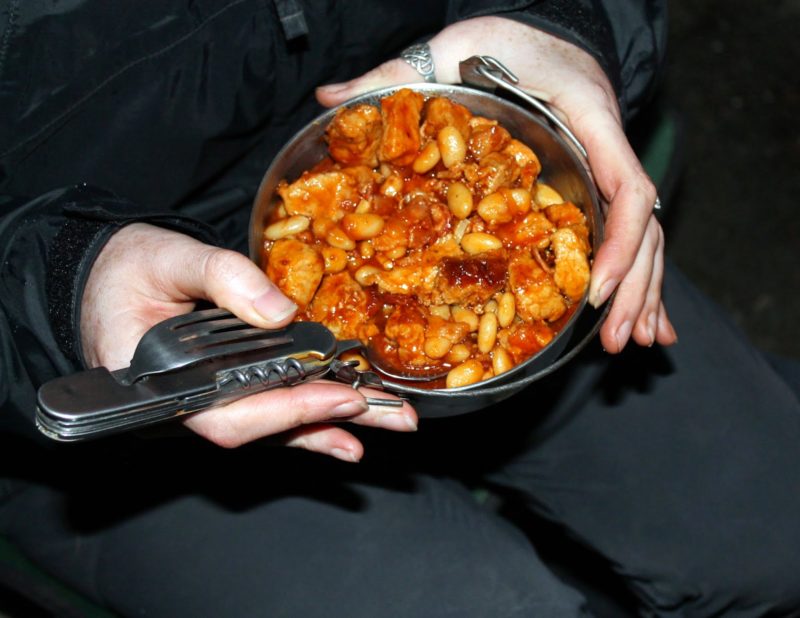 Campfire Maple Chipotle Pork & Beans (Serves 4-6)
2 lbs lean pork, cut into 1 inch cubes
1 tsp black pepper
1.2 tsp cumin
1 tsp chipotle powder
½ cup brown sugar
½ tsp salt
½ lb apple smoked Bacon, diced
1 large onion, peeled & diced
3 cloves of garlic, minced
½ cup beer (or water)
2 tsp chipotle powder
1 tsp salt
½ cup apple cider vinegar
1 tsp dried thyme
1 cup maple syrup
3 large bay leaves
1 (14oz) can pureed tomatoes
2 (14oz ) Cans navy beans, drained & rinsed
In a large bowl (or ziplock bag) combine black pepper,
cumin, chipotle powder, salt, and brown sugar, stirring well to combine. Add
pork and toss to coat. In a large Dutch oven sauté bacon over medium heat until
it is crispy. Drain the grease and add butter and onion to the pan. Cook the
onion until it begins to turn translucent 2-3 minutes, and add the garlic. Cook
for an additional minute before adding the cubed pork. Once the pork is cooked
through, about 5-7 minutes add in the beer, chipotle powder, salt, vinegar,
thyme, syrup and bay leaves. Allow the mixture to simmer and the liquid to
reduce to about ½ before adding in the
pureed tomatoes and beans. Stir well to combine and cook for an additional 2-3
minutes before serving.
Camping tip 1: Prep everything ahead of time, combining the
pork with its spices in a ziplock bag, and the chipotle powder, salt, vinegar,
thyme, syrup and bay leaves in a reusable container to be added at once. It
also helps to drain and rinse the beans then place them in a container as well.
This all helps cut down on the waist while you are camping and the amount of
stuff you have to bring/remember.
Camping tip 2: Get a large fire burning for a few hours
until you have a strong bed of coals. Place your cast iron dutch oven right
over the coals and place some smaller pieces of wood around the edges to keep
burning. This will work for your medium high heat.
Camping tip 3: Don't drain the grease, and don't add the
butter. The grease will work as your butter, and add a bit more flavor. Besides
you don't need animals sneaking around liking up your grease.
Camping tip 4: Final cooking time will depend on the heat of
your fire, but if you want the flavors blend you can allow it to cook all day,
adding water to keep it from getting to thick.