I am so excited to share this recipe. It is a quintessential pot pie, made the old fashioned way. I mean the real old fashioned way, with butter, flour, water, chicken, herbs, and veggies.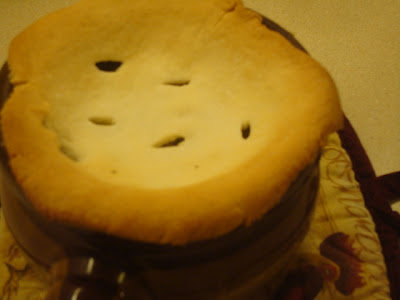 The night before I made this I roasted a chicken, because well it was on sale of course! I used the leftovers to make broth (post coming), saved the drippings and chicken pieces for this recipe. If you don't have a whole roast you can also use bone in thighs, legs, and the like.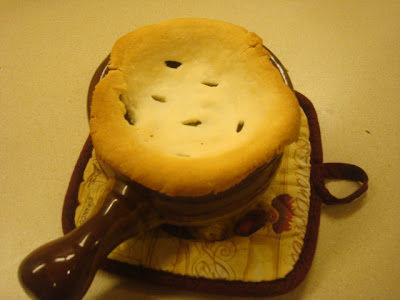 I made a large family sized one as well as an individual one for me to take in my lunch the next day. It was perfectly comforting on the cold rainy day that it was.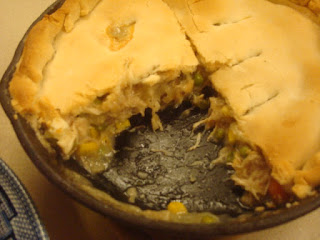 Great Gram's Chicken Pot Pie
2 tbsp drippings (Butter may be substituted)
1 onion, chopped
¾ cup all-purpose Flour
3 cups chicken broth
2 large carrots, diced
3 stalks of celery, chopped
1 cup frozen peas
1 cup frozen corn
½ cup minced fresh parsley1/2 cup chicken pieces
2 pie crusts (recipe below)
Preheat oven to 350. In a large skillet heat chicken drippings, and sauté onions until they become translucent, roughly 10 minutes. Stir in flour, until well blended and simmer roughly 2 minutes. Then add broth, continuing to stir until mixture thickens. Add chicken, vegetables, parsley and salt & pepper to taste. Mix well. Move filling to individual oven safe containers, divided evenly. Cover the top with pie crust liberally, with an inch or two hanging over the edge. If you are using a pie tin or an oven safe skillet you can crimp the dough as you would a sweet pie. Add a few slits to let out steam. Sprinkle the top with sea salt, and place in the oven for 1 hour, or until the top turns golden, and the filling begins to bubble. Serve warm.
Pastry:
1 cup unsalted butter, frozen
3 cups all-purpose flour
3 tbsp sugar
1/3 cup ice water
Combine flour and sugar in a large bowl. Great butter into the bowl, stirring frequently. Stir mixture with a fork continuously while pouring in the cold water. Stop stirring when the dough begins to clump. Use your hands to lightly knead the dough until it forms a ball. Divide this into two parts, and flatten each with the use of a rolling pin.