This is a simple recipe for a chopped chicken salad with Thai style dressing.
As you can probably assume things are a little crazy  around these parts since we just closed on our house last week, so getting together a recipe post for this week has been a bit difficult. I decided instead today to resurrect an old post that I wrote for The Charming Blog (which is now defunct) almost a year ago. This Thai Grilled Chicken Salad has been a big favorite of both me and Chuck, so I think you guys will enjoy it here too.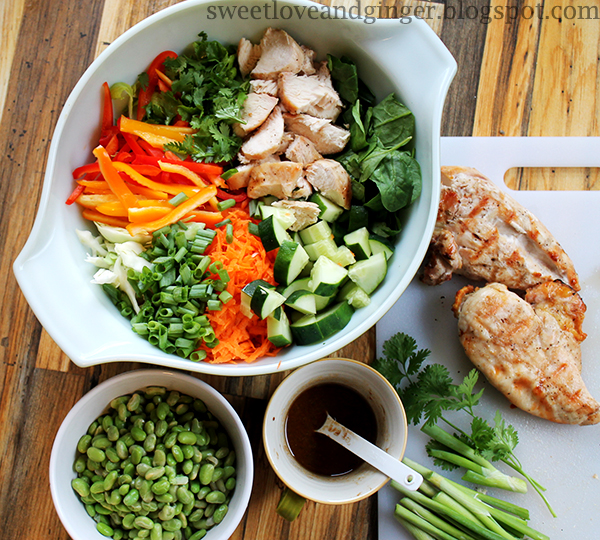 ---
Salad is one of those things that people consider rabbit food, you know not real food. This however is one of those life changer type of salads that can turn a real meat and potatoes types into actual salad lovers.
It's loaded down with veggies and chicken, and a super amazing deliciously sweet salad dressing.
There are a million textures going on and with each of the textures comes a super bright fresh flavor, and it is all brought together with that sweet zingy dressing.
I'm gushing, I know, but seriously, its salad. It's a delicious wonderful, nourishing salad. It's also hearty, and satisfying, and filling salad, that can feed the whole family without trouble.
I just grilled the chicken with salt and pepper, but don't be afraid to use leftover or premade chicken. It will blend into the flavors just fine.
Chopped Thai Chicken Salad
Ingredients
Dressing
2 tbsp low sodium soy sauce
1 tbsp sesame oil
2 tbsp rice vinegar
2 tbsp raw honey
1 tbsp lime juice
1 tbsp extra virgin olive oil
2 cloves of garlic, crushed
Salad
16 ounces frozen shelled edamame
4 cups mixed greens, chopped
2 cups chopped Napa cabbage
1 cucumber, diced
1 cup shredded carrot
½ red bell pepper, sliced
½ yellow bell pepper, sliced
4 chopped green onions
½ cup fresh cilantro
1 lb cooked chicken, chopped or shredded
Instructions
In a small bowl whisk together all the dressing ingredients and set aside. Cook the edamame according to package instructions and set aside to cool. Meanwhile chop the rest of your vegetables, and toss them together in a large bowl. Top with chicken and serve with the dressing at the side.