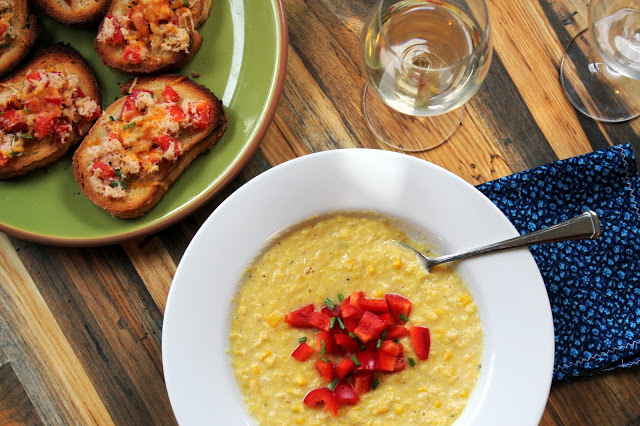 Corn chowder is probably one of the easiest things to make, but it's so delicious, and a perfect ode to the end of summer, with fresh corn from the local stand, some fresh red pepper to brighten it up, and a cool glass white wine, and it's pretty much heaven. Then as I was sitting at my desk at work daydreaming about this combination I thought that some crostini might just
make it that much better, I thought about things like caprese, French onion, cucumber and dill, and even ham and cheese, which all sounded delectable, then as always my mind turned to seafood. You probably know by now I have an undying love of seafood. Remembering I had a can of crab meat waiting to be used inspired a whole other idea.
It sounds do decadent, and looks like restaurant quality, but it only took 20 minutes to whip up and only costs $2.64 a serving, so $5.28 for the entire dinner for the two of us. The recipe actually serves 3-4, since I took the leftovers for lunch the next day, at a total cost then of $7.88.
Sometimes I love how things work out.
Here's to the end of august, and fresh farm stand corn!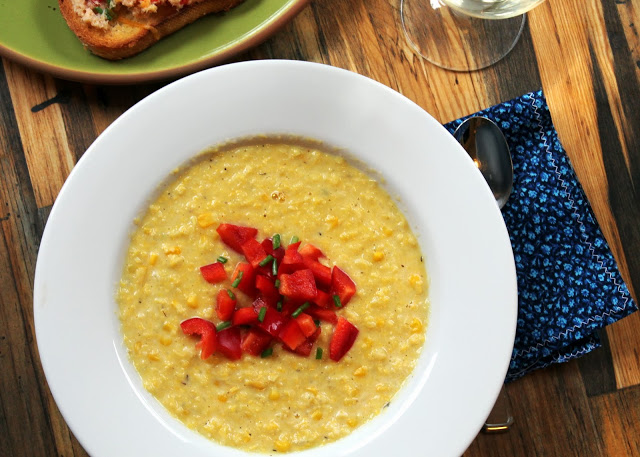 Clean Corn Chowder with Crab & Red Pepper Crostini
Ingredients
1 tbsp oil
1 small onion, chopped
1 spring of fresh thyme (1 tbsp dried)
1 tsp paprika
1 tsp fresh cracked pepper
1 lb Fozen or Fresh Corn
1⅕ cups vegetable or chicken broth
2 tbsp low fat milk
½ a medium red pepper chopped
1-2 fresh chives, chopped
Instructions
In a thick bottom sauce pan heat oil, over medium high heat and sauté onion for 3-4 minutes, or until it begins to turn translucent.
Stir in thyme, paprika, pepper and corn. Continue to cook for 2-3 minutes, stirring
continuously.
Add broth and allow the combination to simmer for 6-8 minutes.
Using a ladle spoon out about ¾ of the mixture into a blender and blend until
smooth before returning it to the pan.
Reduce the heat to low and stir in milk.
Serve in bowls topped with red pepper and chives.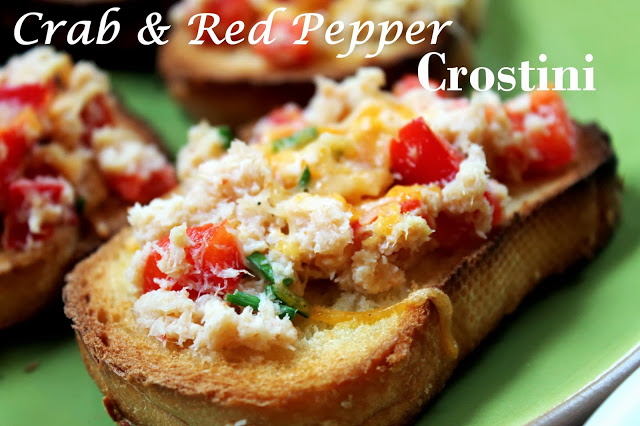 Crab & Red Pepper Crostini
½ a loaf of crusty whole wheat bread
1 tbsp extra virgin olive oil
1 can crab meat, drained
½ a red pepper, chopped
1 tbsp Dijon mustard
2 tsp lemon juice
2-3 fresh chives, chopped
Sprinkle of shredded Monterey jack cheese
Slice the bread, and place on a baking sheet and drizzle lightly with olive oil. Place in a preheated oven at 475 degress, for 5-10 minutes, or until toasted, meanwhile combine all other ingredients, except cheese in a small bowl. Once the bread is toasted place a clump of the crab mixture on each piece of toasted bread, and sprinkle with cheese. Then place back in the oven for 2-3 minutes, or until the cheese has melted. Serve immediately.
A small side note: the crab mixture is also good in the soup, so don't feel shy about skipping the spoon using the crostini as a utensil instead. In fact I strongly suggest that this is how it should be eaten.