This is a clean and healthy version of a typical Spanish Style Seafood Stew.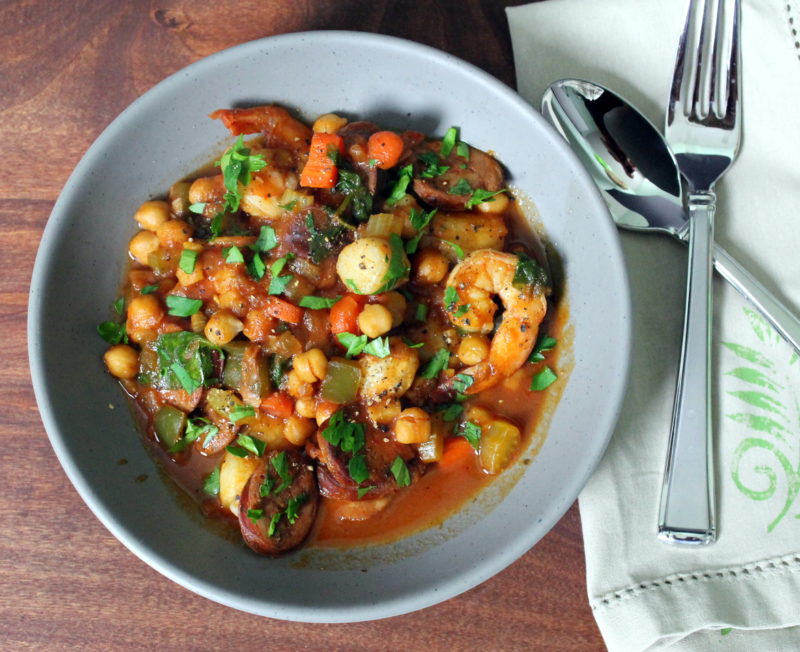 Sometimes you just need a hearty, spicy stew to clear out your sinuses and fill your belly.
I'm thinking this is that stew for me.
I mean I'm a seafood lover to begin with and I also love my fair share of soups and stews in their saucy goodness, so a seafood stew always sounds good to me. As time goes by I'm learning to get into the spicy, having never had exposure before Chuck's small introductions I was pretty much terrified of the stuff, chorizo included. I'm so happy I've become open to the idea of spicy, because while this isn't overly hot, it's got some kick.
This stew is based on a combination of Spanish dishes that I've had over the years. Basically I put a bunch of awesome Spanish recipes together to make my dream dish, and it came out really well. It's also already pretty healthy so the only change I had to make to keep it clean was to use chicken chorizo.
Now when you're serving this thing it's probably best over rice but if you're trying to slow carb it, like we are right now then I would just eat it as is, with a salad or add some more chickpeas to make it a little heartier.

Clean Spanish Style Seafood Stew
Ingredients
1 tablespoon plus 1 teaspoon olive oil
1 lb mix of shrimp, and scallops
salt and pepper to taste
½ lb chorizo chicken sausages, sliced
1 large onion, peeled & chopped
2 large carrots, peeled & chopped
2 celery ribs, chopped
1 red bell pepper, diced
4 cloves of garlic, peeled & sliced
2 tablespoons tomato paste
1 ½ cups chicken, fish or veggie stock
¾ cups white wine
1 teaspoon smoked paprika
2 bay leaves
1 teaspoon salt
1 (15 ounce can) Chickpeas or garbanzo beans
1 tablespoon fresh chopped parsley
Instructions
In a large bowl combine the seafood with 1 teaspoon oil, paprika, salt & pepper. Set aside.
Heat 1 teaspoon of olive oil over medium high heat. Add chorizo and cook for 4 to 5 minutes, stirring regularly. Sausages should be browned, remove them from the pan and set aside.
Add a tablespoon to the pan and stir in onions, carrots, celery and bell pepper. Turn the heat down to medium and cook until softened, about 10 minutes. Add the garlic and cook for another 2 to 3 minutes.
Stir in the tomato paste and allow it to cook and brown for 2 to 3 minutes.
Add the stock, wine, paprika, bay leaves and salt. Increase heat to bring to a boil then reduce to a simmer, and cook for 6 to 7 minutes or until the liquid has reduced by half.
Stir in the reserved chorizo and chickpeas. cook for 1 minute before adding the seafood, with any reserved juices.
Bring the soup to a boil, then reduce to a simmer and cook for 8 to 10 minutes, or until the seafood is cooked through.
Remove from heat top with parsley and serve.