Some days I feel like I just need to cook.
It helps me distress, and let go for a few moments, where
the only thing that matters is throwing my heart into my cooking and putting it
on a plate.
I cook what feels good, what tastes delicious, and it all
comes from my very own finger tips.
Half the time I feel like the only place I know what in the
hell is going on in my life is when I 'm in the kitchen, because well I know what
I have in my cupboards, and what I can make with them, outside of the kitchen I
have no idea what exactly I have to offer, or what to do with it, or what I want
for that matter.
I always had a plan, I knew where I wanted to be, and I thought
it was all doable, and of course things don't always turn out the way you plan,
unless of course you are one of THOSE
people. Instead I am in a totally different place, and my goals, well I don't
know if I have any because I can't make up my mind, and a solid half of the
things that I think I may want are kind of out of my control, so what in the
hell am I to do?
For now tomatoes, green beans, corn, and about a million
other delicious vegetables are in season so I'm going to continue to cook. That
I can handle.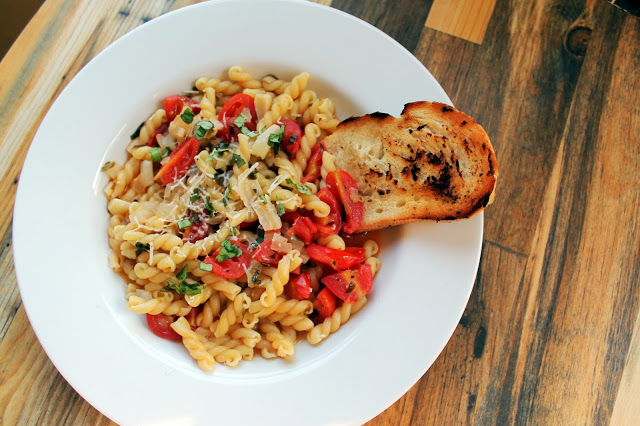 At least now my garden is going good. After a slow start I seem
to have more green beans and tomatoes than I can eat; it even looks like we
will be getting some kohlrabi soon.
I made this particular recipe on a whim one night last year,
and have repeated it several times since. I have found that it's always better
with fresh garden tomatoes, as opposed to the mid winter store bought ones.
One Pan Tomato Pasta
1 tbsp oil

1 tbsp

1 small onion, chopped

3-5 cloves of garlic (I LOVE GARLIC)

1-2 sprigs of fresh thyme

1-2 cups fresh cherry or grape tomatoes, halved

½ cup of dry white wine

1 cup pasta

1 cup water

Salt & Pepper to paste

Fresh Grated Parmesan Cheese for garnish

In a thick bottom pan heat oil, butter, and onion for 2-3
minutes, or until the onion begins to turn translucent. Add garlic, thyme, and
tomatoes, and continue to cook for 3-5 minutes, stirring occasionally. The
mixture should begin to become very aromatic. Deglaze with white wine, and
allow it to simmer until it has reduced by half. Stir in pasta so that it is
well coated, and immediately add 1 cup of water. Continue to cook until the
pasta is aldente, and liquid has again reduced, stirring occasionally. You may
also want to use the back of your spoon to crush a few of the tomatoes to
release their juices. Finally add salt and pepper to taste and serve warm,
topped with parmesan cheese.