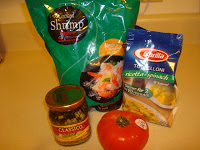 I have a lot of friends who are either on their own or work opposite schedules than their significant others, and I often hear that they don't feel like they can make a real meal for themselves at dinnertime because it's just them. I say HOGWASH!
Chuck ends up traveling a lot for work so a couple times a month I am on my own for dinner, and I feel no need to skimp on my meals then. In fact I use it as an excuse to whip up my favorite things that he may not like so much; it's totally my guilty pleasure nights. Here is what I made last night: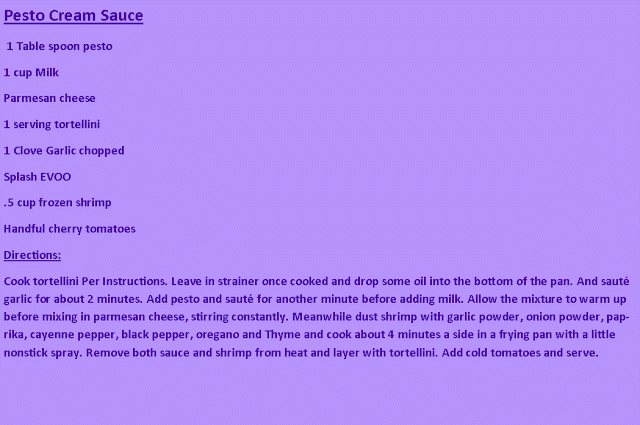 What I love about this recipe is that its comprised of things that I typically just have around the house all the time anyway, so its super easy to through together. By swapping ingredients it's super easy to make more or less healthy. I admit sometimes I use cream, butter and lots of cheese. Other times I use skim milk, and whole wheat pasta. I have also made it with spaghetti, ravioli, chicken, fish or no meat at all. Also if you don't want to dirty another pan you can simply cook the shrimp in the oil before adding the garlic, the only thing you will be missing is the extra spices.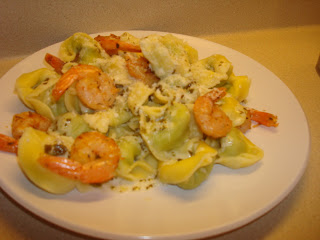 I took the pic before i added the tomatoes, whoops!
This particular recipe is my favorite combination. I love the warm creamy sauce, in contrast to the underlying spiciness of the shrimp, and the cool crispness of the cherry tomatoes.
I'm not typically a huge desert person, HOWEVER I think every girl has a little something she craves. For me it's usually cheese or chocolate. Last nightt I was definitely craving the chocolate, the kind of craving that requires a little more than a Cup of cocoa.
2 tablespoons all purpose flour
1 egg white
1 packet hot cocoa mix (roughly 2 tablespoons)
1.5 Table spoons Milk
splash of vanilla extract
1.5 tablespoons oil
Start with the dry ingrediants and mix everything well with a fork in the mug, while slowly adding the wet ingrediants. Once mixed well pop it in the microwave for about 60 seconds.
Stolen from somekitchenstories.com because dark blue mugs dont work for good pictures.
If you want to go the healthier route you can use chocolate protein powder instead. Also be sure not to skip on the milk or oil. You will end up with a texture like an overcooked egg, and it is so unappealing. I believe the picture also has a few peanut butter chips mixed in as well, which is not a bad idea if you ask me!
More single night recipes to come!