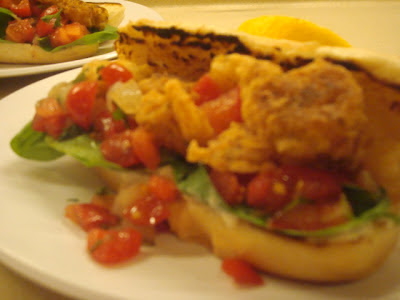 Yes I know you have seen the Double Crunch title from me a lot (trial 1, & 2), but it doesn't seem to get old, so get used to it. I want to give credit where credit is due and well a lot of these stem from Mr. Barry Parsons over at Rock Recipes. I will say it again, this man is a genius! I love the double crunch flavor blend, and was thinking about this while watching Triple D (Diner, Drive ins & Dives). I saw a Po Boy flash on the screen, thought it looked delicious and that I should try it; try to make it with the Double Crunch recipe!
It was clear that chuck was not going to argue with me when I suggested this, so I set to work and gave it a shot. I did add my own little twist with the Fresh Tomato & Herb Salsa and lemon & Basil Mayo.
The Double crunch recipe can be found here. For the Po Boys, I divided the entire recipe in half. I used precooked frozen shrimp, removed the tails, battered with flour, egg dredge and flour again then popped them in hot oil for 2-3 minutes or until the turned golden brown. They were then removed from the oil and placed on a drying rack (or paper towels if you don't have one) to cool while the other components are prepared.
8 cherry tomatoes, diced
½ red onion, chopped
1 tbsp chopped oregano, parsley, basil each
2 tbsp balsamic Vinegar
2 tsp oil
Combine all ingredients in a small bowl and toss. Place in the refrigerator, and serve chilled.
1 tsp basil and juice from half a lemon per 1 cup mayo
The American Ginger Po Boy Sandwich
Toast your French bread, or rolls as desired. Layer one side with mayo, spinach, and tomato & Herb Salsa. Place Double Crunch Shrimp and top with the other side of the toasted bread.
I am well aware that this looks like a lot of components for a single sandwich, but it's really not. The Tomato and Herb Salsa is actually a leftover side form a meal I made with balsamic chicken, and the lemon basil mayo goes so beautifully on a BLT, buffalo chicken, or spicy ham sandwich it gets used up fast.