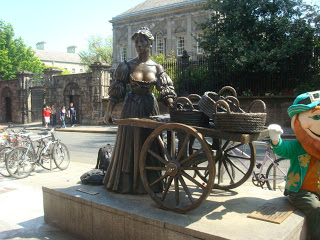 Day 2 in Dublin started out with a stroll down Grafton Street with to go coffee and tea. Chuck did not like his coffee, however the Irish are tea drinkers so what's to be expected? My tea was fabulous. We stopped at the Molly Malone Statue for a while, and made note of the brightly colored doors, but decided that this area was far too commercial for us. I know what did I expect for a shopping district? I just really wanted to see everything. Luckily Saint Stephen's Green was right nearby, so we decided to take a nice long stroll there. It was a beautiful park, and with the nice weather it was full of people. We spent quite a while in a stone garden watching the swans and birds in the little pond. Then we spent another good amount of time strolling around the grounds reading about all of the different plant life there. I really liked how there was a little sign to tell park goers what each plant was.
For lunch on the second day we went to Sinotts. A very cool bar that was actually in the basement of a large building. It was so typically Irish with privacy walls, and a huge square bar right in the middle. The food there was amazing as well. Chuck said that the bangers and mash he had there were the best of the whole trip, and he ordered it at least 4 times. What I want to talk about, however is what I ordered, mostly because it's not what many people typically think of when they think of Irish food. I got Chicken Curry served with rice, and a large sweet tortilla like thing (Right now I'm wishing I took a picture!). This was something that we saw on the menu all over the country, and not just in the city, and it wasn't what you expect a curry dish to look like either. It reminded me of a stew a slightly spicy stew that was delightfully thick and mixed with peppers, onions, and peas. The tortilla thing was surprisingly sweet, and really helped to mellow out the spiciness, which I assume is to help it appeal to the masses of Irish who don't typically eat spicy foods.
There are quite a few things I like about this dish. For starters its very simple, it can be done in a single pan, and really the only thing I didn't already have in my pantry was the peppers (it's not season yet). Also it is a little different than my normal stir-fry style. There was some heat to it but it wasn't overpowering, and it's easy to make for large groups. Perhaps next time I will try it with the apple in it and see how it goes?After lunch we decided to venture to the Nation Archeology museum, which as total nerds we both really enjoyed. It was a good overview of a lot of the artifacts found all over the country, which was helpful because as we found out later a lot of the actual sites we visited did not have museums or artifacts nearby to associate with them. One of the most interesting displays was a grouping of bodies that were discovered in the peat bogs from the medieval era that are almost perfectly preserved. It was so very cool as well as creepy.
To end the night we had a dinner, then went to temple bar for a night of craic and music. The first band we saw that night was pretty awesome band and played traditional Irish music mixed with some of the modern stuff. I liked them so much I even bought a CD. They were fun loving and joke cracking and really made my night.
Check them out for yourself
(this is the only link i could find). We ended up staying out quite late and unfortunately I was not feeling so hot in the morning.