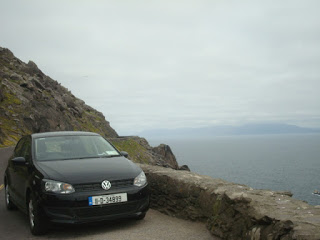 Day 3 of our trip did not go as planned. I drank a little too much the night before and ended up sleeping later than I wanted to, though I think a night out in Dublin is a pretty darn good excuse. Very first thing we went and got our car. This cute little beauty. We went through some basic safety stuff with the rental guy, about roundabouts and driving on the opposite side of the road, however none of this prepared us for the actual driving.

We were still in the city, so not only were we getting used to different striping, signs, and the other side of the road, but also a ton of traffic. When we first pulled out I'm pretty sure we were both holding our breath. Of course the first obstacle that we come to is a roundabout, now living in our area we encounter these pretty often, but none as big as this. Many of these roundabouts are so big and have so many intersecting roads that there are actual stop lights within them. Talk about confusing. It didn't help that the lights are also not overhead they are all off to the side, so it's harder to tell whose light is whose. Anyway we survived, only to get lost. 
The GPS took us to New Grange the tomb, not the visitor's center that is required to get access to the tomb. For whatever reason our GPS didn't even have it listed. So we traveled around, asked for directions and eventually figured it out, though we lost half a day. It was an adventure and I think we both had a good time. Also during our lost phase we stopped into a random pub and had lunch. I had the most amazing vegetable soup ever, which I found all over the country (I'm serious it was heavenly) and Chuck had his first foray into the Irish version of Shepard's pie. Which, surprisingly he wasn't very fond of. Every place we went added tomatoes to their Shepard's pie which he said gave it a "Sloppy Joe" taste, he actually said he liked mine better! This is one of the only recipes I decided not to copy exactly. Instead I will provide my recipe for Shepard's pie, and a
link
to a traditional Irish version that I found.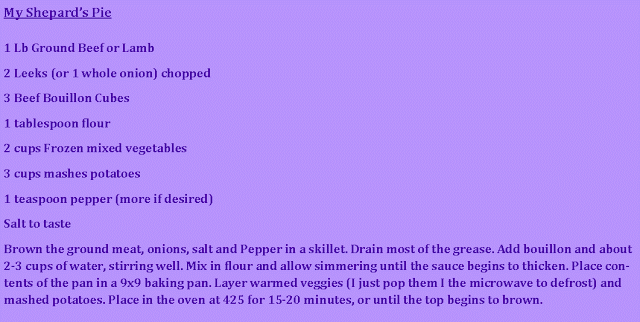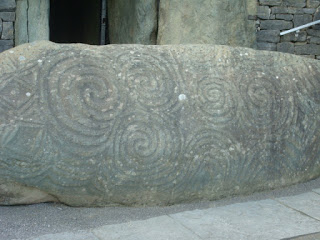 The carved stone outside the entrance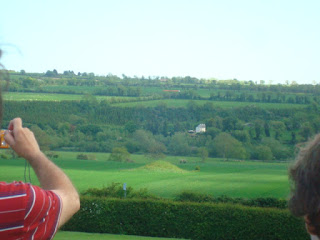 A smaller ancient building a few meters from New Grange
When we finally made it to the visitors center shortly after lunch. This is one of the few sights on my list that I just HAD to see. New Grange is one of the oldest known tombs in the world, much older than the Pyramids, or Stone Hedge. Being able to go inside is very cool, I mean i was standing in the exact place that ancient people stood, in a building that many im sure gave their lives to buid. Suprisingly, it's one of several in the area, and is the only one that visitors are actually allowed to go inside. The visitor's center was also very interesting, sporting 3D models of all the tombs in the area, tools, and trinkets found in the area, and hypothesis on how and why they were built.
That night we decided to try and drive to Doolin. Unfortunately we didn't arrive until around 11 pm so finding a B&B was nearly impossible. Lucky for us the Doolin Hotel had one room available, It was the honeymoon sweet and we were happy to take it.