This is a one dish recipe for Easy Chicken and Rice Casserole, a Dump Dinner. A healthy family meal with little prep time that is sure to please.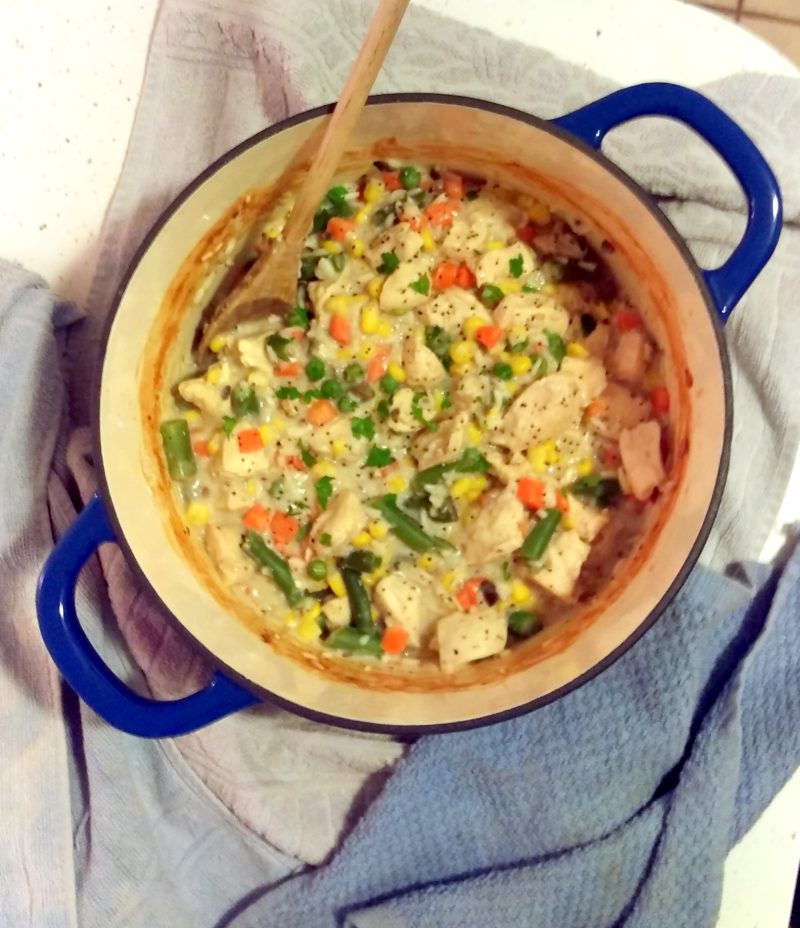 As you know we bought a house recently, and spent the subsequent few weeks in full on work mode, to get several things done before we could move in. Because of the short notice and upcoming events we were unable to take days off to get the work done, so it's been a lot of late nights after work, which despite my best efforts has resulted in more take out than either of us is interested in. Luckily the grocery store near us makes a mean salad, has great sushi, and a sandwich station so we have been able to keep it somewhat healthy. The other thing that has helped us keep our stuff together is the great American casserole.
I've been trying to keep them as healthy as possible, avoiding the condensed soup, and mayo train, but once in a while you just have to use the condensed soup. This recipe uses it, but it's still way better for you than ordering pizza, which has happened plenty lately believe me. Using the condensed soup makes all the difference in adding depth and flavor to this recipe without adding steps. The point here was to fix it and forget it so we can get back to work on those floors damnet!
I really think this is a casserole I can get behind though. It was delicious and made the whole house smell great while it cooked away. Besides I loaded it up with traditional mixed vegetables and protein packed chicken which in my book makes it one of those classic American meals. If you grew up in the US I'm sure your mother or grandmother cooked something very similar at some point.
I did decide to add a few more mushrooms because really most condensed cream of mushroom soups actually lack a number of mushrooms. Once we get into this house and I can actually use all those awesome wedding shower gifts that I got I vow to start making and canning my own condensed soups that will be loaded with veggies!
Any-whoodles the recipe is below, and sorry for the pics, we were working with a cell phone camera here. I can't wait to have all my stuff in one place again!

Easy Chicken and Rice Casserole, a Dump Dinner
Ingredients
1 (10.5 ounce) Can Cream of mushroom soup
1⅓ cup water
¾ cup plain rice
1 (16 ounce) bag of frozen mixed vegetables
1 teaspoon oregano
2 boneless skinless chicken breasts, cut into bite size pieces
¼ teaspoon paprika
¼ teaspoon black pepper
Pinch of salt
Instructions
Preheat the oven to 375 degrees.
In a large dutch oven combine the soup, water, rice, vegetables, oregano. Mix well.
Season the chicken with salt, pepper and paprika, then place it on top in an even layer.
Cover and bake for 45 minutes.
Stir well and return to the oven to cook uncovered for 10 to 15 minutes. When done the chicken should be cooked through and the rice tender.
Let stand for 10 minutes before serving.