I was in such a rush to get down our engagement story, so
that I would have every vivid detail that I completely glazed over the actual
picnic that we had on that beautiful day.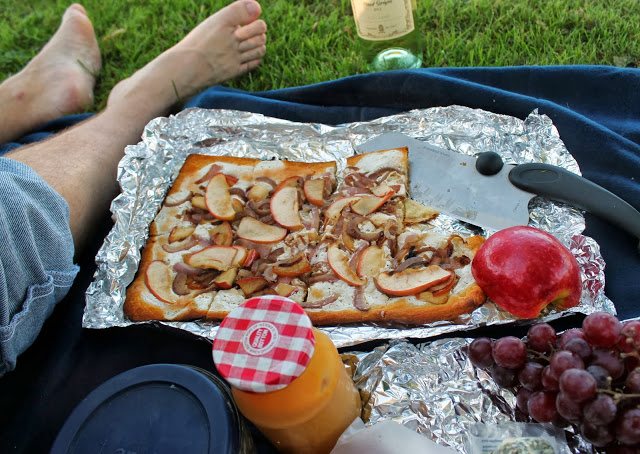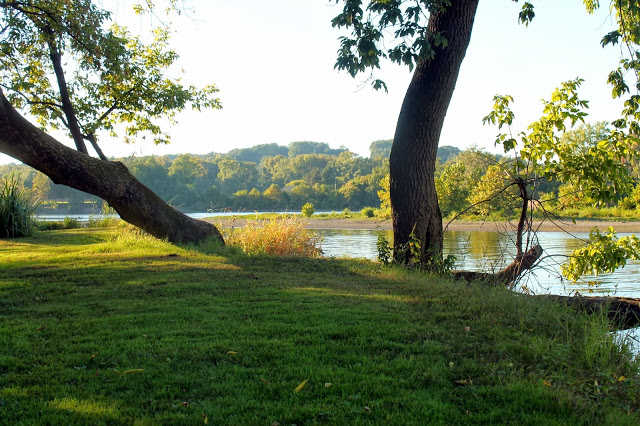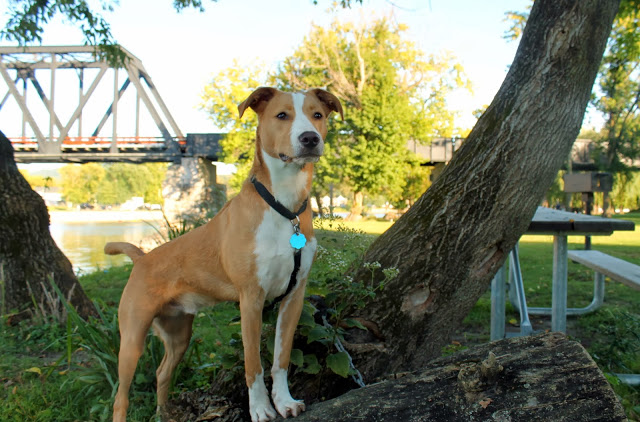 Chuck had suggested a picnic several weeks prior and we
decided to go in fall. I don't know if he had a proposal in mind then or not
but I loved the suggestion and planned a whole bunch of food that I could use
in posts on the blog. Again I don't know if this was part of his plan to throw
me off or not but it definitely worked. I put together a small cheese, and hors d'uoevre
plate, as well as a Caramelized Onion and Apple Tart which Chuck pretty much
ate on his own, and promptly requested that another one be made soon. Maybe that's
what made him do it; my cooking?
Regardless of all that the tart was wonderful, and made
again in short order. The recipe is kind of a cheat because I used premade
dough, but that's what makes it a keeper; it's so easy, and a little different
from the usual tiny bites that we all normal serve for picnics and parties. It
is also very reminiscent of fall, with apples as one of the main ingredients
how could it not be? You can find the original recipe here, and for once I did not really stray from it too much, but with only 4 ingredients its no wonder.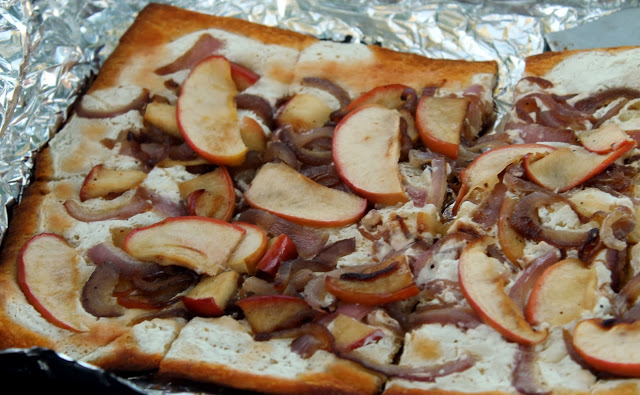 Caramelized Onion and Apple Tart
1 tbsp extra virgin olive oil
1 medium red onion, sliced thin

1 medium apple, sliced thin

Salt & pepper

1 sheet pre-packaged puff pastry (Or croissant roll)

¼ cup crème fraiche or sour cream


Preheat oven to 400 degrees. In a small pan, sauté onions
over medium high heat until they begin to caramelize (about 15 minutes) add
apple, salt and pepper to the pan and continue to cook for 2-3 minutes, then
remove from heat and set aside. Place pastry on a parchment lined baking sheet
and sread crème fraiche leaving about ½ an inch around the outside. Arrange the
onions and apples on top of the pastry and place in the oven for 30 to 35 minutes,
or until the pastry has become golden brown. Remove from heat and cut into
pieces to serve.