Waking up early in the morning we made a trip to the Kilkenny castle and went on a tour of the beautifully reconstructed castle. If you are in the area you should definitely go, and don't skip the Gallery! After this we headed for Dublin for our last night.
Since we missed the Jameson tour our first time in Dublin we decided to go straight there when we got back, and man was it a good thing. The place was packed, and the line was huge, but we were patient and got our tickets, then had a drink while we waited for our tour to start. Our guide was wonderfully knowledgeable and fun, the tour itself did not include actual distilling but a lot of the old machinery was there which was cool to see.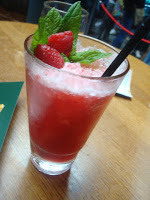 After that we went on a mission to find the local potter that I saw the week before. It was raining and I was absolutely sure he wouldn't be there, I was honestly acting like a little kid dragging my feet, knowing I was going to be disappointed. To my great surprise he was still there! Talking with a friend had made him pack up slow and he still had the tea pot I had been pinning over. If I was even a few minutes later we could have missed him. I was so incredibly lucky to have caught him and gotten my teapot!
I was so excited that one of the first things I did when I got home was invite Miss Amanda over for tea and scones, just so I could use it. The recipe for the scones is below, and its a recipe i actually got out of a magazine; however I didn't have any blue berries so I swapped it for cranberries and added about a tablespoon of orange zest to the recipe for Orange Cranberry scones, which are probably my favorite scones of all time.
>>>>Tip of the Day: hold the zester over the bowl and grate the zest right into the mix. This will allow the oils that come out during zesting to get into the food and give it more flavor.
Now, I LOVE tea. I always have, some of my first words were "hot tea", what does that say? In the US it seems I am an outcast, a weirdo who doesn't drink coffee, but in Ireland I was in the majority for once. Every room we stayed had a teapot, and an assortment of teas unlike the coffee machine I'm used to. Every bed and breakfast we stayed at offered us a cup of tea upon arrival. And going to a pub to order tea wasn't weird at all! It was heaven for me.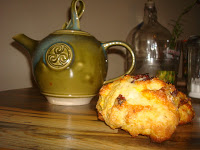 Being able to come home and make Irish Breakfast tea in my Irish teapot was so fun! I swear it tastes better in an Irish teapot. Now everytime i make a pot of tea in it I will remember the rolling hills, rocky shores, fresh scent, delicious food, and dramatic history that makes up this small island. I can't wait to go back.